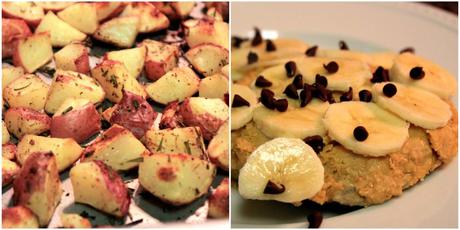 Can anyone say "Breakfast for Dinner?" I think pancakes might be one of my favorite meals, and I always (for some reason) end up craving it in the evening – long after breakfast or brunch has passed. So a few nights ago, I decided to switch things up and make pancakes and roasted potatoes for dinner. And as part of my ongoing quest to find a truly healthy pancake recipe, I decided to try this recipe from Vegetarian Times for Oatmeal & Sunflower "Pancakes" with Bananas and mini chocolate chips. Pancakes with chocolate chips that are actually healthy? I had to give this a try.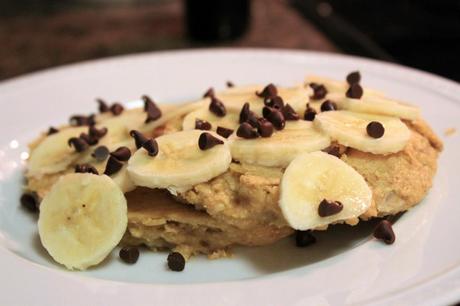 I was worried the husband wouldn't be a huge fan because he's used to the typical buttermilk pancakes, but he was open to the idea of trying these. I'd say they are more like oatmeal cakes vs. true pancakes – because they're a lot more dense than regular pancakes because of the ingredient mix. That said, they had a nice, nutty, mild flavor – the perfect base for creative toppings. We of course, topped them with bananas, chocolate chips and maple syrup, but I also tried them with almond butter & honey (yum!) and peanut butter & blueberry preserves (double yum!). I'm sure there are a bunch of other ways you can dress these up (e.g. fresh fruit & honey) – and what you end up with is a protein & fiber packed meal that's super satisfying. I decided to make these "pancakes" with my Roasted Rosemary Potatoes – which the husband loved.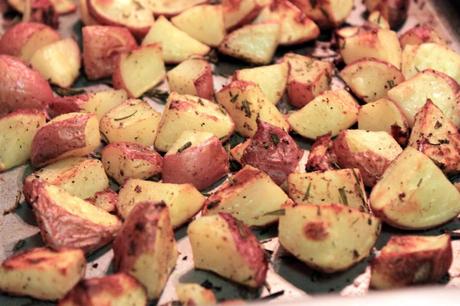 Oatmeal Sunflower Pancakes
The Ingredients: Makes 4 pancakes
1 cup rolled oats
4 Tbs low fat cottage cheese
2 eggs
2 tsp vanilla extract
4 tsp sunflower seeds
Toppings: Sliced banana & 1 tsp mini chocolate chips per pancake + 2 tsp real maple syrup, 2 tsp almond butter & a drizzle of honey, fresh fruit & a drizzle of honey, etc.
The Directions
Step 1: In a food processor, combine rolled oats, low-fat cottage cheese, eggs and vanilla extract; blend until smooth.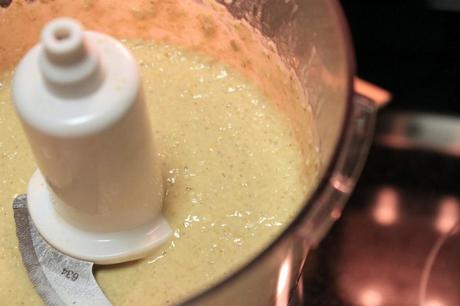 Step 2: Stir in  sunflower seeds. Pour batter into skillet misted with cooking spray to form four 4-inch pancakes; cook 3 minutes on each side.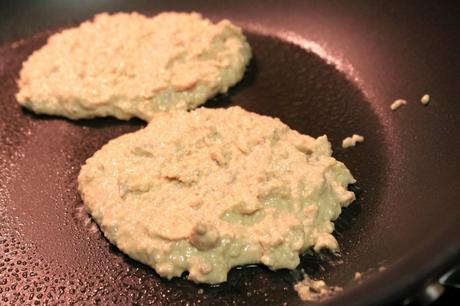 Step 3: Top with sliced banana and 2 tsp. chocolate chips (for 2 pancakes) – or top with any toppings of your choice!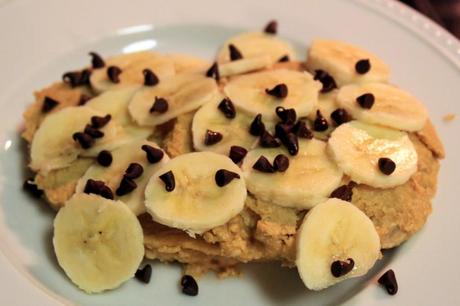 Roasted Rosemary Potatoes
The Ingredients:
1 lb baby red potatoes, quartered with the skin on
Extra virgin olive oil cooking spray
1 Tbsp fresh rosemary
Salt & pepper to taste
The Directions
Step 1: Spray the potatoes with EVOO cooking spray, and toss with rosemary, salt & pepper in a large sheet pan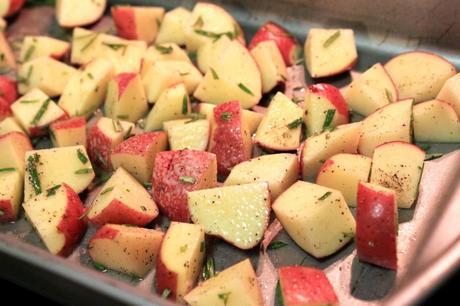 Step 2: Roast at 425 degrees for 25-30 min or until potatoes are tender and slightly crispy/browned. Enjoy!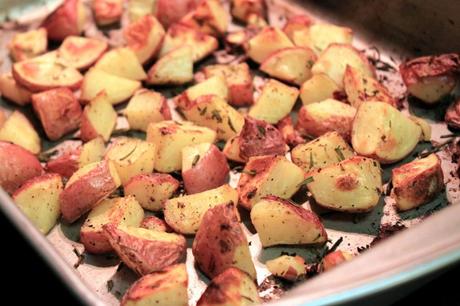 This was the perfect "breakfast for dinner," but it's also a great recipe for brunch – especially for the long weekend. The husband was happy and satisfied after this meal – and I think he was surprised that he thought the pancakes were "good."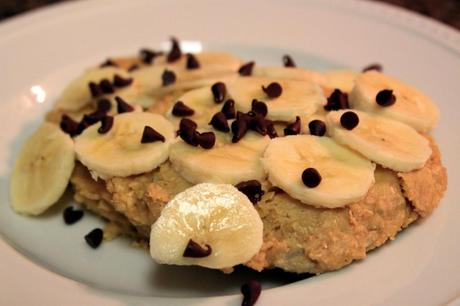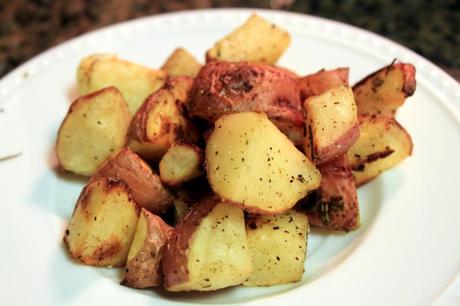 Definitely try this brunch, breakfast or dinner recipe if you get a chance – I promise you won't be disappointed. I hope everyone's having a great 4th of July; and if you're in the Bay Area – I hope you're enjoying the amazing weather we're having today!