I love a good bean dip.  Its great for dipping vegetables and to make a delicious sandwich.  I usually make hummus, but yesterday I realized I was out of chickpeas (the horror!), but I came up with this delicious butter bean dip that might even be better than my favourite hummus recipe and that's saying A LOT!
ROASTED RED PEPPER BUTTER BEAN DIP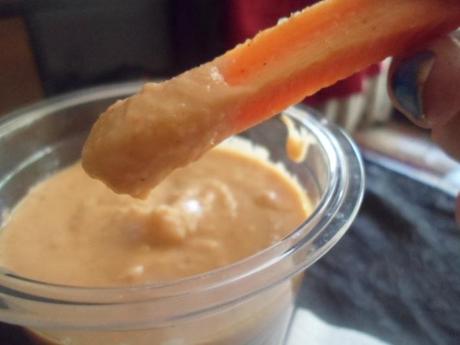 Ingredients
1 can butter beans, drained.

1 small roasted red pepper
1 tsp cumin
1 tsp paprika
1 tbsp lemon juice
2 cloves garlic
4 tbsp olive oil
1/4 cup water ( I like a very smooth runny dip, use less for a thicker dip)
salt and black pepper to taste
Directions
Place everything in a food processor and blend until smooth.  Taste and adjust salt and pepper to taste.  Refrigerate or serve immediately.