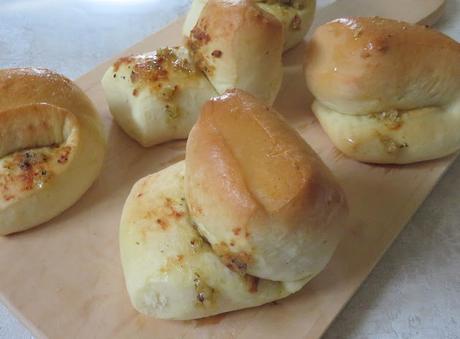 Parker House Rolls are a favorite dinner roll with many people.  The original recipe comes from a recipe in the Fannie Farmer Cooking School book. It is said that the rolls were invented by an angry pastry chef at the Parker House Hotel in Boston.
Apparently he threw the rolls into the oven which resulted in a folded over shaped roll. 
They are made with milk and are nice and soft.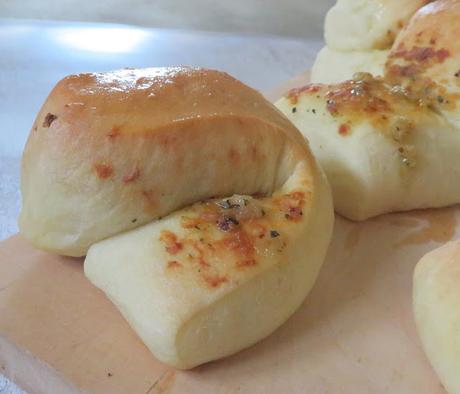 I thought I would be a bit fancy today and fill my rolls with a roasted garlic mixture.  I roasted a whole head of garlic in the oven and then squeezed out the garlic into a bowl and  mashed it together with some olive oil and Italian seasoning.
I was really pleased withe flavor of the filling. Roasting Garlic really mellows it out.  Its lovely.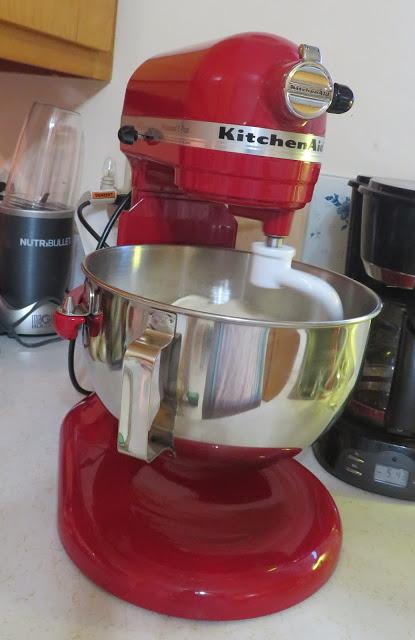 It also gave me an opportunity to try out my new Kitchen Aid Mixer which was a gift from someone special and their pups to me. I have always wanted a red Kitchen Aid Mixer and now I have one! I am so very blessed!  Thank you J and pups so very much! It worked like a charm. That dough was kneaded and rising in no time at all!! Purely effortless. Now I am going to save up to  buy some attachments! You have created a monster here, LOL. I have caught the bug!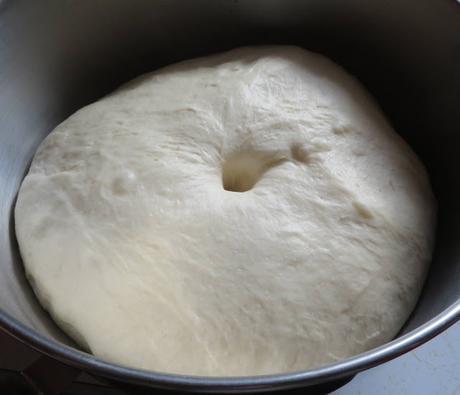 Just look at how lovely and light that dough is after its first rise!  I had meant to take a photo after shaping, but I forgot.  I am still trying to get used to cooking, etc. in someone else's kitchen.
In time I will get myself sorted! I promise!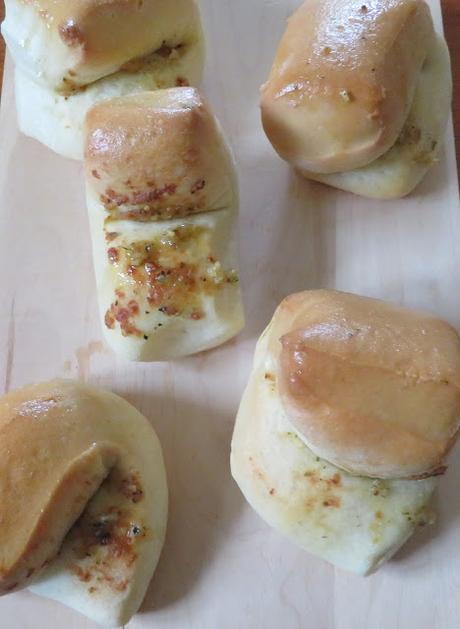 There are aways adjustments to make.  I need to plan a bit more now.  I can't just cook willy nilly like I used to and I no longer have the luxury of eating my main meal in the middle of the day 
So lighting is a problem. Nevermind. We will get there.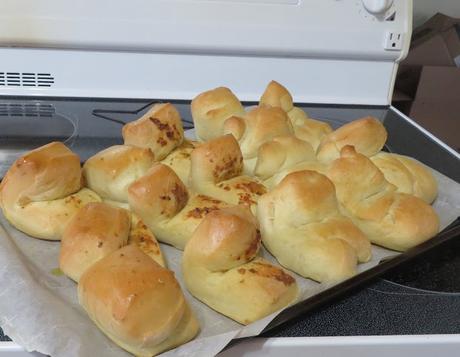 They didn't quite come out of the oven looking as pretty as I had hoped.  Some of them stayed folded over, but most of them ended up looking a bit like chairs.
My sister said we should call them little chair rolls.  No matter how they look, they taste fabulous and the proof of any pudding is in the eating.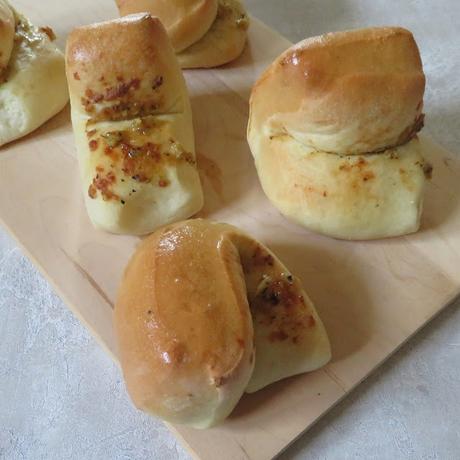 Some of them blew out completely!  I don't know what you would call them. I filled some with the roasted garlic oil and some with just butter.  
That was for the picky eaters that might not like garlic. Not naming any names. DAD! lol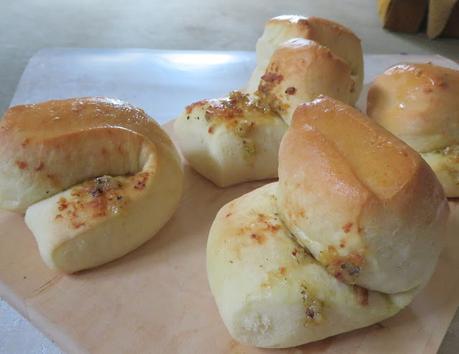 As you can see they rose lovely and tall.  I think perhaps I did not roll them out quite thin enough before shaping them?  I don't know for sure. 
I even had a few fall over on their sides. No matter, they taste really good, even if they are unique in looks.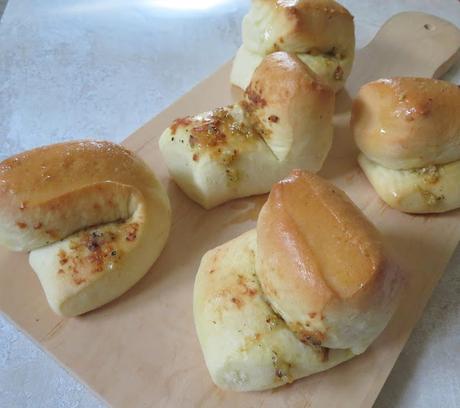 Maybe I should call them fallen over rolls. One thing is for sure. They are DELICIOUS rolls! 
That roasted garlic filling really added a special something.  A "je ne sais quois" of a very delicious kind!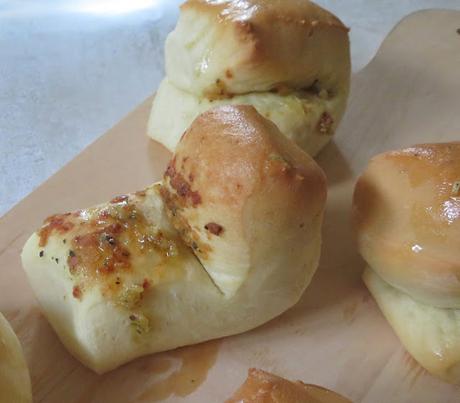 I was going to add some cheese as well, but then decided against it. I am glad that I didn't.  
I think cheese would have made them fall over or blow apart even more!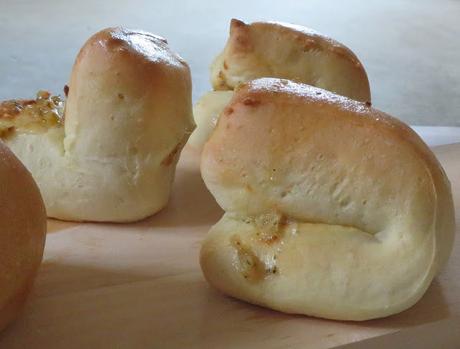 If I was taking a pastry/bread course I think I would have failed. Out of the 15 rolls, I only had one which stayed together and was basically upright.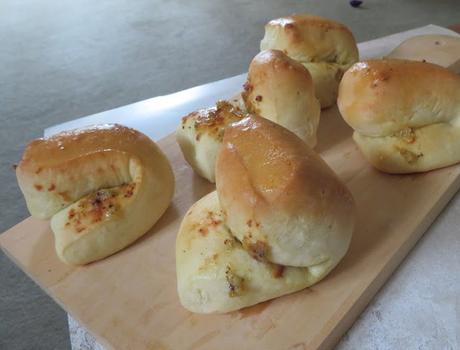 I am showing you the best five here.  You can use your imagination as to the others.  They did no resemble Parker House Rolls at all.
Nope, not at all. But they did taste just as nice. That's what counts!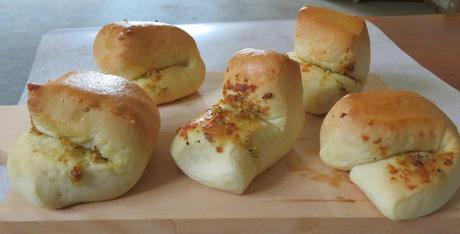 I am not sure what  I could do that would be any different. Or what could give me a much better finish?
Does anyone have any suggestions?  I thought perhaps roll them out a bit thinner?  Do ovals like the originals instead of rectangles?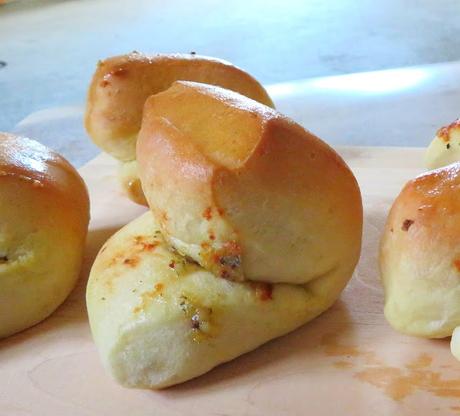 No matter, these are a lovely roll to sink your teeth into. Soft and billowing.  Lovely flavor and texture. 
Perfect with soups, salads, stews or even as a side dish for a main. And if you got the shape right, even maybe for entertaining!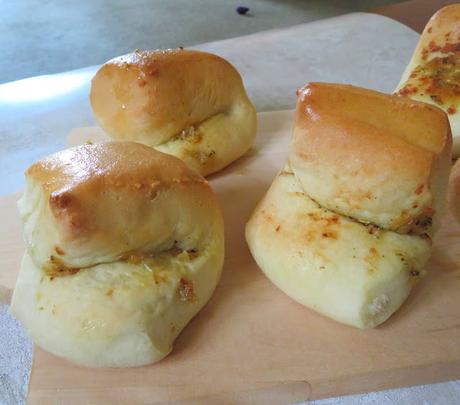 No, not everything always goes according to plan.  We just have to make the best of it when it doesn't.  These are not pretty, but they be mighty tasty anyways.
Garlic Parker House Rolls
Print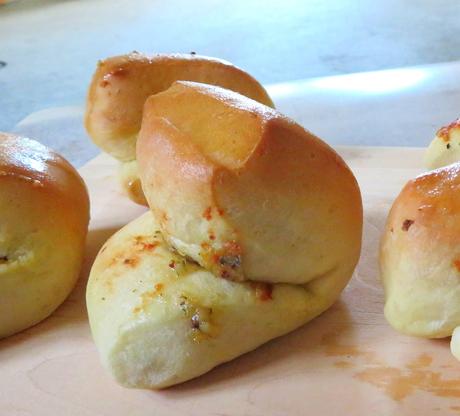 Yield:
15
Author:
Marie Rayner
prep time: 1 H & 40 M
cook time: 30 Min
total time: 2 H & 10 M
Light and fluffy with a lovely roasted garlic filling.
Ingredients
For the Garlic Filling:
1 small head of garlic
4 TBS of olive oil
1 tsp Italian seasoning
For the rolls:
1 cup (240ml) warm milk
1 cup (240ml) warm water
2 tsp instant yeast
1 TBS sugar
5 cups (700g) plain flour
1 1/2 tsp salt
3 TBS olive oil
Instructions
To make the garlic filling, preheat the oven to 200*C/400*F/ gas mark 6.  Place the garlic onto a sheet of aluminum foil.  Drizzle with a bit of olive oil.  Wrap the foil around it to cover, twisting it shut at the top. Roast in the preheated oven for half an hour.
When it is done, squeeze the roasted garlic from inside the individual cloves into a bowl. Season with a bit of salt and pepper and the Italian seasoning.  Whisk in the oil.  Set aside at room temperature until you need it.
Combine the milk, water, sugar, and yeast in the large bowl of a stand mixer. Leave for 15 minutes to prove.
Add the flour and salt. Knead with the dough hook for about 5 minutes, then tip in the oil and continue to knead for a further 5 minutes.  It should be a smooth and soft ball of dough.  Cover with plastic cling film.
Leave to prove in a warm place for about 90 minutes, at which time it should have doubled in size.
Using a rolling pin, roll the dough out to a rectangle about 3/4 of an inch thick.  Cut into 15 rectangles.
Have ready a large baking sheet lined with baking parchment.
Spoon about a teaspoon of the garlic mixture onto the top of each roll, on one half. Fold the other half over top to cover.
Place spaced apart on the prepared baking sheet.  Cover lightly with a clean tea towel. Set aside to rise for about half an hour.
Preheat the oven to 180*C/350*F/ gas mark 4.
Bake the rolls for 20 to 25 minutes.  They should be well risen and golden brown.  Brush with some butter if desired.
Leave to cool on a wire rack for about 10 minutes before serving. Delicious!
Did you make this recipe?
Tag @marierayner5530 on instagram and hashtag it #EnglishKitchenCreated using
The Recipes Generator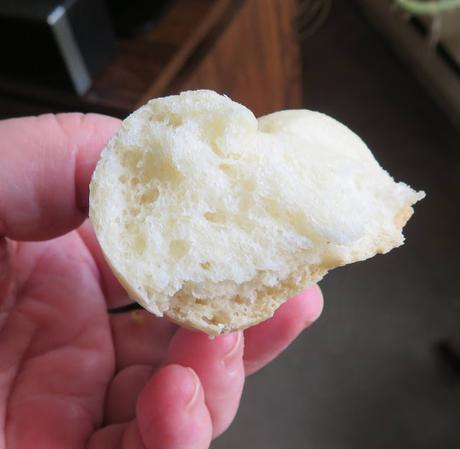 These rolls go great with anything. Soup, stews, salad or even main meals! Delicious!
This content (written and photography) is the sole property of The English Kitchen. Any reposting or misuse is not permitted. If you are reading this elsewhere, please know that it is stolen content and you may report it to me at: mariealicejoan at aol dot com Thanks so much for visiting. Do come again!