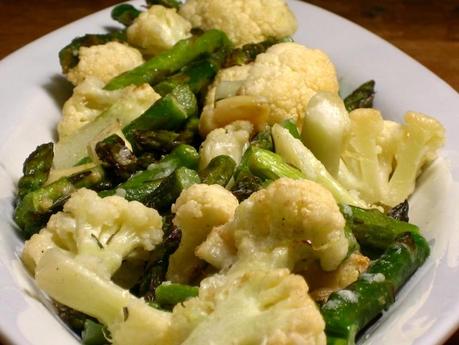 There is something about the process of roasting  that releases the inert sweetness of vegetables in a way that steaming & boiling simply cannot compete. And if you have ever been in on the fence on this matter, this recipe will have all those lingering doubts flying out of the window at the speed of light! Guaranteed!
I adore cauliflower and I adore asparagus. It is a good thing that neither of these are my children not do they have a capacity to communicate verbally because were they ever to confront me on which of them I love more, I would be unable to choose. 
That said, when I found the cauliflower and asparagus nestled together in the vegetable tray in the refrigerator, there was only one thing left to do - roast them together with splash of olive oil, couple of whole crushed garlic cloves, some fresh rosemary leaves, salt and pepper and once they come out of the oven looking oh so appetizing, toss them with a little grated hard cheese and there you have it - the most mouthwatering, minimally fiddled with, nature's bounty on your dining table.
Preheat the oven at 450 deg F.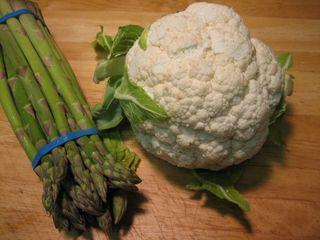 Needless to say, to begin bring forth a head large of cauliflower & about a lb of fresh green asparagus. 

Also pull out half a sprig of rosemary leaves, 5 tbs good quality olive oil & 5 cloves of garlic, peeled and crushed whole.


Some hard grated cheese such as Parmesan or Romano will work very nicely in the end. Also not forgetting 1 tsp salt & 1/4 tsp ground black pepper.


Prepare the vegetables -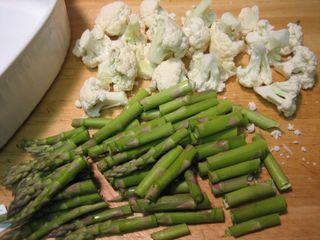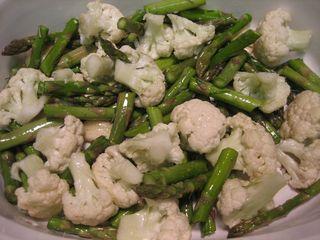 Cauliflower -  Get rid of leaves, central stalk & knob at the bottom. With fingers, separate the cauliflower florets.

Asparagus - Snap the asparagus near its bottom ends. These will naturally snap where the tough end meet the succulent tops. Cut each stalk into 3 pieces leaving the tips intact.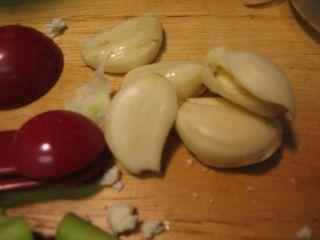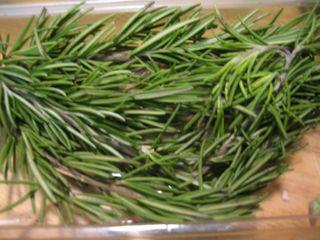 Garlic - Peel & crush whole
Rosemary - Pull leaves from a large stalk and roughly chop with a knife or kitchen shears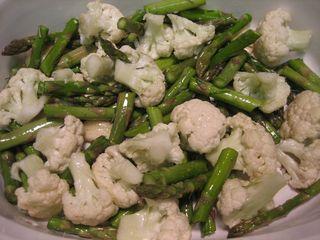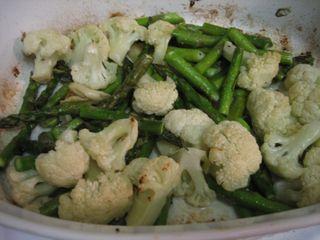 Place the cauliflower florets, asparagus, olive oil, salt, ground pepper, fresh rosemary leaves & crushed garlic cloves in a zip lock bag.

Close & shake till the olive oil has thoroughly coated the vegetables. Empty into a baking dish. Place in the oven for 25 minutes until the vegetables are crisp-tender.
Cook's Note - Halfway through the cooking process, give the vegetables a quick stir & continue roasting.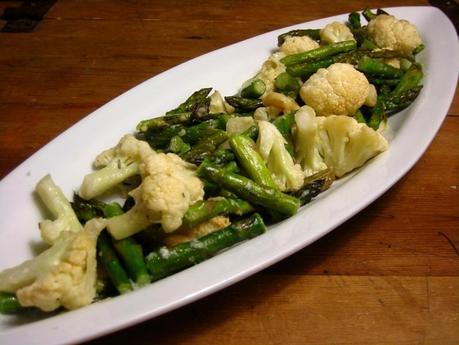 Once the vegetables has finished roasting, add 1 tbs of grated hard Parmesan cheese or Romano Cheese and lightly toss. Serve immediately.
The vegetables are infused with the flavor and aroma from the rosemary & garlic. The cauliflower & asparagus taste refreshingly sweet & are absolutely delicious. It was also gobbled up by the kids!
This evening I served it with steak au poivre but it also makes a lovely side to fish, chicken & pork.