It is no secret that we have been trying to eat better and lose weight. Lofty goals during the time of year when you cannot swing a stick without hitting Halloween candy, pumpkin-spice everything, and a tray of Christmas cookies. Carrots are always a healthy if not mundane and tiresome alternative.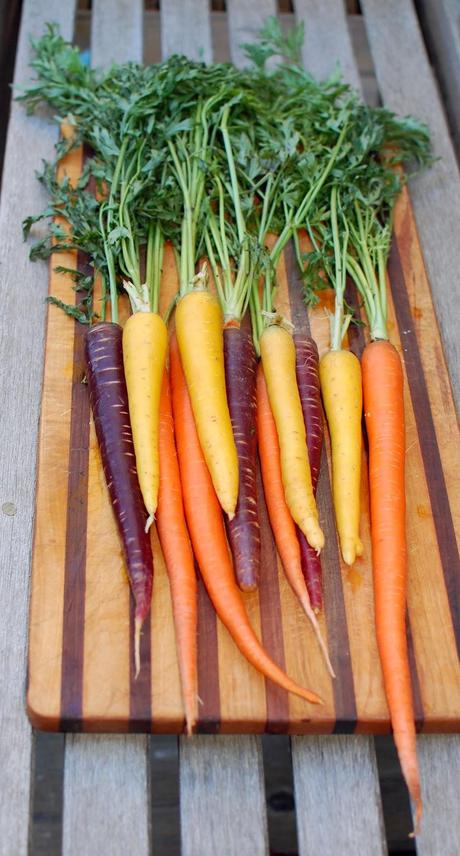 Carrots respectable fiber content is a key fat-fighting feature, half of which is the soluble fiber calcium pectate. Soluble fiber may help lower blood-cholesterol levels by binding with and eliminating bile acids, triggering cholesterol to be drawn out of the bloodstream. Additionally, carrots have little competition when it comes to beta-carotene. One half-cup serving of cooked carrots has four times the RDA of vitamin A in the form of protective beta-carotene. Beta-carotene is thought to ward off cancer and help to prevent heart disease due to its antioxidant qualities. The National Cancer Institute is studying the entire family of umbelliferous foods, of which carrots, celery and parsley are members, for protective effects. A recent Harvard University study suggests that people who eat more than five carrots a week are much less likely to suffer a stroke than those who eat only one carrot a month.
Yada, yada, yada. Let's face it; those little carrot nuggets found in every school lunch box are BORING. Carrot soup; blah. But… roasted to bring out the natural sugars, now we may be getting somewhere. Add some sorghum syrup and a few caraway seeds and we are in business.
Sorghum syrup, also called sweet sorghum, is made from juice extracted from sorghum cane plants, which are grown in the Southeastern United States. Sorghum syrup contains no fat, cholesterol or protein and is a rich source of nutrients like manganese, vitamin B-6, magnesium and potassium. This sweet syrup can be used on pancakes, biscuits or as a topping for ice cream. It is sometimes used in baked goods as a substitute for molasses, corn syrup, maple syrup and as a vegan alternative to honey. Caraway seeds add a nice cumin-like warmth to dishes while aiding in digestion and boosting iron and calcium intake.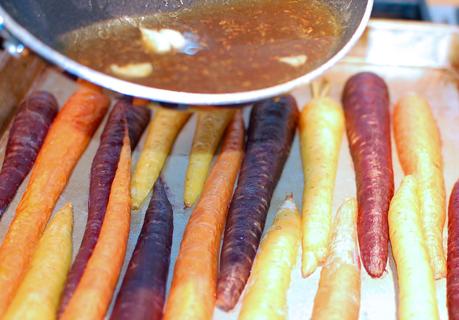 2 pounds baby carrots
1 teaspoons olive oil
1 tablespoon butter
½ teaspoon kosher salt
¼ teaspoon freshly ground black pepper
1 clove of garlic, smashed
¼ cup white wine
¼ cup sorghum syrup
¼ teaspoon caraway seeds
Preheat oven and pan to 400°F. Wash and remove tops from carrots leaving 1 inch of greenery on each carrot. (if they have them.) Rub carrots with olive to ensure that they are fully coated and sprinkle with salt and pepper before placing them on a baking sheet. Place in the oven and bake 10 minutes.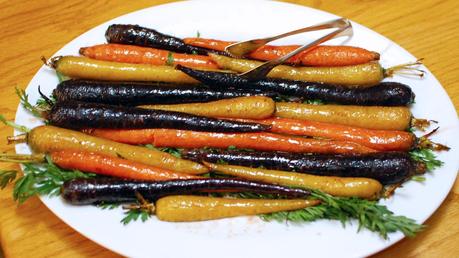 Meanwhile, melt butter in a small saucepan over medium-high heat. Add garlic and sauté for a minute. Remove from the heat, and stir in wine, syrup and caraway seeds. Return to the heat, and bring to a boil, stirring occasionally. Reduce heat to medium, and cook for 3-5 minutes or until the mixture is syrupy.
Drizzle the syrup over carrots and toss to coat. Bake for another 10 minutes or until carrots are crisp-tender. Transfer to a serving dish and pour pan juices over the top before serving. Have leftovers? Don't throw them away. They make a much better snack than those orange nugget aberrations.