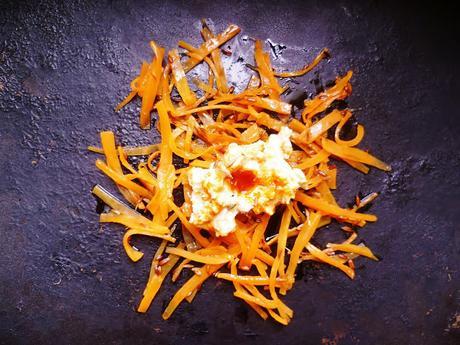 roasted carrots with crème fraîche and harissa dressing
It's June in England, where we are caught in that strange limbo over what to eat and what to wear. That might sound a bit odd, but you never know whether it is a time for fresh summer salads or warming winter casseroles. T-shirts or woollens? Flip-flops or galoshes? June's weather is so very often quite capricious. Two days ago, it was sweltering heat in London. Today it is gray and overcast; it feels like autumn. But this side dish of roasted carrots with harissa and crème fraîche seems to me to be the perfect compromise, since the fresh tart flavor of crème fraîche combines beautifully with sweet roasted carrots and toasty cumin and warming cinnamon. It is perfect, whatever the weather.

One of my favorite ways for using crème fraîche, the thick, slightly sour cream from France, is as a dressing for roasted vegetables in a salad. It's delicious with most roasted Mediterranean vegetables, such as aubergines or courgettes. But it really comes into its own with the humble roasted carrot.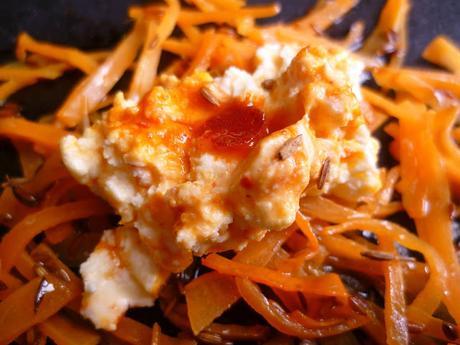 roasted carrots with crème fraîche and harissa dressing

If you have never heard of it, harissa is a spicy North African condiment made from red peppers, chillies, garlic, coriander and caraway. I love the Tunisian brand, Le Phare du Cap Bon, which is sold in tubes or small tins, much like tomato
purée. (I'm a sucker for the brightly coloured retro images). While it is typically used stirred into couscous, soups or stews, it is a very handy store-cupboard ingredient. I love it in scrambled eggs or cheese-on-toast.
Sainsburys do a version of harissa that is milder and slightly fruity tasting with lemon juice as well as smoked paprika, cloves and rose petals. I think that it's worth trying a few different brands to find your favorite. Of course, you could just make your own. Yotam Ottolenghi has a lovely recipe on The Guardian website, although I suspect his use of sherry vinegar might be unusual (or even controversial), although I imagine it tastes gorgeous.
A recent theme for The Guardian's Readers' Recipe Swap challenge was CRÈME FRAÎCHE, and this recipe was included, of which food writer Eve O'Sullivan said "Creme fraiche also lifts roasted veg to center stage". I couldn't agree more!
Serves 4 as a side dish or part of a mezze platter
Skill level: Easy
ingredients: 
1 kg small carrots, cut into strips. (Whole baby or chantenay carrots are perfect for this recipe.)
1 tsp cumin seeds
4 tbsp olive oil
salt and freshly ground black pepper
140ml crème fraîche
1 tbsp harissa paste
1 tsp runny honey
a quarter tsp ground cinnamon
juice of 1 lemon (or 2 limes)
directions:
Toast cumin seeds in a small frying pan. Once fragrant grind up using a pestle and mortar or in a blender.

Blanch carrots before transferring to a bowl of ice-cold water. Drain thoroughly. Toss with 1 tbsp of olive oil. Sprinkle with ground cumin.

Heat 3 tbsp olive oil in a large frying pan. Cook the carrots for about 8 minutes, until browned and cooked through. (You'll probably need to do this in 2 batches). Transfer to a serving dish and season to taste.

Combine the harissa with 1 tsp of honey, 2 tsp lemon juice and the ground cinnamon. Stir through the crème fraîche.

Spoon the crème fraîche over the carrots with a sprinkling of fresh lemon juice.