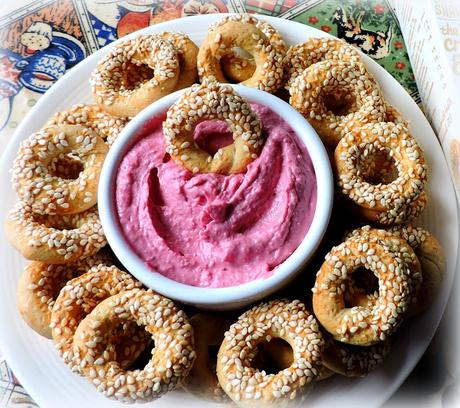 I adore Hummus.  It is something we eat quite often in our home and something which I more than often make myself.  It is so easy to make and so delicious, makes a great snack and spread.  I just love it!  Roasted Pepper Humus, Plain Hummus, Lemon and Coriander Hummus, and a real favorite of ours Roasted Beetroot Hummus. Oh sure you can buy all of these things readymade, but nothing beats the flavor of a hummus you have made with your very own hands! You know exactly what has gone into that.  No preservatives for a start, which means that it won't last as long as a ready made, but thats never really been a problem because we gobble the stuff up!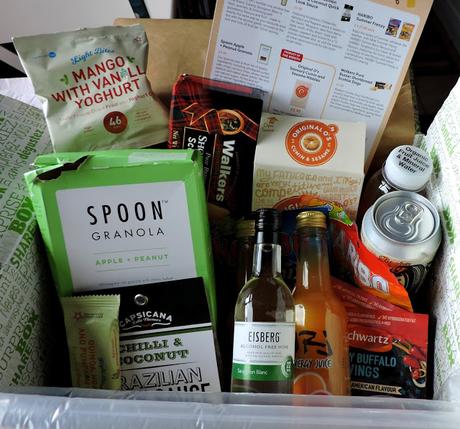 Every month I am the happy recipient of a Degustabox.  I love these boxes.  Opening each one is a bit like opening a Christmas box.  Always a surprise and always filled with things I want to try.  Degustabox is a monthly foodie subscription service that sends out a range of specially selected foodie products. There's always a great mix of new products that I haven't tried before, as well as plenty of treats from more established brands. Quite often you will have the opportunity to try new products before they arrive in the shops, so it can be a bit of a sneak peak! Each Degustabox costs £12.99, delivery costs are included in the price, and there is no fixed contract involved - you can cancel at any time. I love getting these boxes.  When I saw the contents of June's BBQ Box I knew right away which product I wanted to highlight, but more about that in a little bit.Let me tell you about the other products I received first!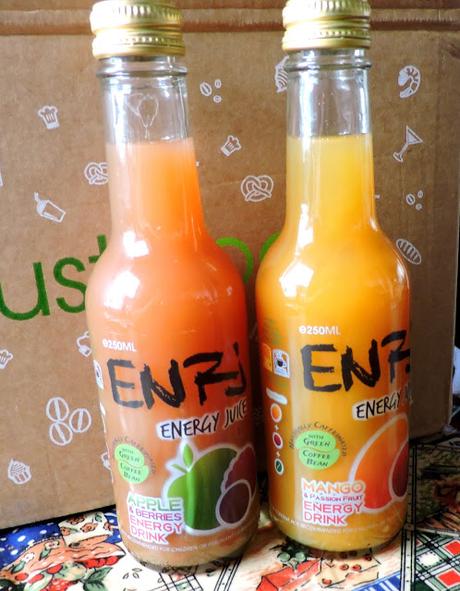 ENRJ Energy Juice 2 X £1.75
Freshly pressed fruit juice, naturally caffeinated with green (unroasted) arabica coffee beans (a double espresso worth) for a longer-lasting energising lift. Made from real ingredients, with nothing artificial, no added sugar, less than 100 calories per bottle and one of your five-a-day; fuel your day the healthy way with #ENRJ.
ENRJ Mango Passion: Mouth watering mango and a squeeze of passion, shaken with a dash of green arabica coffee bean, for a longer-lasting energizing lift.
ENRJ Apple and Berries: Aromatic apples bountifully berryfied, and naturally caffeinated with a dash of green arabica coffee bean. A bottle a day … after all it's one of your five-a-day!
No added sugar. Less than 100 calories per bottle. No artificial flavouring or colourings. Gluten free. A double espresso equivalent.  Todd has found these especially great as he is recovering from his radiation therapy and has needed a lot of extra energy!  He says they are really tasty too!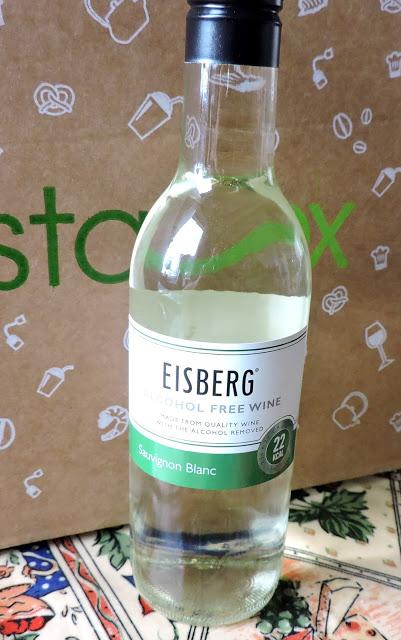 EISBERG Sauvigonon Blanc Alcohol Free Wine 1 X £1.49
Whether you're the designated driver or simply looking to take a few days off alcohol as part of a healthier lifestyle choice, Eisberg Alcohol-Free Wine is the perfect alternative this BBQ season!
Made in exactly the same way as all wines, it is only after our experts have decided the wine is just right, that the clever bit happens! Using one of the world's most advanced techniques, the alcohol is removed at the very end of the process, to ensure that as much of the original character and flavours of the wine are kept intact.
This leaves you with an alcohol-free wine perfect for picnicking, outside barbecuing, or simply relaxing with friends on warm summer nights. 
Its also great for cooking with, which is what I use it for.  Check out the website for recipes!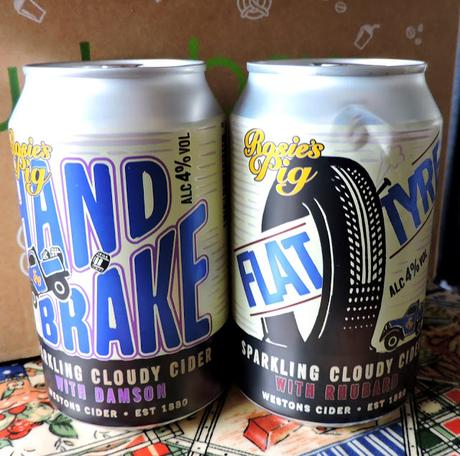 WESTON'S Rosies Pig Ciders 2 X £1.99
Both Rosie's Pig products are made using 100% fresh pressed Herefordshire Cider Apples. The products were crafted by Guy Lawrence, 5th generation family cider maker, at Westons Cider Mill.
Rosie's Pig Flat Tyre has a complex aroma with a distinctive rhubarb hint. It has a satisfyingly complex taste that is slightly astringent with a hint of citrus and a tart finish.
Rosie's Pig Handbrake has a plummy aroma with hints of hedgerow. It has a fruity damson flavor and is rich, well balanced, easy drinking with a sharp finish.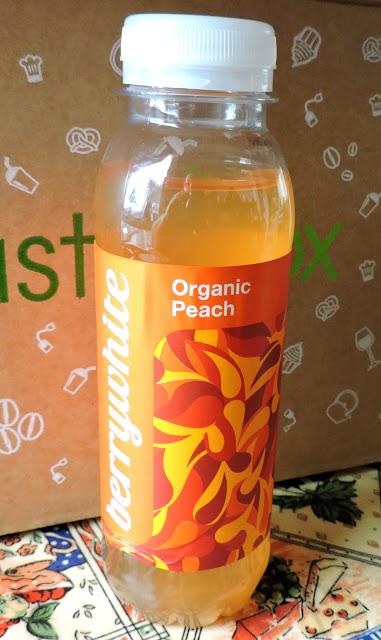 BERRYWHITE Organic Drinks 1 X £1.39
Berrywhite organic drinks tick all the right boxes being organic fruit juice blended with mineral water, one of your five a day, giving 10% profit to the Berrywhite Foundation www.berrywhite.com/foundation and contain no added sugar, no preservatives or anything artificial.
 I received a bottle of the Peach drink. YUM!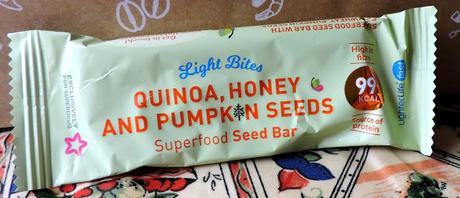 LIGHTERLIFE FAST Superfood Fruit Bar 1 X £1.25
Deliciously healthy snacks for those looking for something light and extremely tasty without the remorse.
Snack virtuously with Light Bites; every pack is under 100 calories and full of deliciousness – from the superfoods in the bars to the freeze dried, locked in goodness of real fruit in our fruit chips. The popped chips are gluten free and high in protein too!
Included in the June Degustabox - Superfood fruit bar with goji berries, quinoa and chia seeds - only 98 calories per bar and packed with fiber without artificials (colours, preservatives or flavours) and low in saturated fat.
Take your pick of your perfect Light Bite and indulge without guilt.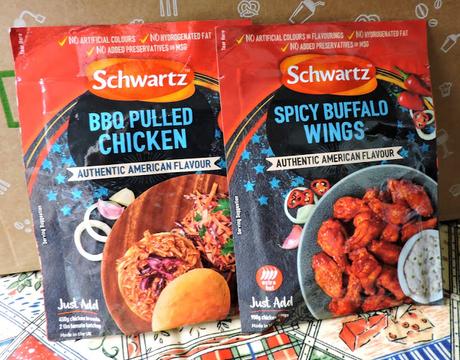 SCWARTZ  authentic flavor mixes 2 X £0.85
Schwartz's new, easy to use recipe mixes will transport your taste-buds across the Atlantic, Stateside. Bring a sweet and spicy twist to mealtimes with Authentic American recipe mixes for BBQ Pulled Chicken, Spicy Buffalo Wings, Chicken Jambalaya and Sweet Potato Wedges.
The BBQ Pulled Chicken and Spicy Buffalo Wings Recipe Mixes were both included in the Degustabox.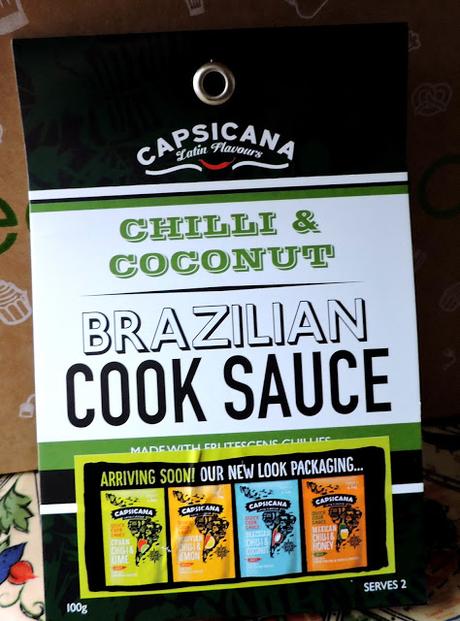 CAPSICANA BRAZILIAN Chilli & Coconut Quick Cook Sauce 1 X £1.99
 Featuring Frutescens Chillies this delicious and fragrant sauce is based on the classic 'Moqueca' stew from Bahia state, north of Rio. Cook with chicken, peppers and onions for a 15 minute midweek dish, or visit the website  for lots more recipe ideas.This mix packs a nice flavourful punch!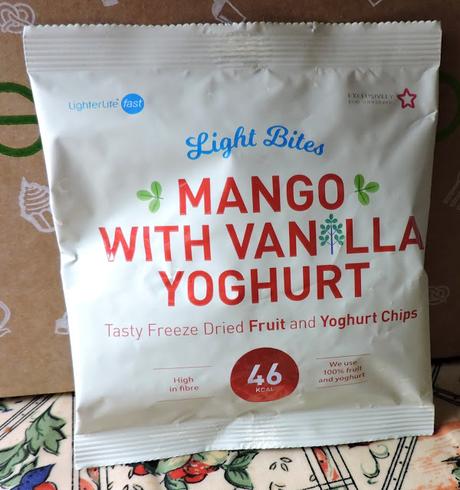 LIGHT BITES Mango with Vanilla Yoghurt Fruit Chips 1 X £1.49
Deliciously healthy snacks for those looking for something light and extremely tasty without the remorse.
Snack virtuously with Light Bites; every pack is under 100 calories and full of deliciousness – from the superfoods in the bars to the freeze dried, locked in goodness of real fruit in our fruit chips. The popped chips are gluten free and high in protein too!
Included in the June Degustabox - Mango with Vanilla Yoghurt Fruit Chips - Tasty freeze dried fruit and yoghurt chips only 46 calories per bag and 100% fruit and yoghurt.
Take your pick of your perfect Light Bite and indulge without guilt.  I love, LOVE mango anything!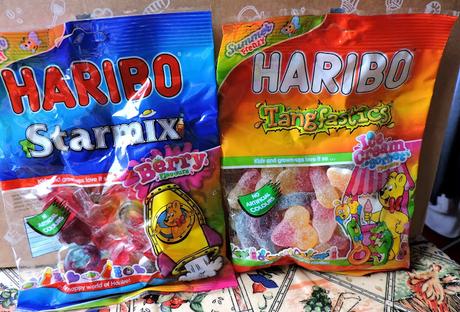 HARIBO Summer Frenzy 2 X £1.00 each
 HARIBO Frenzy is back and celebrating the taste of summer with new flavor twists of Starmix and Tangfastics inspired by British summertime.
Available in the same iconic pieces known and loved, Starmix and Tangfastics can now be enjoyed in a frenzy of all new flavor and color combinations perfect for sharing.
Enjoy tastes of the season inside bags of HARIBO Starmix Berry Flavours with a blueberry flavoured bear, a strawberry flavoured egg, a pomegranate and cranberry bottle, and a cherry flavoured purple heart.
Adding extra fizz to the excitement, HARIBO Tangfastics Ice Cream and Sorbet Flavours features refreshing treats including a rhubarb and custard ice cream flavoured cherry, a peach and guava sorbet flavoured dummy and a pink grapefruit sorbet bottle.
In store now, these new Summer Frenzy flavor twists will certainly help you enjoy summertime!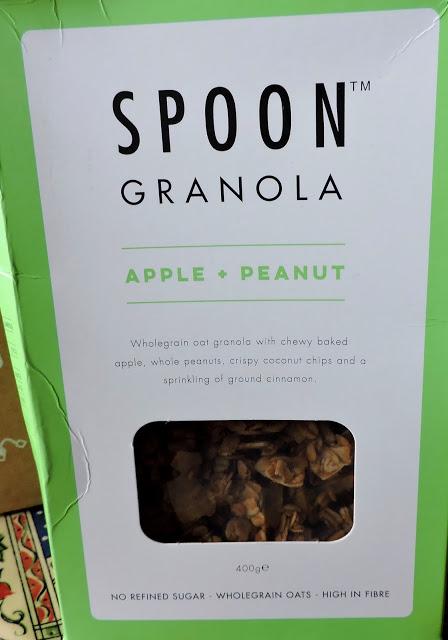 SPOON Apple + Peanut Granola 1 X £3.70
The Apple and Peanut granola is one of the recipes we served from our pop-up breakfast cereal bar at train stations, food markets and music festivals.
We only use real ingredients and natural sugars, including our not-so-secret ingredient, pure maple syrup which is not only rich in flavor but also contains higher levels of nutrients than regular sugar. The baked apple pieces, whole toasted peanuts, coconut chips provide a delightful mix of textures and flavours to your breakfast bowl.
Enjoy our granolas the classic way with natural yoghurt and fresh fruit, or mix it up by sprinkling on top of your porridge and whizzing into smoothies. We won't judge you for nibbling on our granola straight from the pack. I adore granola and am always keen to try a new kind.  This was very good.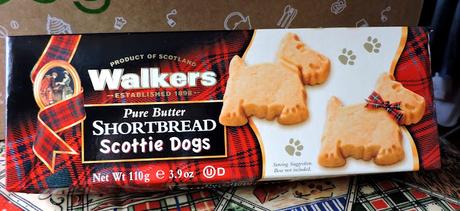 WALKERS Pure Butter Shortbread Scottie Dogs 1 X £1.95 
Walkers Scottie Dog Shortbread is a novelty treat that is loved, by both adults and children. Attractively packaged, these playful Scottie dogs are made with only the finest quality ingredients, giving them the same wonderful Walkers taste. 
Having just enjoyed a holiday in the Scottish Highlands, I did my own personal taste test while I was there (You just have to) and I can tell you without a word of doubt that Walkers were a personal favorite.  How cute are those dogs.  Funny story, I brought a back when I was up there to send to my mom for her birthday because they were so cute and I thought she might enjoy them!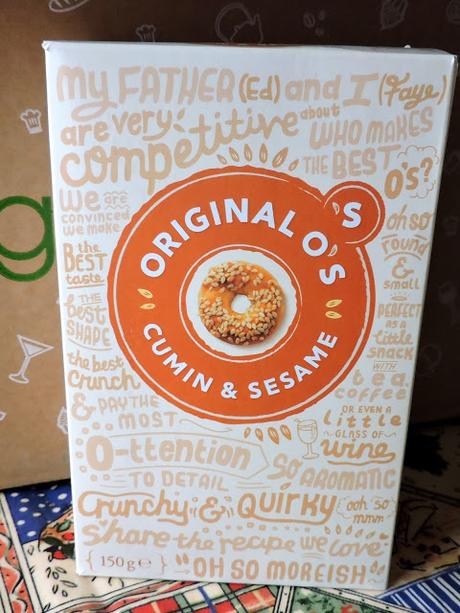 ORIGINAL O's Savoury Cumin and Sesame Nibbles 1 X £2.99
Take one competitive family, add a secret recipe that has
never been agreed between them. Mix in cumin and sesame, add a pinch of ambition and share the O's with the world…
Warning: You may get O-ddicted to O's!  (I can well believe it, they are FABULOUSLY delish!)
Order online via Amazon at www.originalos.com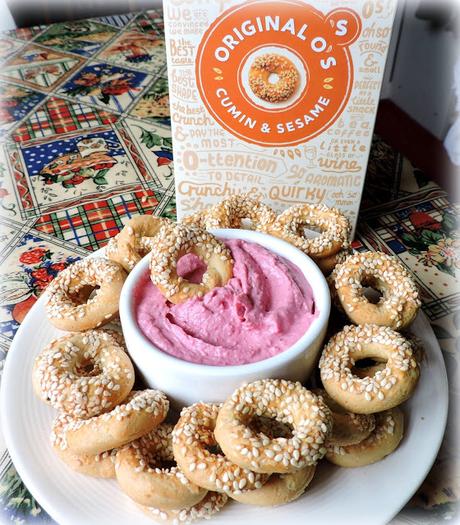 And no surprise this was the product that I chose to highlight with a recipe.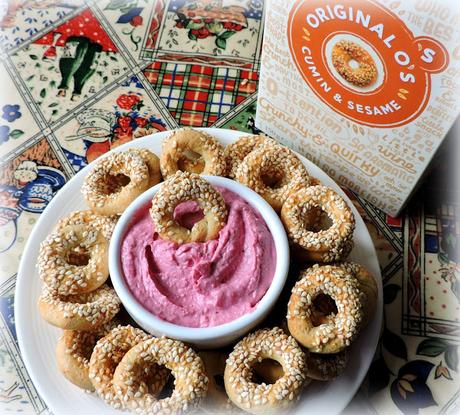 These lovely crunchy little rounds lend themselves beautifully to dipping (or eating out of hand) but really they went beautifully with a nice bowl of Roasted Beetroot Hummus.  The perfect starter for your BBQ season!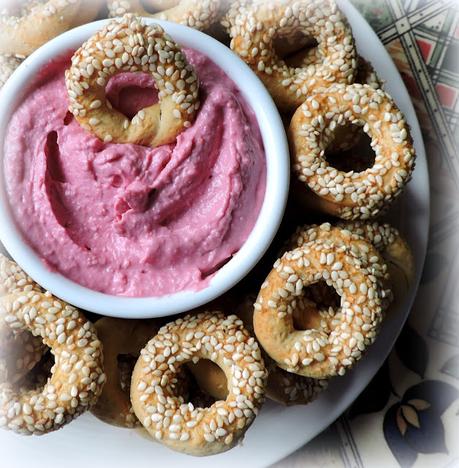 Roasting the beetroot first lends a lovely sweetness to the beetroot.  I adore beetroot and could just sit down and eat a whole plate full of boiled or steamed beetroot all on it's own.  Pickle it and I am there!  ROAST IT and I am all over it!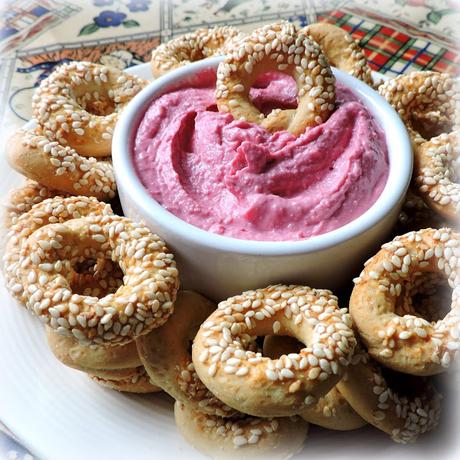 Use that roasted beetroot to make a delicious hummus and I am in dipping heaven!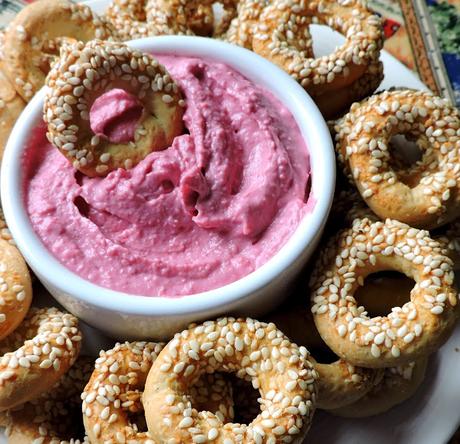 *Roasted Beetroot Hummus*Makes 4 servingsPrintable Recipe  
I had made beetroot hummus with already cooked beetroot in the past, but got to wondering how much better it might taste if I roased the beetroot first.  Wow is all I can see.  Roasting really helps to bring out the natural sweetness of this fabulous vegetable! 
240g beetroot (1/2 pound)2 cloves of garlic, peeled and smashed2 1/2 TBS olive oil
You will also need:
1 (400g) tin of chickpeas (14 ounces), drained(reserve the liquid from the tin just in case)3 tsp Tahini 1/2 TBS ground cumin, toasted in a dry skillet100ml extra virgin olive oil (7 TBS)50ml fresh lemon juice (3 1/2 TBS)salt and black pepper to taste 
Preheat the oven to 200*C/400*F/ gas mark 6.  Have a baking tray ready.  Peel the beetroot and cut each into wedges.  Place onto a large square of aluminum foil,  Add the garlic and olive oil.  Bring the foil up around the beetroot and scrunch together to seal it in completely.  Place into the preheated oven and roast for 445 to 50 minutes, or until the beetroot is tender. It should yield with a bit of pressure and a skewer should insert easily. 
Tip the cooked beetroot into the bowl of a food processor, along with the garlic and any accumulated juices.  Add the drained chickenpeas. Tahini, cumin, olive oil and lemon juice.  Blitze to a smooth puree.  If it is too thick add some of the reserved chickpea liquid to give you the consistency you desire.  Season to taste with salt and pepper, and blitz again to combine.  Scrap into a serving bowl, cover with plastic cling film and chill until needed.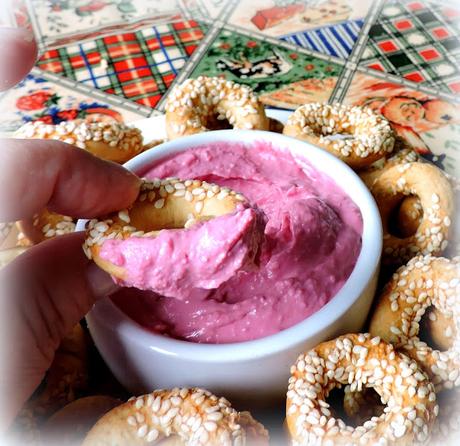 Yum! Yum! 
Many thanks to Degustabox UK for sending me this box. I have to say I really look forward to getting my box each month. There are always lots of things in it to enjoy and new products to try out. I highly recommend. You can also tailor the boxes to your own likes and dislikes by filling in your own Taste Profile. If you like the sound of the BBQ box, you can obtain yours now here . Do check out the Degustabox web page for more information and details.
Follow them on Facebook 
Follow them on Twitter