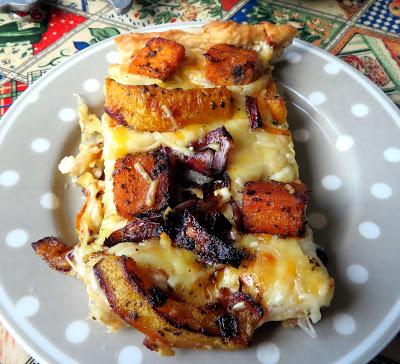 Every month I am the lucky recipient of a Degustabox.  Once a month, around the middle of the month, I am gifted with one of these lovely boxes which contain a delicious assortment of all things foodie.  I just love these boxes.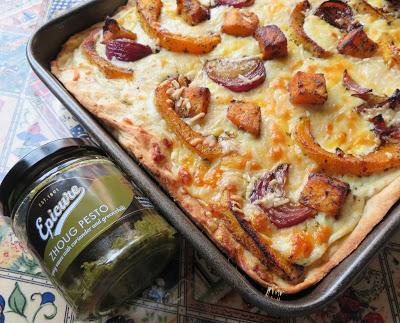 Opening each one is tiny a bit like opening a Christmas gift. Always a surprise, and always filled with things that pique my interest and desire to try.
Degustabox
is a monthly foodie subscription service that sends out a range of 10 to 15 specially selected foodie products. I even have a code that  can give you which will  give you a £5 discount off of your first box. I will tell you about that at the end.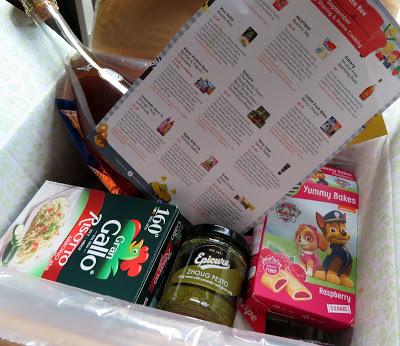 There's always a great mix of new products that I haven't tried before, as well as plenty of treats from more established brands. Quite often you will have the opportunity to try  new products before they arrive in the shops, so it can be a bit of a sneak peak! Each Degustabox costs only £12.99, delivery costs are included in the price, and there is no fixed contract involved. You can cancel at any time. I love getting these boxes! In my opinion, they are great value for money spent.  The September box had a Family Sharing and Home Cooking theme!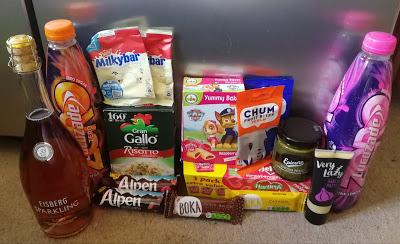 After studying the contents of this box I decided that I was going to bake us a lovely Autumn Pizza using one of the products in the box. The Epicure Pesto. I received the Zhoug one and I thought its flavours would go well in roasting some autumn vegetables to top the pizza with. More about that later, first let me tell you about what else was in the box.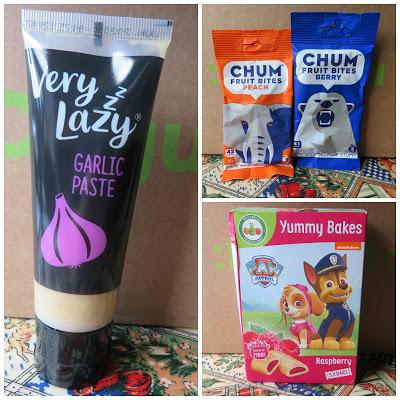 VERY LAZY GARLIC PASTE 
1 X £1.85
If you need to add a burst of flavor but don't have time to peel, chop or crush garlic, Very Lazy is here to help! Add a squeeze of the Very Lazy Garlic Paste for an instant garlic boost to your favorite dish!  Visit
verylazy.com
for ideas and recipes.Available at Tesco & Ocado  
CHUM
Fruit Bites Berry/Peach 2 X £.079 
100% wild, no fake stuff. 100% fruit, no added sugar, non GMO, Kosher, Gluten Free. 1 of 5 a day. Slowly baked to retain the vitamins, proteins and fiber. No gumming agents to quick the process nor dilute sugar claims. 15 % of the profits donated to @wildaid.org to save our chums.Available at
www.chumbites.com
, Amazon, Ocado and selected independents. 
APPY KIDS CO
Yummy Bakes 1 X £1.00
Get our lovely Yummy Bakes as a snack for your kids' breakfast! It is mad with real fruits, fortified with fiber and baked with wheat and oats. We do not add any artificial colours o flavours, no preservatives. Free from palm oil our bakes are suitable for the planet.Available at TJ Morris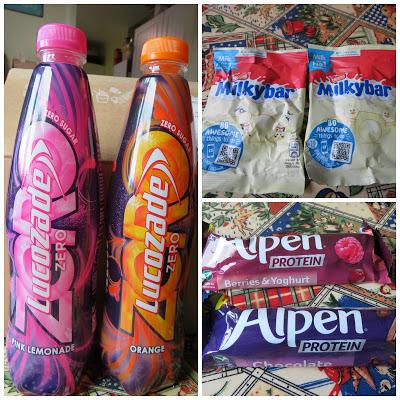 LUCOZADE ZERO
1L Orange/Pink Lemonade 2 X £1.99
At Lucozade Zero we don't believe in making sacrifices. Life is about choosing the things you like and leaving out the things you don't. That's why we've created our unmistakably awesome tasting Lucozade, now without sugar. For maximum enjoyment, chill it in the fridge before drinking.Available in the major supermarket chains and independant retailers. 
MILKYBAR
Buttons 30g 2 X £0.55 
They say good things come in small packages and MILKYBAR Buttons are no exception.  Delicious white chocolate buttons with no artificial colours, flavours or preservatives.  Scan the QR code on the pack to explore '80 Awesome Things To Do' for inspiration and activities for the whole family.Available in the major supermarket chains and independent stores.
ALPEN PROTEIN BARS
Berries & Yogurt/Chocolate  £2.49 for multi pack of 5 bars
Cereal bars taste great and are really convenient, but they rarely fill you up and all too often you find yourself hungry again. Introducing Alpen's range of Protein Bars. A delicious protein bar that helps keep you fuller for longer and give you the energy to get through the day.Available at Tesco, Morrison's and ASDA.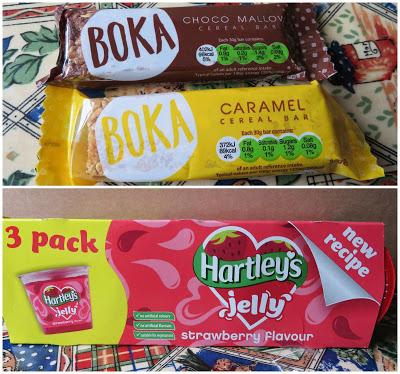 BOKA
Cereal Bar 2 X £0.79
Boka cereal bars are unique in having "4 green traffic lights", they are low in sugar, low in fats, low in salt and also under 100 calories while still tasting delicious! Great as a healthy snack in a lunch box or sports bag. Available at Sainsbury's and Amazon. 
HARTLEY'S
3 Strawberry Jelly Pots £0.55 for a single pot
We're here to help you get back to routine as the kids go back to school Hands up for the pudding.Available in the major supermarket chains.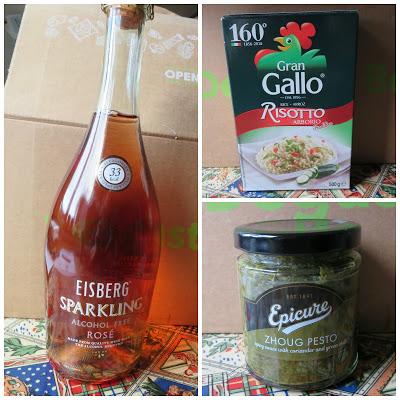 EISBERG
Alcohol Free Sparkling Rose 1 X £4.00 
Our ripe and juicy alcohol free sparkling rose is bursting with fruity notes of red cherry and strawberry. And wit only 33 calories in a 124ml glass, what's not to love?Available at Morrisons and Ocado. 
RISO GALLO
Risotto Rice 1 X £2.29
Riso Gallo brings you the best Italian Risotto Rice selected from the best rice fields in Italy. Our risotto rice has a plump stubby grain and a high starch content, which gives it a perfect balance of creaminess and bite, making it ideal for traditional risotto.Available at all major supermarkets. 

EPICURE
Chermoula Pesto/Shoug Pesto/Mogo Verde Pesto/ Chakalaka Pesto/Chiichurri Pesto1 X £2.99
Amazing Pesto's inspired by world flavours. A passion for cooking starts with Epicure. Discover wonderful flavours from Africa, Middle East and Canary Islands. Versatile and easy to use. Simply stir through, marinade, dip or use as a sauce to create delicious food. great recipe ideas at Epicure.co.uk 
Available on Ocado, at Farm Shops and Independents.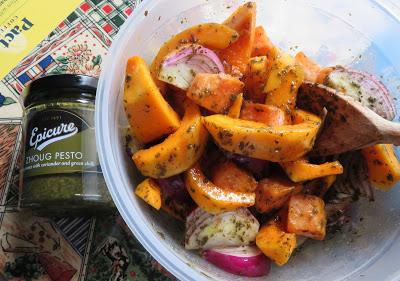 When I saw the ingredients in the Zhoug Pesto I received I was inspired by them to want to create a roasted Autumn Vegetable Pizza.  With Coriander and Green Chili I thought it would be the perfect fit!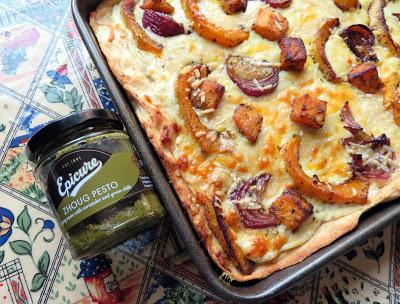 And I was right. I simply tossed prepared Butternut squash, sweet potato and red onions with a mix of the pesto, some olive oil, cinnamon, garlic, salt and pepper and then roasted them in the oven until they were soft and lightly caramelised.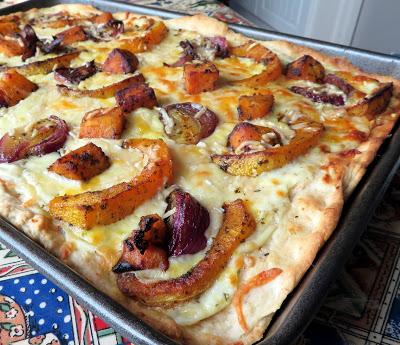 Pizza goes right along with this months Family Sharing and Home Cooking Theme I thought.  This tasty pizza is a great way to get your children to eat a few of their five a day!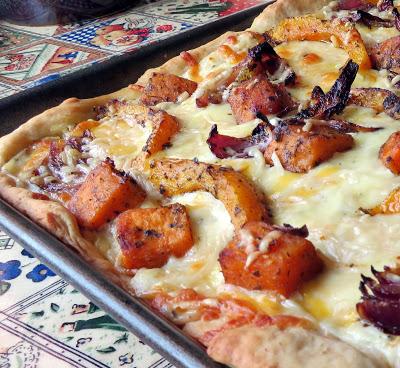 While the veggies were roasting I made a fabulous partly whole wheat pizza crust to use as a base for everything else.   Adding just a bit of whole wheat flour to your bread recipes adds some fiber and nutritional goodness to the family diet without them noticing overly much.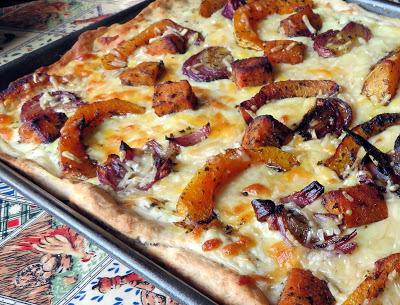 I made a "White" pizza sauce to spread on the crust.  Essentially it is just a white cream sauce, but much thicker than the usual white sauce  . . .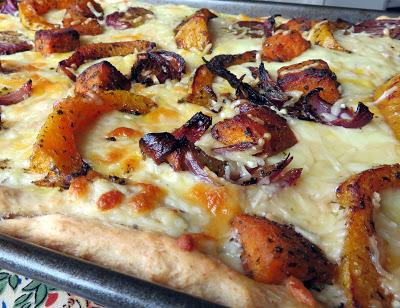 And flavoured with oregano, basil, red chillies, garlic, salt and pepper. Oh and a bit of grated Parmesan cheese as well.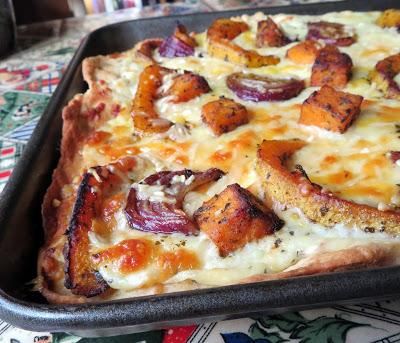 I spread this flavourful sauce over top of the dough and then I layered on cheese.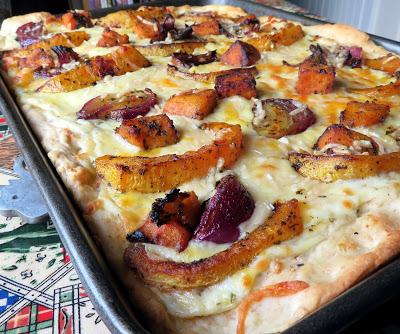 I used a four cheese Italian blend, containing mozarella, cheddar, fontina and parmesan  . . .  so good.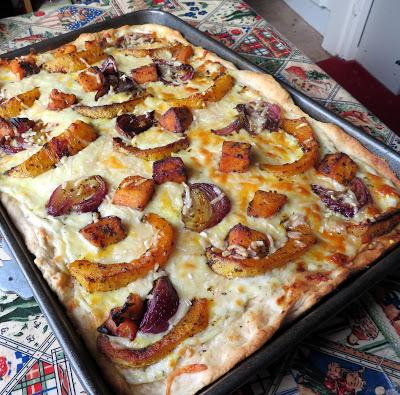 I layered the roasted vegetables on top of that. You dont' want a lot of vegetables. I think I had just the right amount without them being over-kill.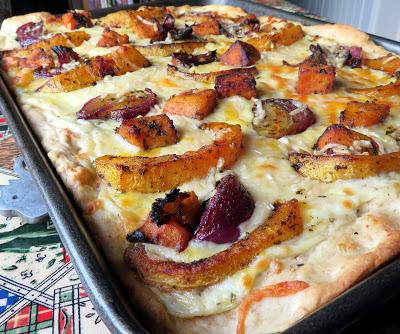 They were nice and spicy from that gorgeous pesto. You could use more if you wanted them even more spiced.  It really has a lovely flavor. Todd who is not normally a fan of pizza quite enjoyed this.
Yield:
8
Author:
Marie Rayner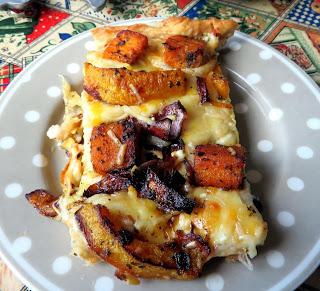 Autumn Pizza
A thick crust pizza with a white sauce and tasty roasted autumn vegetable topping.
ingredients:
For the Crust:
1 cup warm water (240ml)
1 1/2 tsp yeast
1 TBS liquid honey
1 TBS olive oil
2 1/2 cups strong flour (360g) plus more for kneading (can use part whole wheat)
1 tsp salt
For the white pizza sauce:
1 TBS butter
3 TBS flour
1 1/4 cups milk (280ml)
1/2 tsp garlic powder
1/4 tsp each dried oregano and dried basil
pinch hot pepper flakes
salt and black pepper to taste
1/3 cup  grated Parmesan cheese (60g)
You will also need:
1/2 small butternut squash, peeled, seeded and cut into wedges
1 large red onion, peeled and cut into wedges
1 medium sweet potato, peeled and cut into cubes
1 TBS pesto
2 TBS olive oil
1 TBS liquid honey
1/4 tsp garlic powder
1/4 tsp ground cinnamon
salt and black pepper to taste
2 cups grated four cheese Italian blend (245g)
instructions:
How to cook Autumn Pizza
First make the crust. Place the warm water in a large bowl. Stir in the honey and sprinkle the yeast over top. Allow to sit for several minutes to proof the yeast. (about 5) Whisk the flour and salt together. Stir the yeast to dissolve and then stir in the flour mixture and the olive oil. Mix together well, at first with a wooden spoon and then with your hands. Knead until smooth and elastic, about 5 to 6 minutes. Place in a lightly oiled clean bowl, turning once to coat it with the oil. Cover and allow to rise for 20 minutes before knocking down and proceeding.
While the crust is rising you can roast your vegetables. Preheat the oven to 220*C/425*F/ gas mark 6.   Line a large baking tray with some aluminum foil. Spray with low fat cooking spray.  Toss the vegetables together in a bowl along with the pesto, olive oil, honey cinnamon, garlic powder, and salt & pepper to taste.  Spread out in a single layer on the prepared baking tray. Roast in the preheated oven for 20 to 25 minutes until soft and slightly caramelised. 
To make the white sauce, melt the butter in a medium saucepan over moderate heat. Whisk in the flour. It will be stiff. Slowly whisk in the milk, stirring constantly. Cook, stirring continuously until the mixture bubbles and thickens.  Whisk in the remaining ingredients. Cook on low for about 2  minutes to cook out any flour taste.  Set aside to cool. 
When you are ready to prepare your pizza.  Oil one large baking sheet, or two smaller pizza pans.  Spread the crust out to fill the pan (s).  Spread the white sauce over top of the crust and top with the grated cheese.  Lay the roasted vegetables on top  in a decorative manner.
Bake in the preheated oven for 30 to 35 minutes until the crust is golden brown on the bottom, the cheese has melted and everything is heated through wonderfully. Cut into slices or wedges to serve.
Did you make this recipe?
Tag @marierayner5530 on instagram and hashtag it #EnglishKitchenCreated using
The Recipes Generator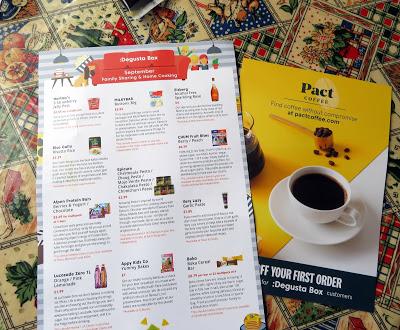 I really
d
o
make great use of and enjoy many of these fabulous products I am sent each month to try out. 
Many thanks to Degustabox UK for gifting me this box. I have to say I really look forward to getting my box each month. There are always lots of things in it to enjoy and new products to try out. I highly recommend. You can also tailor the boxes to your own likes and dislikes by filling in your own Taste Profile.  If you like the sound of this box, why not sign up now! I find them to be really good value for money spent and I really enjoy trying out new products that I have not tried before.   Included is also a detailed information card  which tells you all about each product included, and other extras such as recipes, etc.   
Follow them on Facebook 
Follow them on Twitter  
So, that was the August Degustabox - a nice selection of products as always. We loved it. The price of each Degustabox is £12.99 (including delivery). To order your box, visit www.degustabox.com 
Use the code 2ROE0 to get £5 off your first Degustabox, free delivery – enjoy! 
I was gifted with the box free of charge, however any and all opinions are my own.