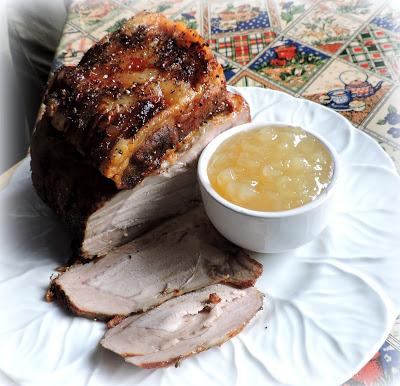 I had bought a lovely bone in pork loin roast prior to Christmas, which had been in the freezer since then as I just didn't get the chance to cook it.  I remembered it at the weekend and decided to take it out.  It was a lovely piece of meat.  Perfectly sized for four people, or just us two with some nice leftovers.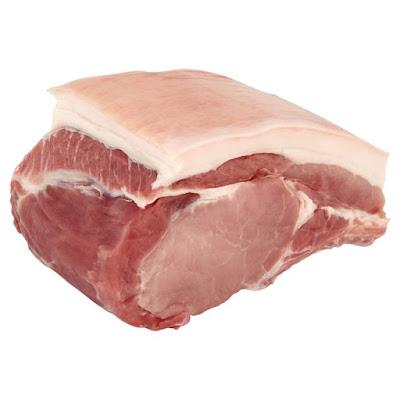 It was a free-range bone-in loin of pork half roasting joint, skin on, with four rib bones.  The chin bone had been removed, which makes for very easy carving.  I didn't especially want the crackling this time so I trimmed it all off with a sharp knife and discarded it, leaving a nice layer of fat on the outside.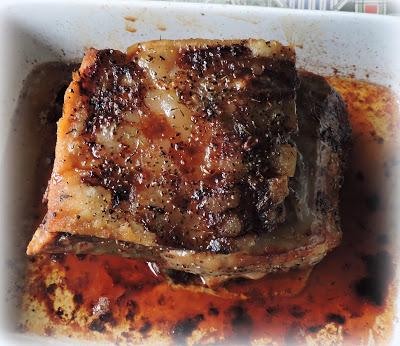 To be honest, I am never really quite sure what to do with the layer of skin. Over here they roast it until it is crisp and serve it as "Cracklin"  . . .  crisp and salty.  I am not a huge fan of this.  Probably because it isn't something I grew up with.  It's also really difficult to get it as crisp as you want for eating purposes simply by roasting it.  I think a lot of places actually deep fry it. We are staying away from that kind of thing in this house.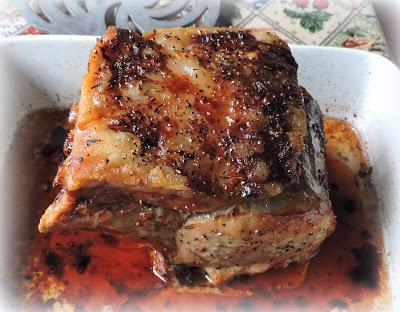 How I have always done my pork loin roasts is to make deep cuts into the roast, all over it at regular intervals, right down almost to the bottom, using a really sharp knife. My boning knife does a super job.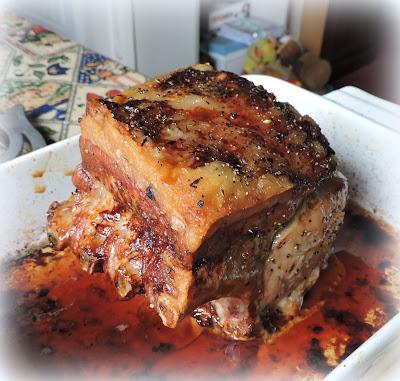 Then I take peeled cloves of garlic and stuff them into the meat.  For a roast this size, I used four cloves.  You cut them into slivers and then you start stuffing them down into the roast into the holes/slits you cut with your knife.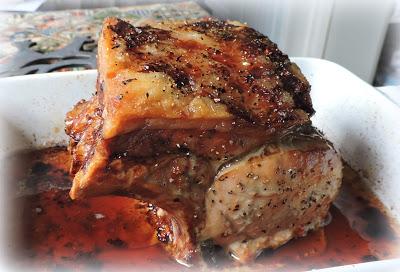 I use a chopstick for this.  First I push in the chopstick, which makes the slit wider, and then I stuff in the garlic, pressing it down in with the end of the chop stick.  I try to make it so the slivers end up a different spots inside the meat.  Some I will push down all the way and others I will leave nearer the surface.  Don't worry the holes close over when the meat cooks.  You don't end up with a hole-pocked piece of meat, trust me.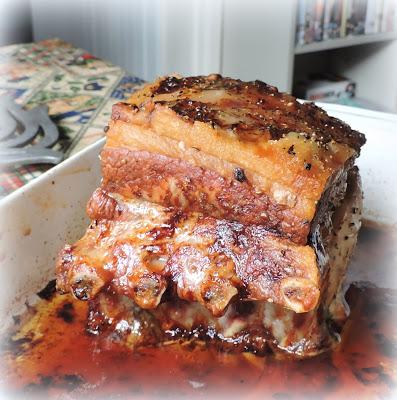 After that I sprinkle it all over liberally with sea salt and freshly ground black pepper.  And that's it.  Just put it into the roasting dish/tin and roast it.  Easy peasy.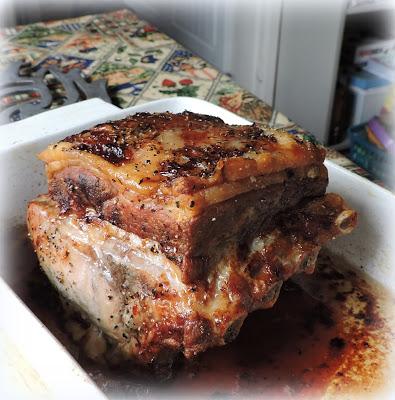 I like to serve it with some mashed potatoes, cabbage, carrots, swede and gravy.  With a bit of applesauce on the side, it makes for a beautiful meal. Sometimes I will make a fruity bread stuffing to serve along side as well. Its so tasty!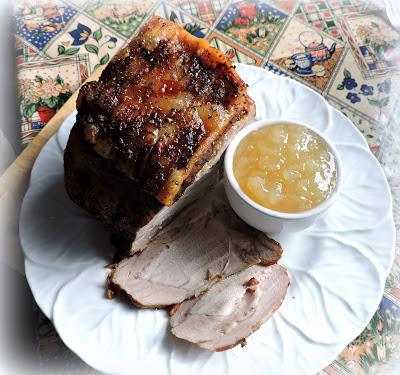 *A Simple Roast Loin of Pork*Serves 4Printable Recipe  
This is a delicious method of cooking a bone in pork loin, which results in tender well flavoured and succulent meat. 
1.1kg free range loin of Pork half roasting  joint (2 1/2 pounds)4 cloves of garlic, peeled and cut into sliverssea salt and black pepper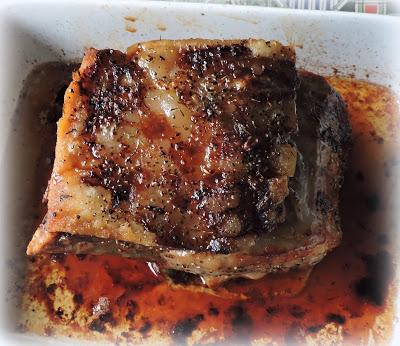 Remove the meat from the refrigerator and allow it to come to room temperature.  Preheat the oven to 200*C/400*F/ gas mark 6.  
If your roast has the skin on it, using a really sharp boning knife, trim off the skin and discard, leaving a nice layer of fat.  Using the tip of your boning knife, make deep cuts down into the meat, through the fat.  Push a sliver of garlic down into each cut.  Sprinkle all over liberally with salt and black pepper.  Place into a small roasting tin/dish. 
Roast in the preheated oven for 30 minutes per 500g/1 pound plus an additional 20 minutes. My roast took approximately 1 1/2 hours. The juices should run clear. 
Serve hot cut into thick slices.  (I like to cut in between the ribs. This is very easy to do, if the chin bone has been removed.)  
Serve with applesauce and your favorite vegetables.   You can make a delicious gravy with the pan drippings if you wish.  Remove and discard all of the fat, but 2 TBS of the fat. Put the the 2 TBS pork fat into a saucepan.  Add 2 cups hot stock (chicken) to the pan and scrape up all the brown bits and meat juices. Heat the fat over medium heat and whisk in 2 TBS of flour.  Cook for about a minute.  Slowly whisk in the pan juices/stock.  Cook, whisking constantly, until it bubbles and thickens.  Season to taste with salt, pepper and a bit of thyme if you desire.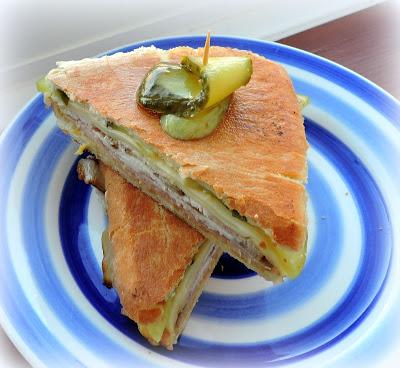 We had some of the leftovers today in Cuban Sandwiches.  I have never been to Cuba, but this sandwich has always intrigued me. It has always looked incredibly delicious.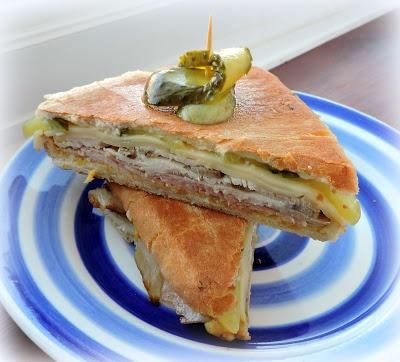 I did a search on Pinterest for a recipe. There was no end of recipes to choose from. I finally decided on one that I found on Saving Room for Dessert.  Most of the other recipes I had looked at called for a layer of Salami, which I didn't have.  This was simply layers of honey ham, roast pork, swiss cheese (I used a Dutch Maasdam), mustard and sour gerkins/pickles.  I used ciabatta rolls.  Buttered and pressed/weighted down and grilled in my iron skillet.  YUM!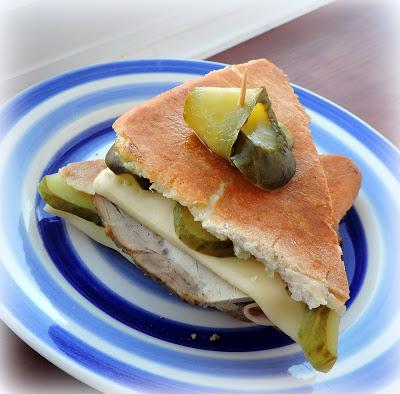 The leftover roast pork was perfect in this, with a nice hit of garlic, thinly sliced.  My new favorite sandwich!  Bon Appetit!