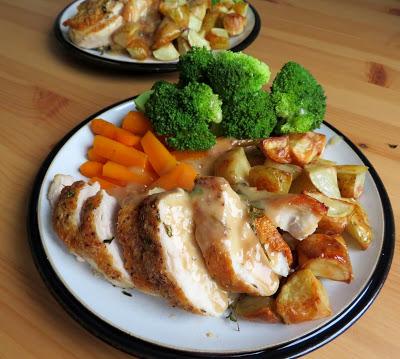 I'm not sure about you, but one of our favorite meals in this house has to be a Roast Chicken Dinner with all the trimmings.  Succulent perfectly cooked chicken, crispy roast potatoes, fresh veg and plenty of gravy.  There is not much about a Roast Chicken Dinner I don't like!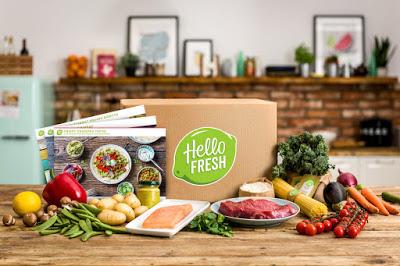 I was recently contacted by the people at Hello Fresh and asked would I like to try out and cook one of their recipes in the comfort of my own home.  I think all of us can agree that cooking during this Pandemic has been somewhat of a challenge to say the least.  Its been really hard getting grocery slots and when you get one, you can't be guaranteed that you even get everything you have ordered.  Its been a bit like playing Russian Roulette at best.  There is nothing more annoying than planning on cooking something, and only having half the ingredients that you need to make it show up!  You then have to scramble and think of something else that you can make with what you
have
gotten.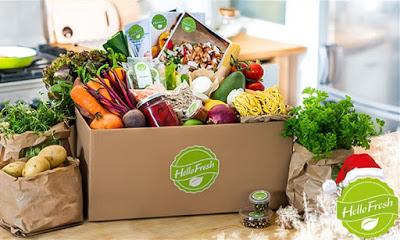 You might be a person who just doesn't like planning meals and recipes, or you may be a person who finds that a lot of what you buy goes to waste because you have to buy larger quantities of it than you need and its not possible to preserve the leftover bits to use another time. As a small household, that is often the problem with us. 
Maybe you are adventurous as a cook and want to try new things and recipes,  and new cuisines and techniques, but you don't want to have to buy a whole bottle of something  you know you are only going to use maybe once.
Hello Fresh is a subscription recipe and food delivery service, which is considered to be one of the best that is available in this country, according to a fairly recent review in
the Independant
. They rated its service as one of the best and most thought out, as well as being one of the best value, wih three recipes a week for two people plus ingredients ringing in at £5 a meal.  Sounds good.
I had a very extensive list of recipes to choose from to cook.  It was really hard to make up my mind, but in the end I settled on this one.  Roast Chicken, with Mini Roast Potatoes,  Honey Glazed Carrots Broccoli and Pan Gravy.   For each meal you choose you will receive the ingredients to cook that meal, along with a recipe card which gives you step by step instructions for cooking that meal from beginning to plating up. I sized the recipe for three.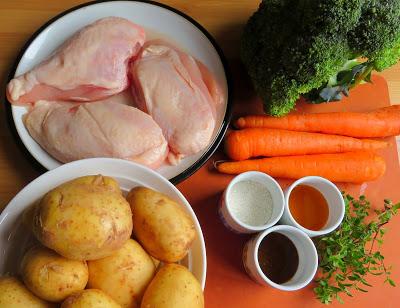 The ingredients for this meal included:
1 pack of potatoes (three servings)1 unit of broccoli3 carrots3/4 of a bunch of fresh thyme3 units of skin on chicken breast fillets1 1/2 TBS plain flour2 TBS honey1 unit chicken stock pot
Not included would be any regular seasoning such as salt and pepper, any oil for cooking, and the water (450ml, aproximately 1 1/2 cups) needed for the gravy.  
You are also given an extensive list of any equipment you might need to cook the recipe:
•Baking Tray
•Cutting board
•Knife
•Peeler
•Frying Pan
•Lid
•Saucepan
•Strainer
•Spoon
•Bowl
•Fork
•Plate
It really couldn't be more explanatory.
The instructions went as follows: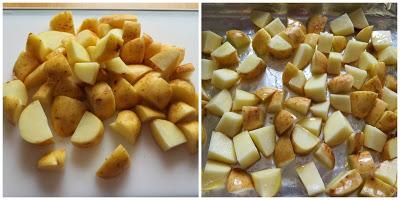 1.
Preheat your oven to 200°C. Chop the potato into 2cm pieces (no need to peel).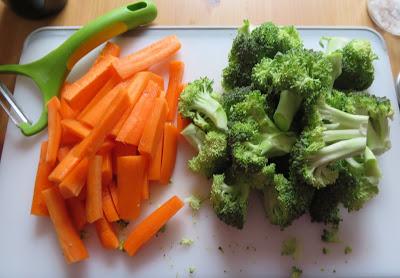 Peel the carrot and remove the top and bottom, then cut in half lengthways and chop into batons. Separate the broccoli into florets. Pick the thyme leaves from their stalks (discard the stalks). Put the potato on a baking tray with a drizzle of oil and a pinch of salt. Give the tray a good shake. Roast on the top shelf of your oven, 30 mins.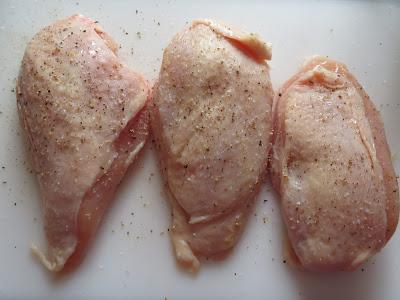 2.
Season the chicken with salt and black pepper. Heat a drizzle of oil in a frying pan on medium-high heat and lay in the chicken, skin-side down. Fry until the skin is golden, 4-5 mins.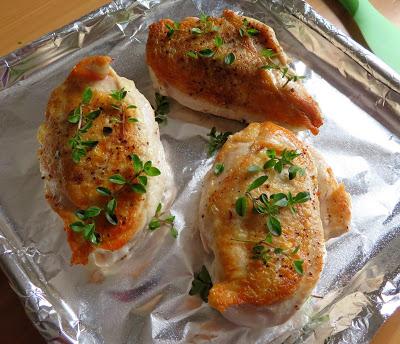 Move to an oiled baking tray, skinside up, and sprinkle over the thyme leaves (don't wash the pan). Pop on the middle shelf of your oven. Roast for 25-30 mins. TIP: The chicken is cooked when it is no longer pink in the middle.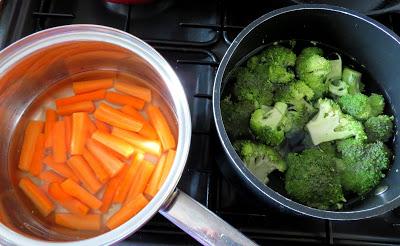 3.
Meanwhile, put two large saucepans of water on to boil. Once boiling, add a pinch of salt and the carrot to one pan. Cook until tender, 10-15 mins. When cooked, drain in a colander and return to the pan. Add the honey and a grind of black pepper. Stir well and pop the lid on to keep warm. Meanwhile, put the broccoli and a pinch of salt in the other pan of boiling water. Cook until tender, 5 mins, then drain in the colander.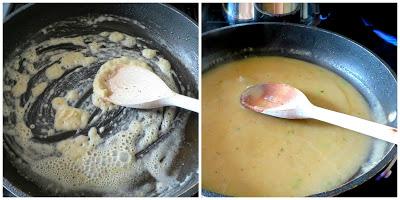 4.
Put the chicken frying pan back on medium heat and add the flour. Stir the flour into the chicken juices (if the pan is a bit dry just add a little oil). Cook until beginning to turn golden, 2 mins. Stir occasionally to combine well. This is the roux that will thicken your gravy! Pop your kettle on to boil.
5.
  Dissolve the chicken stock pot in a measuring jug of boiling water (amount specified in the ingredient list). Bit by bit, add this stock to the roux, stirring well to make sure there are no lumps. Bring to a simmer and keep stirring (or whisking if you have a whisk!). Cook until thickened to your liking, 3-5 mins.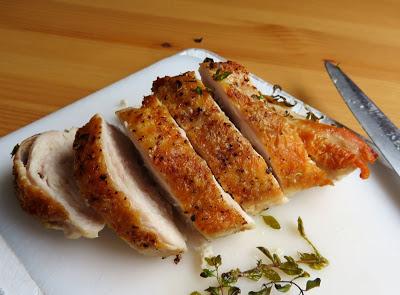 6.
Cut the chicken into 2cm thick slices, serve on plates with the mini roasties, veggies and a drizzle of gravy! Enjoy!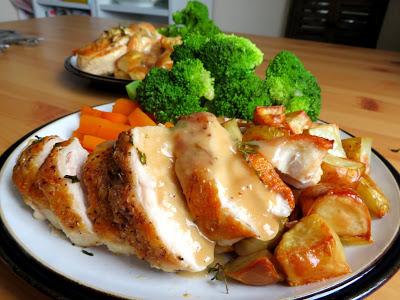 And that was that!  Todd and I were able to sit down to a delicious Roast Chicken Dinner that was not only quick and easy to accomplish, but very straightforward as well!  With concise instructions, exact ingredients, and perfect timings for every aspect of the meal.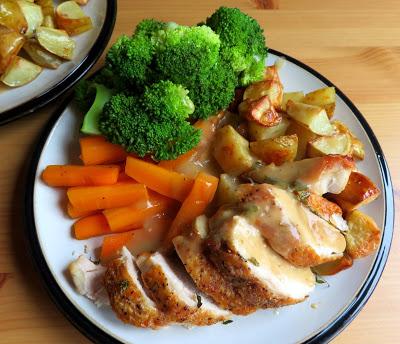 You really can't get much better than this!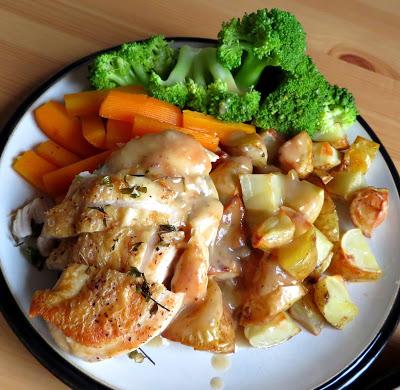 The vegetables were perfectly cooked and crispy tender the way I like them.  The potatoes, likewise were wonderfully roasted with crisp caramelised edges . . .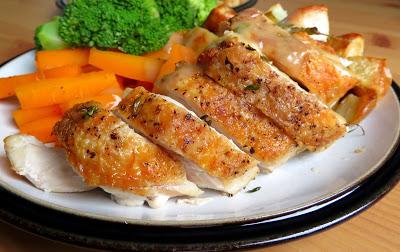 The chicken was beautifully cooked, moist, tender,  and really flavourful with a lovely crisp skin.  The gravy was lush, perfectly seasoned and just thick enough.  Also it wasn't loaded with salt like most of the gravy mixes you find out there.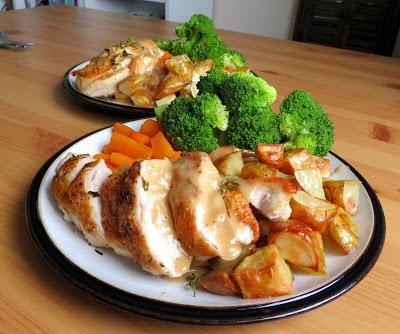 Altogether this was a meal we both really enjoyed.  Looking at some of their other recipes, they really do have a huge variety of recipes to choose from.  
Sticky Beef with Basmati Rice.  Middle Eastern Risotto(with Zataar Portabellos.) Deliciously Ella's Coconut Thai Curry with Chickpeas. Veggie Shepherd's Pie (With Chickpeas, Yellow Pepper and Mushrooms). Dukka Crusted Duck (with Roasted Butternut Squash and Sumac Dressing). Chermoula Prawns (with Roasted Sweet Potatoes.) (Just to name a few.)
And that is just a taste of what Hello Fresh has to offer. There are recipes to cover almost every taste and diet.   All in all I am very impressed with the selection on offer, but don't take my word for it.  Check it out for yourself.
To find out more about Hello Fresh and what they offer, prices, options, etc.  do click over to their
Home Page
and go from there. 
The option of choosing your own recipes
Pre-measured ingredients for less waste.
Delivered safely to your door.
Convenient weekly deliveries
Seasonal fresh ingredients
You are not tied into a contract. You can skip a week or cancel at any time.
Sounds pretty good to me!  And it couldn't be a better time to use a service such as this as right now when we are all having to cope with the restrictions and limits we are having to cope with! If you are a person who is lacking in time and inspiration, wanting to save on your food bill, wanting to have your food delivered to your home, wanting to try new things, or wanting to stretch your palate and skills without it costing the moon, I don't think you can get much better than this.  I highly recommend!

Follow my blog with Bloglovin