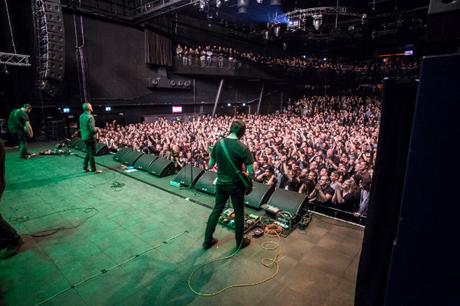 Another edition of Roadburn Festival is in the books - and what an incredible one it was!




Roadburn would like to extend their heartfelt thanks to all the artists, crew, production team, volunteers, staff, and of course every single attendee who spent the weekend with us. We never take the support and appreciation for granted and are sincerely grateful to every individual that helps to make Roadburn what it is.


The festival played host to incredible sets including:
Neurosis - celebrating their thirtieth anniversary by playing two special, career spanning sets
Converge - playing two sets; one with their expanded Blood Moon line up including Chelsea Wolfe, Stephen Brodsky, Ben Chisholm, and Steve Von Till; and one never-to-be-repeated Jane Doe in full.
Paradise Lost - performing Gothic in its entirety
Diamanda Galás - a rare and unique performance, plus a screening of Schrei 27 and live interview session
With The Dead - as well as being our 2016 curator, Lee Dorrian also performed with his own band for the first time outside the UK
G.I.S.M - this legendary band played for the first time in 14 years, and for the first time ever outside of Japan
Cult of Luna - opening the festival, playing Somewhere Along The Highway in full, to a packed out main stage
Misþyrming - Roadburn's Artist in Residence, these young Icelandic black metal torchbearers played three times over the weekend.
Among these bigger names were many more special moments and incredible collaborations. This year, musicians from Finland made their presence felt with incredible sets from Hexvessel, Dark Buddha Rising, Oranssi Pazuzu, Arktau Eos, Abyssion and Atomikylä. Roadburn continues to push the bar ever higher, always aiming to create something unique, artistic and always very special.
The full list of artists that performed at Roadburn 2016 is as follows:
Abysmal Grief, Abyssion, Admiral Sir Cloudesley Shovell, Alkerdeel ft. Gnaw Their Tongues, Amenra, Arktau Eos, Astrosoniq, Atomikylä, Bang, Beastmaker, Behold! The Monolith, Black Moon Circle (ft. Dr. Space), Black Mountain, Bliksem, Blind Idiot God, Blood Ceremony, Der Blutharsch and the Infinite Church of the Leading Hand, Brothers of the Sonic Cloth, Buried at Sea, Carousel, Chaos Echoes, CHRCH, CHVE, Cocaine Piss, Concatenatus, Converge, Crumbling Ghost, Cult of Luna (Somewhere Along The Highway in its entirety), Cult of Occult, Daniel Payne, Dark Buddha Rising, Dead Neanderthals, Dead To A Dying World, Death Alley (& Friends), Diamanda Galás, DOOL, Ecstatic Vision, Epitaph (Ita), Full of Hell, Galley Beggar, Gentlemans Pistols, G.I.S.M., Gomer Pyle, Grafir, Green Carnation, Grimmsons, Hair of the Dog, Hangman's Chair, Hell (USA), Hemelbestormer, Herder, Hexvessel, Hills, Inverloch, Jakob, John Haughm, Jucifer, Kenn Nardi (of Anacrusis), Klone, Kontinuum, La Muerte, Lugubrum Trio, Lychgate, Mantra Machine, Mirrors For Psychic Warfare (Scott Kelly & Sanford Parker), Misþyrming (Artist in Residence), Moloken, Mondo Drag, MPH (Formerly known as Mr. Peter Hayden), Naðra, Neurosis, New Keepers of the Water Towers, Nibiru, NYIÞ, Night Viper, Noctum, Obese, Of The Wand And The Moon, Oranssi Pazuzu, Paradise Lost (Gothic in its entirety), Partisan, Pentagram, Peter Pan Speedrock, The Progerians, Repulsion, Russell Haswell, Scott Kelly, Sinistro, Skepticism (Fan-picked set list), Steve Von Till, Syndrome, Tau Cross, Terzij de Horde, The Poisoned Glass (ft. G. Stuart Dahlquist and Edgy 59 of Burning Witch), The Body, The Skull, Usnea, The Vintage Caravan, We'rewolves, Witch Trail, With The Dead, VVOVNDS, Yodok III.
Alongside the acts that performed, we also had a side programme featuring listening sessions of new albums from Nothing, Alkerdeel, and Virus, live interviews with Neurosis, Converge, Paradise Lost and Cult of Luna, panel discussions, talks and much more. Roadburn's 2016 poster artist, Becky Cloonan curated an exhibition of artwork throughout the 013 venue.
We welcomed more visitors than ever to Roadburn this year; approximately 4,300 attendees each day descended on the 013 venue and it's surroundings to celebrate all things psychedelic, heavy, and obscure! The Roadburn family continues to spread all over the world with people joining us from as far afield as Australia Brazil, Mexico, Hong Kong, Afghanistan, and India - as well as our friends from all over Europe.
 
Breakdown of foreign visitors to Roadburn 2016
Roadburn 2017 will take place at the 013 venue, between April 20-23, 2017. Announcements for the 2017 edition will start in the coming months.