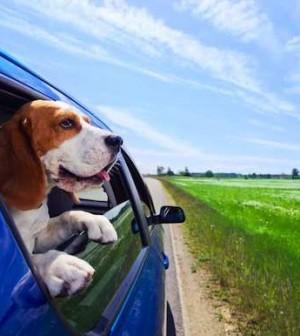 Road trip with your dog can either be an enjoyable or frustrating experience. But bottom line is driving cross-country with your pooch is an adventure. To help you and your dog have a blast with your road trip, here are tips and tricks that you can practice.
Road Trip with Your Dog: Planning Ahead
Not all hotels/motels allow are pet-friendly. If your road trip will require you to make a stop for the night, make sure that you find or book a place where dogs are allowed. You can check listings for these places prior to your cross-country drive.
When you find one that suits your and your dog's needs, make sure to make a reservation. Take note that bringing pets when booking a hotel/motel may cause extra fee.
For more convenience, try booking a room on the ground or first floor.
Road Trip with Your Dog: Safety is the First Concern
Think about where your dog will ride: will he be in the back seat or will he ride in front of you? If your dog have the tendency to scout closer to you or hug you every time, make sure that you place a barrier between you and the passenger seat to avoid any road accidents.
Likewise, decide which is better, more comfortable and safer for your dog: a collar or a harness. Take note that some dogs get excited during road trips and wiggle out of their collars during stop. Moreover, you may want to buy a dog seat belt for your pooch for additional safety measures.
Road Trip with Your Dog: Packing a Dog-Friendly Travel Kit
Aside from your own travel kit, make sure that your dog has one, too. Pack his food and treats in pouches for easy feeding. Make sure you bring extra in case of emergencies. Aside from his food, don't forget to bring him enough cool, fresh, and clean water to drink. Ensure that you have enough for the whole road trip.
Aside from the basic feeding necessities, it's also important that you pack basic dog medications. Likewise, bring him his favorite toy or bone.
Road Trip with Your Dog: Bathroom Breaks
Since your dog can't verbalize his need to pee, make sure that you make rest stops for at least every four hours. Look for a place that he can take a pee and/or potty break from. Just make sure that you clean as you go.