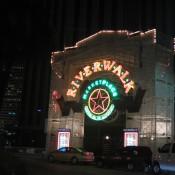 Leaving San Antonio was a bit heart-breaking for us. After spending 4 days with Mike, Blythe and Prince Leon, it was very hard to leave. I was pretty shocked at how quickly my nephew became the center of our long weekend and was sad to leave him. It really helps that we will see him again in a few days, but more on that later. The upside to the day was the fact that by this evening we'd be enjoying food and drink in New Orleans.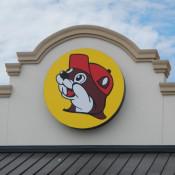 Look for the big brown beaver!
Kenin and I started our day with a quick jog. We woke early and decided to burn off some excess energy, not to mention some excess beer drinking.

We packed up our stuff, kissed the family good-bye, and were back on the road. Our first stop of the day was a store called Buc-ees. I would be willing to bet that anyone who has ever driven through I-10 east from San Antonio has made a stop here. There are billboards for miles and miles for this oversized store featuring a giant beaver. Buc-ees turned out to be a gas station, convince store, grocery, bakery and deli combined. They also have super cleans restrooms, which they advertise on their highway billboards. We stopped here for some Kolache for breakfast. Kolache are Czech pastries with various fillings from sweet to savory. We opted for ham and cheese with jalape単o.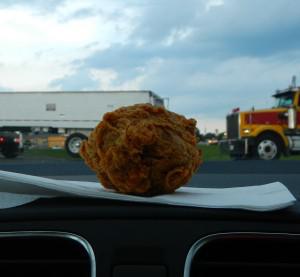 Balls from heaven!
We continued on our journey and managed not to make any long stops until we hit Louisiana. This turned out to be a life changing stop for me. We stopped for something called "Boudin". Boudin is a Cajun style spiced sausage. Kenin made a stop at a tiny store off of the highway called Billy's Boudin in Scott, LA. Scott is known for it's boudin and is arguably has some of the best in LA. We ordered two boudin balls and a boudin roll. These are "must try" foods if you are ever in a place that makes them. The boudin balls are sausage and rice mixed together and breaded, then deep fried. We had a regular one, and one blended with pepper-jack cheese. The rolls are the delicious sausage, wrapped in pastry, then deep fried. It was not a healthy snack, but we did jog this morning, so I guess that cancels out the calories.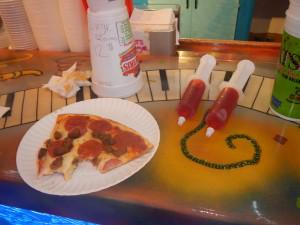 Dinner of Champions!
We arrived in New Orleans pretty early in the evening and headed out to the French Quarter to do some sight seeing. We saw that almost every bar on Bourbon Street served 3-for-1 drinks, so we sensibly started with one of those. We then wandered around carrying around giant cups of liquor as we entered the voodoo stores and gift shops. After walking through the streets for a while the drinks started soaking in and we realized we skipped dinner. We stopped for slices of pizza and decided that the best thing to wash it down with would be jello shots. Clearly those 3-for-1 drinks have soaked in! We walked past the hecklers and street performers, taking in the sights and sounds of the city.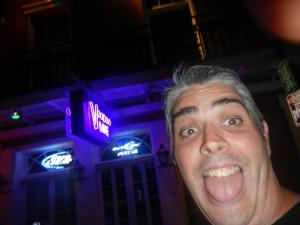 YOLO! (no not seriously

We stopped to get Kenin a giant turtle daiquiri and walked on. I realized after watching him dance with some bronzed statues, that I would be driving back to the hotel. I switched to water and confiscated the camera for the night. We visited some more souvenir shops and took a nice walk through the crowds. This city doesn't get started until very late, but once it starts, it doesn't stop until the sun rises. New Orleans quickly became one of our favorite cities. The blend of people and cultures make this city a true melting pot. Everyone has an air of importance no matter what they do or how they dress. I like that. This city is very serious about their fun. We had ourselves a great evening and eventually made our way back to the hotel for some rest.
Read about our next day in this fun post Kenin wrote. New Orleans Voodoo in the Bayou.
Follow our drive through Texas and Louisiana here, and comment below.


Look for the big brown beaver!





Texans sure do love Texas :-)

Balls from heaven!
Tastes so much better than it looks!


Looks a lot like San Antonio doesn't it?


Dinner of Champions!
It all goes down hill from here!



You shouldn't let the guy drinking take pictures
This is why drunk people shouldn't have a camera
No they don't ACTUALLY do it
Drunk Vision 2012

Jazz isn't dead!!


YOLO!
Quick! to the Jazz Mobile!


It looked that blurry in person, I swear :-)