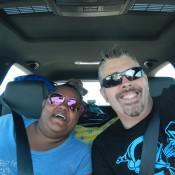 When we left our hotel in Fresno we knew we were headed for a good time at our next destination. We were going to see my brother, Brant, who's lived in LA for quite some time, and has been known to party in 4 Continents. What we didn't know is that by the end of the 4 days we would have had drinks in a warehouse turned into a night club, a meal at a swanky beach-front steakhouse, nursed 2 hangovers, and attend a Space Party. We managed to do all this while also getting in quality time with the family and some time to ourselves. Of course none of these things were planned in advance, that's just how it goes with us ramblers. We got in the car that morning listening to more Silversun Pickups to keep us company (they always remind Lauren of Brant) and drove to LA .
When we left our hotel that morning we were a little nervous about seeing Brant. Even though we knew we'd have a great time, he was also the first first family member we were going to see since we jumped off the edge of "normal life" and went on our nomadic journey. We decided to stay in Thousand Oaks to save a ton of money and honestly our drive there was relatively uneventful.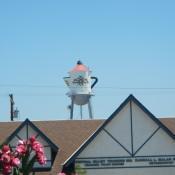 The only part of the drive worth mentioning was a very strange pit stop we made in a town called Kingsburg. I'm not sure how it came about but there is an entire town in central California that is built like a Swedish Village. We drove through it and took some photos, but we were eager to get to our hotel and hopefully see my brother that evening. This would also be the first time we were stopping for 4 nights in the same place and were looking forward to settling in a bit. There was also the pesky laundry to take care of.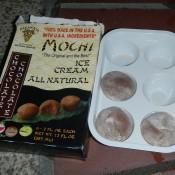 Once we got to our hotel we touched base with Brant and were disappointed to find he would be working late. We ended up doing a couple of our favorite things to do when we want to relax. We went over to Trader Joe's and bought a bunch of meats and cheeses plus a bottle of wine and had ourselves a picnic. Then we went down to the hotel pool for a dip in the hot tub and some delicious ice cream snacks called Mochi.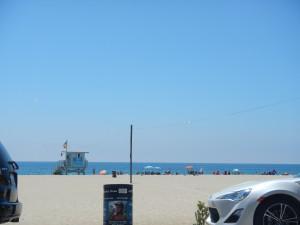 Cruising down PCH!
The next morning we had some time to kill before meeting up with the fam after work, so we knocked one of the items off of my bucket list. I always wanted to cruise down the Pacific Coast Highway. We took a drive over to Malibu and cruised all the way down PCH until we hit Santa Monica then looped back to our hotel. Sadly the GTI is not a convertible, but the sunroof did us just fine. It was a beautiful drive and reminded me of all the reasons why I love California.
On the way back we stopped for lunch at a place called Fat Burger. It was nothing remarkable, but they make a decent burger that's a nice change from the usual fast food joint. We then went back to the hotel for a quick nap knowing that Brant keeps pretty late hours.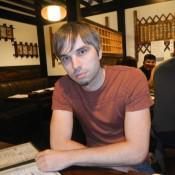 My brother Brant
We finally met up at Brant's house that evening, and after the grand tour of his new home (awesome I must add) we decided to head out on the town. We started off at an Izakaya joint where we had a great variety of Japanese delicacies. Over food and a couple beers we told my brother all about our adventure so far, along with some of our plans for the future. Much to our relief he was very supportive and even gave us some great ideas!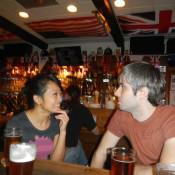 Pints at the pub
We then went out to a swanky LA bar called Villains Tavern for the requisite boutique cocktails and live music. It was in a warehouse district in downtown LA and was filled to the brim with wannabe screen writers and hipsters dressed in skinny jeans and wearing black rimmed glasses, in other words, perfect. We hung out there for a while and had some great cocktails while listening to the Johnny Cash influenced house band play. Once we grew tired of that scene we went across town and picked up Brant's fiancĂŠe, Yolanda. It was pretty late at this point so we finished up the evening with a couple of pints at a small English pub.
The next day we shook off the headaches and we met up at my brother's house for a great brunch with him and Yolanda. We ordered take-out from this awesome place called Bea Bea's and it was so good we forgot to take pictures

. I could try to describe the deliciousness of things like Pumpkin Pancakes covered with cream cheese marmalade, or the Volcano Scramble (eggs, Tequila Sausage, and avocado just scratch the list of ingredients in this thing), but all I would do is succeed in making myself hungry, so I'll pass. We then sat around for a few hours just being a family together and reconnecting. It's one of the things that holds true of most families. Even though you haven't seen each other in months (and are terrible at calling each other) the second you are back together it seems like no time has passed at all.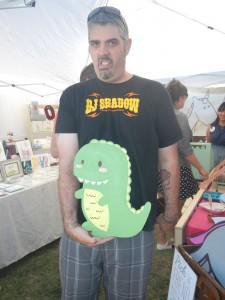 We had plans to go to a space themed party that evening (it is LA) and had spent a few hours on the couch letting our massive brunch digest and looking at pictures from our trip so far. Doing so left us a few hours in the middle of the day to kill. We did some quick research and came up with the Renegade Craft Fair. It was a great way to check out local artists, listen to great music, and act like idiots. On top of it I got to pick up a few new stickers for my journal. After the art show we went back to the house and freshened up and went out to the aforementioned space party. Along the way we met up with some of my brothers friends (and now our new friends) and took a cab over to the party. There was going to be much drinking done that night and DUI's are just silly. We ended up getting back to our hotel at about 4 AM and passing out. How was the party? Well I'm not known to kiss and tell, but I will share this quote from a drunk friend dressed as Captain Kirk "Gentlemen set the course…. for Fun!"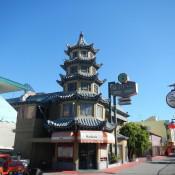 At some point the evening before, we thought it would be a great idea to meet up for a Sunday Dim-Sum brunch. Not wanting to disappoint, we dragged ourselves out of bed, showered off our hangovers and drove back to my brother's house. We all got together and went out to NBC Seafood in LA's Monterey Park for dim-sum. We sampled a wide variety of different dishes, each picked off of carts as the servers roll by the table. It's surprisingly affordable and a great way to try something new. You get to have a mix of your favorite dishes, like pot stickers or seaweed salad, and try small plates of the more exotic dishes without making major commitment. We followed up our dim-sum experience with a round of cold milk teas at Ten Ren's tea time and then out to Chinatown for a stroll.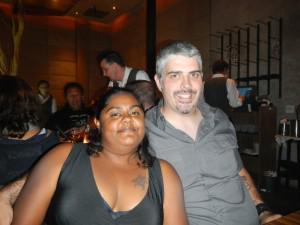 We wrapped up our day and set back out to Santa Monica that evening for a nice formal dinner at Boa Steakhouse with my brother and our new friends from the previous evening. The meal was absolutely excellent. I recommend trying the Goat Cheese Baklava appetizer and you can't go wrong with either the bone-in filet or the 21-day aged rib eye as your entre. We had a great time and eventually our conversation turned towards travel. Everyone at the table has been bitten by the travel bug and it was great to share with like minded people. We all told stories of our favorite places and agreed that life would be better if we traveled more and worked less. The evening eventually ended and as we drove back to the hotel, all we could think about was what we could do to make that travel dream a reality.











Fort Dog is secure Sir!

















Pints at the pub








Do we look hungover?

I still don't know how I should feel abou this sticker




What do Chinatown and Chavez have in common?