On the first wintry night of the season in Atlanta, members of the Atlanta Food Bloggers' Society ducked into the warmth of the new Rize Artisan Pizza in Poncey-Highland. Anchored in the corner of the new 675 N Highland Building, the inviting family-centric pizzeria offers an eclectic mix of global flavors in their pizzas, salads and other dishes.


We were seated at a large table with carafes of housemade red and white sangria. The red sangria was a bit sweet and was fruity and juicy, while the white sangria was more tart with wonderful citrus notes. Our tasting began with a series of starters including a light almost fluffy Old World Hummus served with watermelon radish, tri-color carrots, peppadew peppers, spiced walnuts and crispy lavash crackers; Charred Cauliflower with spiced walnuts and pomegranate seeds topped with a maple sesame dressing; signature Charbroiled Chicken Wings with a spice herb rub served with ginger-honey dipping sauce; Pork Meatballs with fire roasted tomato sauce and shaved Grana Padano cheese; Goat Cheese Crostini topped with pear chutney, pistachio chili crumble and drizzled with a balsamic reduction; and, Peppadew Peppers stuffed with whipped feta and crumbled fennel sausage.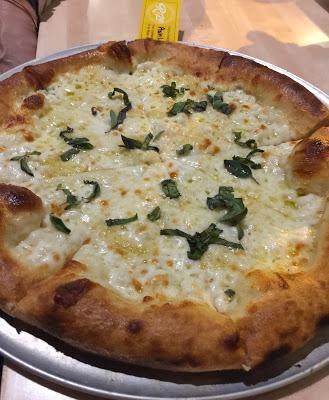 A parade of pizzas followed each with a cute little yellow tag indicating which team member made the pie. The Waverly with prosciutto, gorgonzola, shredded mozzarella, asiago, fig jam, balsamic reduction, Grana Padano cheese was a rich and heady mixture. The Asian BBQ Chicken topped with chopped barbecued chicken, shredded mozzarella, charred red onion, green chili sauce, sesame seed, scallion, and lime zest was a nice break from tradition, while the Garden pie with its fire roasted tomato, goat cheese, shredded mozzarella, roasted artichoke, roasted shiitake mushrooms, charred red onion, zucchini, watermelon radish, toasted pecan pesto, basil, roasted garlic oil was a combination of vegetables truly worthy of the name. My favorite was the Bianca made with roasted garlic puree, fresh and shredded mozzarella, basil and oregano. The simple and classic toppings accentuated the restaurant's original-recipe crust which is baked for three minutes in a stone hearth oven to achieve a crisp golden outside and a soft, chewy inside.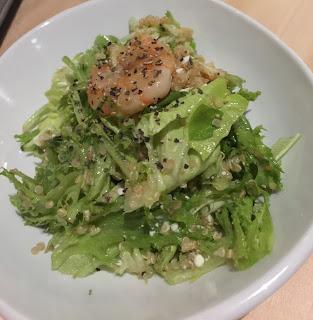 A selection of salads arrived at the table next, and although we were already stuffed, it was hard to resist the Spice Road Chicken salad made with sliced chicken breast on a bed of baby spinach with goat cheese, chickpeas, sweet peppers, fennel, basil, mint, cilantro, scallion and a spicy vinaigrette. The "Superfood" Salad was a hearty mixed lettuce salad with feta cheese, zucchini, cucumber, and spiced walnuts tossed with a honey lemon vinaigrette with seared shrimp served on top. A Pear & Walnut salad made with baby kale and spinach, sliced pear, spiced walnuts, smoked bleu cheese, charred red onion, fennel and pomegranate seeds tossed with honey lemon vinaigrette was flavorful addition to the meal.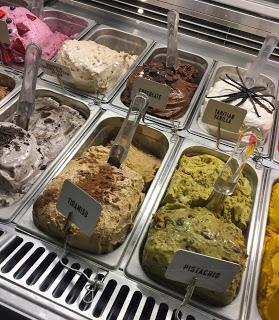 Of course, we couldn't leave without sampling the amazing gelato collection. Settling on the salted caramel, the gelato was a terrific way to end our experience. Many thanks to owner, John Smith, Chef Eddie Russell and their friendly, professional team for a delicious evening.


Disclosure: I attended this dinner as a member of the Atlanta Food Bloggers' Society. While the menu items we sampled were complimentary, the opinions included herein are honest and unsolicited.