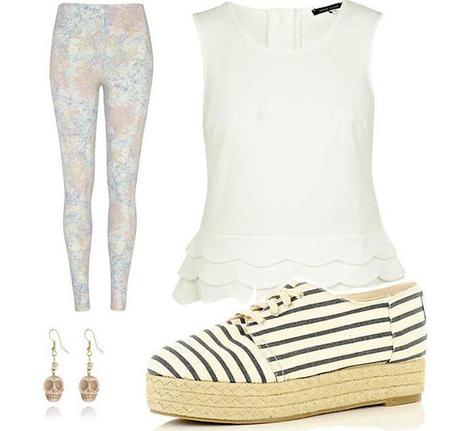 Leggings £18 / Top £25 / Earrings £4 / Shoes £18
After my BFF mentioned her recent trip to River Island, I couldn't help myself and had to have a peruse online. After a quick scroll through their 'just arrived' section I have to confirm, River Island is doing good –shame they don't do the student discount eh? I'm not going to take the credit for the fab flatform-esque shoe find, as it was actually my friend who spotted these in Newcastle; but I just love to look at them. Fortunately for me –and my friend- I will not be buying these at this present moment due to the fact that I have bought approximately 5 shoes already since the beginning of 2012 –my excuse is my arthritic ankles, hallelujah for creepers and flatforms! The skull earrings however, well, they may be mine by the end of this week. Maybe. Most likely. Definitely –I hope.
I don't have much to report on tonight, I've had a very long day and so my tiredness is the reason this post is a little last minute looking. I've been a good student today, doing my dissertation in the labs followed by taking a few street style snaps for my photography assignment –it's actually termed Geophotography, but that makes me sound like some sort of tree-hugger. I'm not used to being out of the house and on my feet for too long so I am well and truly knackered. I've had a chilled night in tonight, had a nice bath, watched The Apprentice and I've just read a journal before I sleep –that's classed as my bedtime reading now, how depressing, but every little helps and all that. Oh, I also rediscovered a moisturising body spray by The Sanctuary and I have rekindled my love for it, it's so easy for lazy nights like tonight. I may just have to buy more of these lazy sprays. I hope you've all had a nice day –hello new followers *waves*.