We are about to embark on a 15-day river cruise, sailing from Budapest to Amsterdam. Viking River Cruises asked us to join them on a cruise, and then share our personal experiences here on this website and on social media. (This Grand European Tour itinerary is part two of the series. Click here to read part one: Is the VikingRiver Grand European Tour for You?)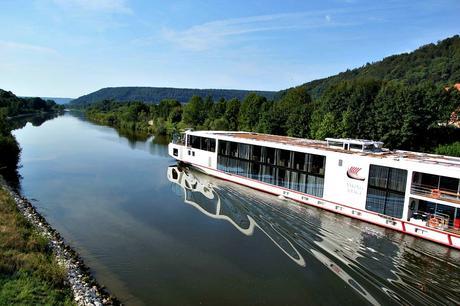 This is the Viking Bragi, the ship that will be our home for 15 days. Credit: DALIBRI (Own work) [CC BY-SA 3.0 (http://creativecommons.org/licenses/by-sa/3.0)], via Wikimedia Commons
Tour overview
Last week we promised to share our itinerary details along with related stories, photo galleries, and links to the UNESCO sites we will see. Be prepared: culture, history and food are prime topics in their itineraries, which regular readers know suits us just fine.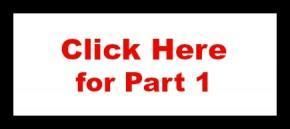 The general pattern on river cruises is that every port of call consists of a tour (included in the price) followed by leisure time until the ship sails. Many passengers return to the ship for lunch but others, like ourselves, prefer to stay in town and try the local food on our own dime.
At some stops it is also possible to take additional optional tours that might appeal to only a few passengers, such as a World War II tour in Nuremberg. (For the 2015 season prices for these optional tours ranged between 29 and 64 euros.)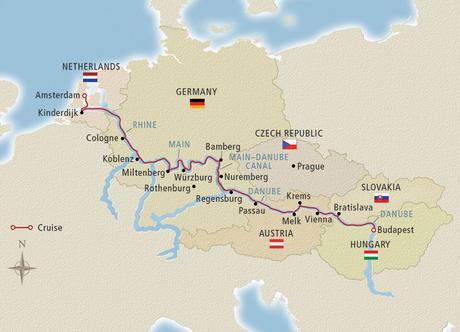 This is the Viking Grand European Tour itinerary
Days 1 and 2 – Budapest, Hungary
Our Grand European Tour begins in mid-afternoon with an organized walk to Budapest's famous covered market. The three-story Great Market Hall was established in 1897. Tonight's meal, they promise, will be a traditional Hungarian dinner accompanied by local wines and beers. We are quite fond of Bulls Blood, a red wine, and are really looking forward to sampling more of the country's wines. It's sad that most are unknown in the States: Hungary's Tokaj wine region is so phenomenal that it is a bona fide UNESCO site.
Our first full day (Day 2) will begin with a morning tour of Budapest. Many Budapest attractions are recognized as World Heritage Sites, such as Buda Castle Hill, Banks of the Danube, and Andrassy Avenue. We will visit Pest's National Opera House and historic Heroes' Square, then cross the river to Buda, where our tour will take us along Castle Hill to Fishermen's Bastion and Matthias Church before we return to the ship for lunch.
Here Viking offers two optional afternoon tours:
Dohány Street Synagogue and Jewish Budapest (tour highlighting Budapest's colorful Jewish past and present)
Hungarian Horsemen: Lazar Equestrian Park (trip to see a horsemanship exhibition).
Tonight, our second evening aboard, begins with a Welcome Reception. This will be avoid opportunity to get acquainted with our Program Director and traveling companions. They promise an evening departure which, we hope, will result in some phenomenal photographs. Evening cruising through Budapest on the Danube is said to be spectacular.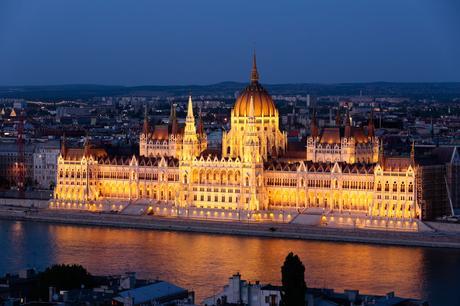 Day 3 – Bratislava, Slovakia
It's a long way to Bratislava. We will spend our morning sailing the Wachau Valley, heart of Austria's wine country. Sounds very scenic!
After lunch passengers will be able to join a walking tour through Slovakia's charming capital, Bratislava, to see attractions like the medieval fortifications at Michael's Tower, baroque Jesuit Church and Gothic St. Martin's Cathedral. (Obviously the city's been around a while.) The tour also passes by several baroque palaces from the Hapsburg Dynasty and a few of Bratislava's humorous bronze statues.
We won't. There is an optional tour to visit a local family in their home. We will enjoy a chat about life in Slovenia over afternoon tea and cake. The ship departs late in the evening so we hope to make it into Bratislava's old town after dinner to see what we can, and maybe get some nice blue hour shots.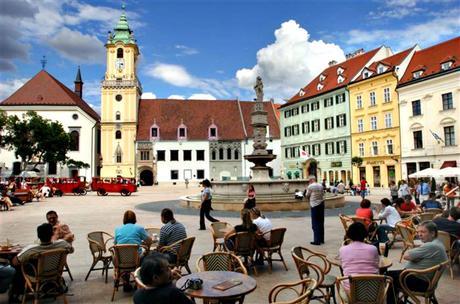 Day 4 – Vienna, Austria
We've long wanted to visit Austria and we will get an opportunity today when we tour its capital, Vienna. Our motorcoach will take us along the Ringstrasse, a road that runs where the city walls once stood. We will see some of the city's baroque architecture, including the world-famous Opera House, St. Stephan's Cathedral and Hofburg Palace, then return to our ship for lunch.
Many fellow passengers will spend the rest of their time in Vienna walking around the city. We won't be joining them, however. There's an optional afternoon tour to Schönbrunn Palace. It is called the "Versailles of Vienna" due to its massive size (1,441 rooms!). After dinner we will enjoy a classical concert (think Mozart and Strauss, not rock) performed by a Viennese orchestra. (That's another optional tour; no need to endure it if you're not a fan.)
UNESCO Site: Palace and Gardens of Schönbrunn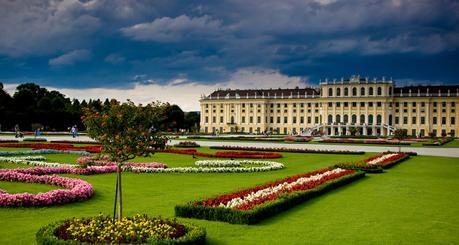 Credit: AroundDeGlobe.com. For more, read their article Schonbrunn Palace: An Imperial Residence
Day 5 – Wachau Valley and Melk, Austria
This morning we enjoy some scenic cruising through the Wachau Valley, heart of Austria's wine country. The Wachau is a stretch of the Danube Valley between Melk and Krems, and is of such unsurpassed beauty and historic importance that it has been named a UNESCO World Heritage Site.
UNESCO Site: Wachau Cultural Landscape
The highlight of Melk is its abbey, an incredibly ornate 900-year-old Benedictine monastery featuring Austria's finest Italian baroque architecture. We tour Melk Abbey, including its wonderful frescoes and a library with an extensive collection of medieval manuscripts.
Later we sail through a beautiful, untouched stretch of the Danube River called the Strudengau.

Day 6 – Passau, Germany
Passau lies where the Inn, Ilz and Danube Rivers meet. Our guided walk along the town's narrow streets takes us through Old Town past traditional patrician houses. We see the New Bishop's Residence and visit the impressive baroque St. Stephen's Cathedral with its ornate interior. We are also treated to a special concert there on Europe's largest church organ (17,000 pipes). Afterward, we have time to see Passau on our own.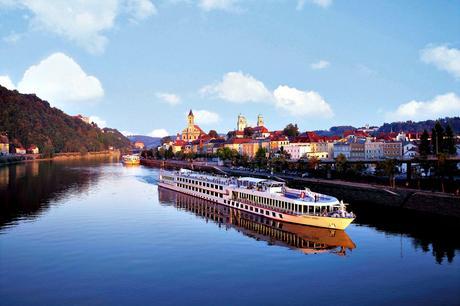 Credit: Viking River Cruises
Day 7 – Regensburg, Germany
Regensburg is a wonderfully preserved medieval city, full of medieval architecture, dark and narrow lanes, and strong fortifications. We tour the town's market, city hall and the splendid St. Peter's Cathedral, discover many 13th- and 14th-century patrician houses, and see ancient Roman, Romanesque and Gothic buildings.
UNESCO Site: Old town of Regensburg with Stadtamhof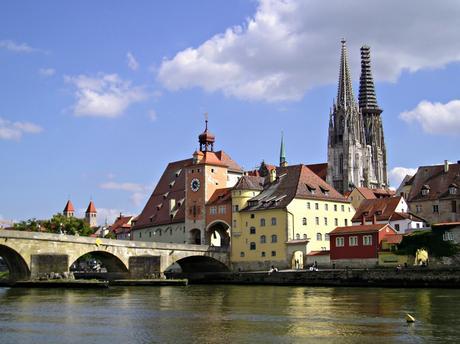 "Stadtansicht Regensburg" by HH58 – Own work. Licensed under CC BY-SA 3.0 via Wikimedia Commons – http://commons.wikimedia.org/wiki/File:Stadtansicht_Regensburg.JPG#/media/File:Stadtansicht_Regensburg.JPG
Day 8 – Nuremberg, Germany
Our morning will be spent on board. Viking will offer a morning talk about the European Union as we cruise our way to Nuremberg. The afternoon walking tour of the Old Town area will include the Albrecht Dürer House and Main Market Square as well as Zeppelin Field (the Nazi parade grounds of the 1930s) and the Palace of Justice, site of the infamous Nuremberg Trials. Or, for World War II buffs, Viking offers an optional tour of the Documentation Center instead.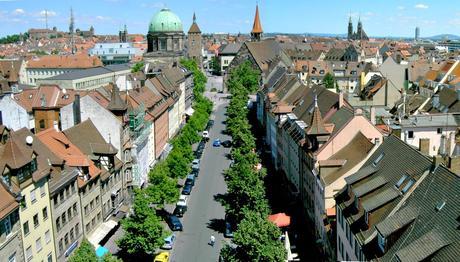 "Nürnberg panorama". Licensed under CC BY-SA 3.0 via Wikimedia Commons – http://commons.wikimedia.org/wiki/File:N%C3%BCrnberg_panorama.jpg#/media/File:N%C3%BCrnberg_panorama.jpg
Day 9 – Bamberg, Germany
We spend the morning cruising through the 106-mile long Main-Danube Canal and passing through some of its 16 locks. Charlemagne first thought of continuous river travel from the North Sea to the Black Sea in 793, but it took until 1992–a whopping 1200 years–to accomplish.
We also enjoy a walking tour of Bamberg's medieval city center. Bamberg has a magnificent 11th-century cathedral and a picturesque city hall built on a tiny island in the middle of a river. We will also enjoy Bamberg on our own and maybe even sample some of the town's distinctive smoke-flavored beer before returning aboard.
UNESCO Site: Town of Bamberg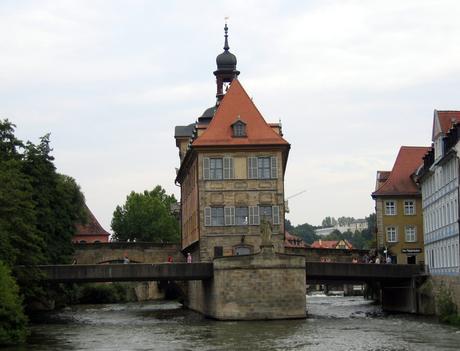 By Asio otus (Own work) [GFDL (http://www.gnu.org/copyleft/fdl.html), CC-BY-SA-3.0 (http://creativecommons.org/licenses/by-sa/3.0/) or CC BY-SA 2.5-2.0-1.0 (http://creativecommons.org/licenses/by-sa/2.5-2.0-1.0)], via Wikimedia Commons
Day 10 – Würzburg, Germany
In the morning we'll join Viking's optional excursion to Rothenburg ob der Tauber, which includes a scenic motorcoach ride along the famous "Romantic Road." Rothenburg is a medieval town with charming half-timbered houses, a turreted city wall and impressive Gothic and baroque architecture.
After a traditional German lunch in a local restaurant, we will continue our day of sightseeing in Wurzburg. We are looking forward to seeing Würzburg's Bishops' Residenz, one of Germany's largest and most ornate baroque palaces and a UNESCO World Heritage Site. After another delicious dinner on board Viking will host an evening glassblowing demonstration on board.
UNESCO Site: Würzburg Residence with the Court Gardens and Residence Square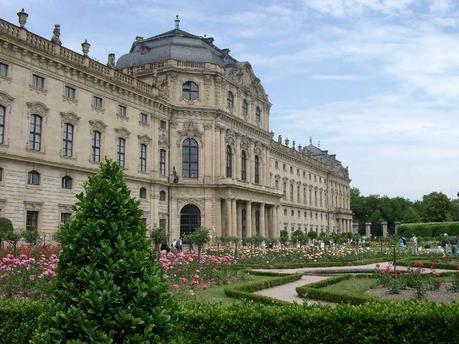 Credit: wikimedia.org
Day 11 – Wertheim, Germany
Wertheim is located at the confluence of the Main and Tauber Rivers. During our morning walking tour, experience life in a typical small German town. Our walking tour includes a visit to the historic marketplace and a glassblowing studio where we learn about Wertheim's glassblowing tradition.
We can relax on board in the afternoon while we sail past the scenic vineyards of Franconia and enjoy some of the area's wines.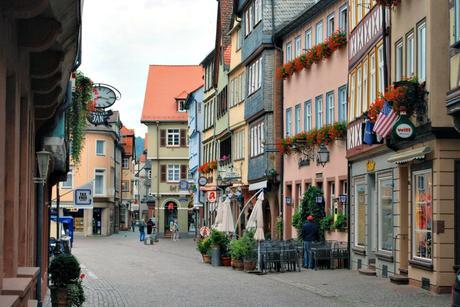 Credit: Bachspics, Flickr
Day 12 – Koblenz, Germany and Upper Middle Rhine
Today, we cruise past hilltop castles along a stunning stretch of the Rhine River. This is so special that it has also been designated a UNESCO World Heritage Site. Dan and I will be busy with our cameras as we pass the dozens of castles and vineyards along its banks. This will be our second time in the area and we are really looking forward to it. It's stunning!
In the afternoon there will be a tour of Marksburg Castle, the only Rhine fortress that has never been destroyed. It's worth a visit, but not for those with mobility issues. We will also see Koblenz, the picturesque town where the Moselle and Rhine Rivers converge.
Photo gallery: Rhine Castles and Cruising, Germany
Photo gallery: Braubach and Marksburg, Germany
When Koblenz Hosted the Germany National Flower Show
Photo gallery: Koblenz, Germany
UNESCO Site: Upper Middle Rhine Valley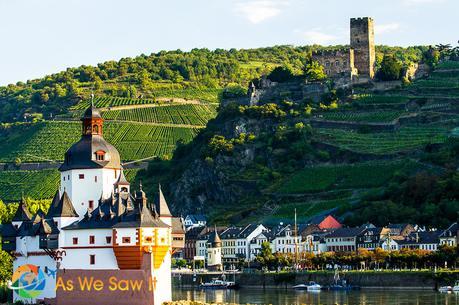 Day 13 – Cologne, Germany
Cologne is Germany's fourth largest city. Our morning walking tour through Old Town, passes St. Martin's Church, the Renaissance city hall and the remnants of an ancient Jewish mikveh (a ritual bathhouse). Our tour ends at the Dom, Germany's largest cathedral and a UNESCO World Heritage Site. The rest of the day is free to enjoy Cologne.
After the Captain's Farewell Reception & Dinner we join others in the optional Prost! Tour to experience Brauhaus culture and try the famous Kölsch beer.
Photo Gallery: Cologne, Germany
UNESCO Site: Cologne Cathedral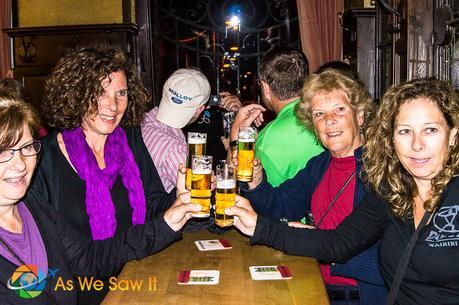 This is why I need my Moleskine Travel Journal: I don't remember our shipmates' names! :(
Day 14 – Kinderdijk, Netherlands
We will sail along the Rhine all morning. Viking will keep us busy sampling Dutch cheeses and jenever (a distilled juniper liquor), and trying our hand at sjoelen (Dutch table shuffleboard).
After lunch, our ship will arrive in Kinderdijk (yet another UNESCO World Heritage Site) for an afternoon tour. This is a fascinating experience, both for the view and the opportunity to learn about windmills first hand. We will even have an opportunity to enter a working windmill for a tour of its mechanisms and living quarters. Dinner on board and our last evening together as we cruise to Amsterdam.
Photo gallery: Kinderdijk, Netherlands
UNESCO Site: Mill Network at Kinderdijk-Elshout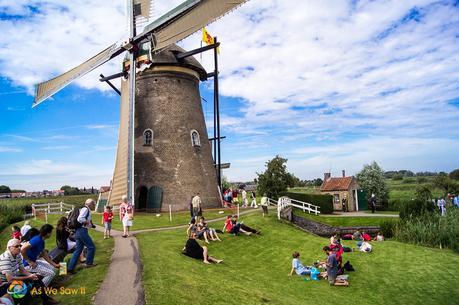 Day 15 – Amsterdam, Netherlands
Our cruise ship docks sometime after midnight. For us it will end after one last enjoyable breakfast, once again with local breads, cheeses and other specialties. Before we fly home we will spend two additional nights in Amsterdam and enjoy the city's neighborhoods, museums and exciting nightlife.
How to See Amsterdam in One Day
Amsterdam Canal Cruise: Views from the Water
Photo gallery: Amsterdam, Netherlands
UNESCO Site: Seventeenth-Century Canal Ring Area of Amsterdam inside the Singelgracht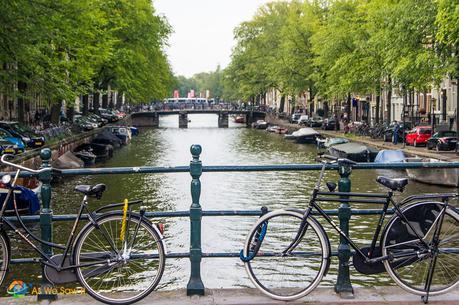 Follow our cruise experience day by day
If you would like to see what river cruisers see, from May 30-June 15, 2015 we will be sharing our cruise and activities as we go.
Choose your method: Twitter, Instagram and/or Facebook. We will be posting photos and updates on all three. (Facebook users: Make sure you have Liked our page and turned on Notifications. Otherwise you will miss out.)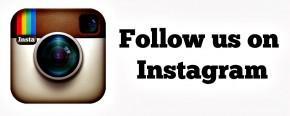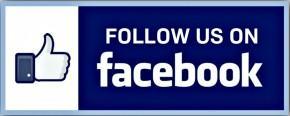 To make following our trip super easy–even after we get home–we're even using our own special hashtag so you can find our shares. Just look for #AWSIonViking.
Care to join us? Click and follow!
(Visited 11 times, 11 visits today)