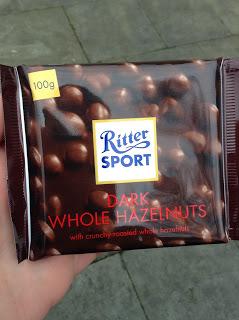 This is one I've had in the archives for a good long while now - I don't know how on earth I missed it! I'm usually quick to review anything new and Ritter related if I see it in a UK store, and this was one I snapped up at the bargain price of 69p in Heron Foods when they were on clearance. Containing whole hazelnuts and dark chocolate, this promised to be very special considering Ritter's track record with nutty chocolates.
As expected, the nuts were nicely roasted and whole, sticking out of the side of bar when broken into: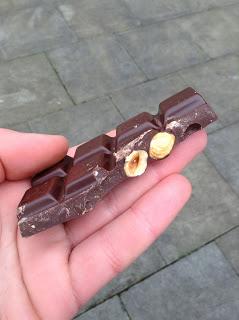 And combined with the dark chocolate they were perfect! Ok, maybe it's not as tasty as the milk or white chocolate versions, but for something a little less sweet and richer, this is a pretty tasty bar. You just can't beat Ritter's nutty bars...no other mainstream brand is quite on par. A shame they're not more widely available in the UK.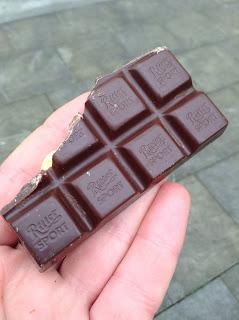 Overall, whilst not the best Ritter Sport bar out there, for a dark chocolate and nut combination this is pretty fine. If you love such combinations it's definitely worth a try - and I believe it's now stocked in some WH Smiths stores (I've seen it in my local train station store anyway).
8 out of 10.