A Romantic..Red Risotto with luscious Strawberries  for a Saint Valentine;s Day Meal from the Gourmand World Award winning book The Basic Art of Italian Cooking:Holidays and Special Occasions-2nd editiion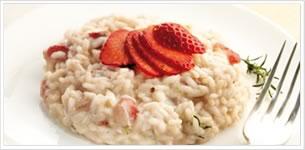 Risotto con Fragole
(Risotto with Strawberries)
First Course
Serves 2.
 4 cups vegetable broth
 6 tablespoons olive oil
 2 teaspoons dried leeks
 1 cup Arborio rice
 ½ cup dry white wine
 10 ounces fresh strawberries
Heat vegetable broth in saucepan and bring to boil. Keep hot while preparing risotto.
In a large sauté pan, place in olive oil. Heat and place in chopped leeks and rice. Let rice toast for 1 minute. Add in wine. When liquid evaporates, add in broth ½ cup at a time. Mix consistently with wooden spoon.
Wash strawberries. Place in processor and puree. When risotto has just about completed cooking (about 15 minutes), add in strawberry puree. Stir with wooden spoon.
Remove from heat. Let sit for five minutes before serving.