As I started writing this, I was standing at my stove stirring rice.
I really like risotto. I mean I *really* like it. I like it well enough with Arborio rice, but here's the thing: I also really like Brown Rice, especially the short grain variety. So I started searching on line for a recipe. In my opinion, however, recipes are mere suggestions. So I adapted and here is what I came up with, or pretty close:
Ingredients
1 quart chicken stock
4 cups water
2 tablespoons olive oil
1 cup finely chopped onion
2 cloves garlic, finely chopped
2 cups uncooked short-grain brown rice
2/3 cup grated Parmesan cheese
Sea salt and pepper to taste
Method
Bring broth and water to a boil in a medium pot. Cover broth-water mixture and bring back to a simmer.
Heat oil in a medium pot over medium heat. Add onion and garlic and cook, stirring occasionally, until softened, 4 to 5 minutes. Add rice and cook, stirring gently, until toasted and fragrant, 4 to 5 minutes. Add 1 cup of the broth-water mixture and cook, stirring constantly and adjusting heat if needed to maintain a simmer, until liquid is almost absorbed. Repeat process, adding about 1/2 cup of the broth-water mixture each time, until rice is just beginning to get tender, about 25 minutes. When rice is al denté, cook about 5 minutes more
Add cheese, salt and pepper and stir to combine. Add about 1/2 cup more of the broth-water mixture to finished risotto before serving, if you like.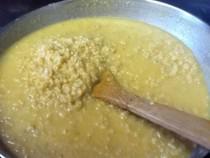 It came out pretty yummy. I discovered in mid-creation, that I was out of the good grated Parmesan, so I used the cheap stuff, you know that comes in the shaker jar with the green label? Next time I'll uses Parmigiano-Reggiano and more garlic.
It'll last me at least a week, since the manly Spouse doesn't eat anything that's not white, or meat.
- Posted using BlogPress from my iPad