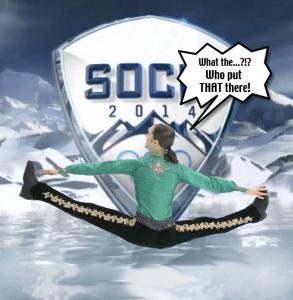 SOCHI, RUSSIA — Already being referred to as the "Ow-lympics" by many athletes, the Sochi games officially became the most injury-ridden winter Olympics ever when, late last night, Ukranian hockey player Watta Jerkoph broke his ankle. According to reports, the incident occurred when Bob Costas was returning to his room with a bucket of ice.
"From what we've been able to piece together, Mr. Costas, who was supposed to be confined to his room with an eye infection, accidentally spilled some cubes in the hallway," said an investigator. "Several of the cubes landed near the room of Russian figure skater Ineeda Cleavitch, who Jerkoph had been visiting to discuss his slap shot. When the athlete was returning to his room, he encountered the melting ice and slipped."
While the injury wasn't immediately life threatening, one Olympic physician expressed the need for caution. "You never know how these injuries will go. Especially once his wife finds out."
This incident is just the latest in a series of unfortunate events which, in addition to having no connection whatsoever to Lemony Snicket, have plagued the Sochi Olympic Games. Among them, a hard fall taken by Finland snowboarder Marika Enne; a broken collar bone for Norway's Torstein Horgomo; and of course American snowboarder Shaun White, who re-injured his wrist Monday while playing guitar.
Though speculation continues that the rising number of injuries is a result of hasty construction by Russian contractors who, as of yesterday, were still pouring buckets of water into commode tanks between flushes, some have rumored that the introduction of Met-Life as a sponsor of the games was a bad omen.
"That's like running an ad for a divorce attorney during The Bachelor," said an Olympic biathlon hopeful, whose name was forgotten by press time.
When asked if Met-Life's presence might be creating undue stress and an underlying sense of dread for Olympians competing in the Winter Games, NBC spokesman Rich Dickman denied any correlation. "It's the Olympics. People get hurt. We run Viagra ads during our NBA basketball coverage. You don't see it causing a rise in illegitimate children from players… okay, that's probably not the best example."
Regardless of the number of injuries, the Winter Games will continue — and Met-Life ads will continue to run.
Because like its motto says: Met-Life pays.
MORE PLACES TO FIND LONG AWKWARD PAUSE:
Facebook: Long Awkward Pause Twitter: @LongAwkPause Podcast: iTunes or PodOmatic   Would you like to see a topic discussed on L.A.P?  Follow this link HERE.
 (Ned is a syndicated columnist with News Media Corporation. His first book, Humor at the Speed of Life, is available from Port Hole Publications, Amazon.com or Barnes & Noble.)