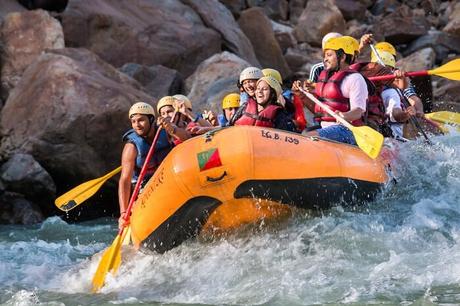 Rishikesh is 24 km from Haridwar. Located on the knees of Himalayas, this place is considered to be an Rishikeshaccess point for prayer places such as: Badrinath – Kedarnath, Gangotri and Yamunotri – the four squares combine to form the name of Chardham.
Rishikesh is surrounded by views of the hills on all sides of the sacred Ganges. On the banks of the river there are several ashrams living in the sadhus. Rishikesh is also famous for ashrams teaching Yoya. The Ganges which is known for its strong currents and atrocious streams are suddenly becoming calm here. The raft on the Ganges is famous among the tourists.
Attractions in Rishikesh (Religious Places)
The city is of great natural beauty with the Ganges reigning as a goddess in the center of the landscape, its emerald color in harmony with the lush trees that surround the surrounding mountains. It flows slowly or forcefully according to the seasons. Always majestic, he cleans and carries everything that is in his way.
Lakshman Jhula
This hanging iron bridge was built in 1939, is a major attraction among tourists. Ramjhula – the other hanging iron bridge was recently built between the Shivanand and the Sawang Ashram.
Swarga Ashram
Here we find many temples. This place has restaurants and shops for shopping. Visitors are amazed by the beautiful monuments, which is in this place.
Triveni Ghat
This is a ghat for bathing. Daily there are thousands of people bathing here, and enjoy Maha aarti. It is very relaxing to sit on the bank of the river and get fresh air.
Hiking in Rishikesh

Dehradun
The Doon Valley is located between the two most important rivers of India – The Ganges and The Yamuna. It is a picturesque place, having a moderating climate, and having many places to visit ..
Rafting in white water
The violent river is a challenge all like the rough mountains. The source of the rivers of India is located in the Himalayas, nourishing streams, through large rocks, george and fast ..
Haridwar
The door to four pilgrimages in the region of Uttarkand is located on the foot of Shivaliks
Rishikesh does not contain five-star hotels, but a few of them are comfortable. Ashramas offer housing facilities too. There are also Dharamshalas and houses for visitors, which are cheaper.
How to get to Rishikesh
Major cities are linked with trains to Rishikesh. The best way of transportation for Rishikesh is by private car service which is available in all corners of the country. Especially, there are regular services for Haridwar which are only half an hour from Rishikesh.
Shopping in Rishikesh
Being a religious place, Rishikesh offers handicrafts in shell, pearl, sarees, kurtas, sheets, and blankets. You can buy these items in Handloom salons, approved by the UP Government, Khadi clothes, Garhwal wool and craft shop.
When to go to Rishikesh?
When is the best time to go to Rishikesh? Here are some facts to help you in your decision:
The most favorable months in terms of climate in Rishikesh are January, February, March, April, May, October, November and December
On average, the hottest months are May and June
November is the driest month
January is the coldest month of the year
The rainiest months are July and August