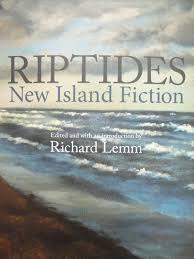 When, several weeks after I had expected this book to arrive, it was still missing, I emailed a friend who knew the publisher and could track it down. The response was that it was traveling to me by boat. Boat! From Canada to Cambridge! And when it finally arrived, the package certainly looked like it had been on one hell of a journey. It was bashed up on one corner, with rips in the brown paper, the ink of the address smudged and tearful. I wondered if it had been personally rowed to shore by some hardened old seasalt, nestled under a stinking tarpaulin while wild Atlantic storms tossed the craft like a cork circling a city gutter.
The book in question was Riptides, an award-winning collection of short stories from writers based on Prince Edward Island. Its dramatic arrival gave it a sort of subversive feel, as if the writers in question were lost in isolation, left to resort to a message in a bottle.
In fact, the introduction to the book suggests that the literary history of the region has been dominated by Lucy Maud Montgomery and her perennial childrens' favourite, Anne of Green Gables. In subsequent eras, the island has produced a lot more poets than fiction writers, perhaps the editor says, because the islanders knew each other's business too well, and writers feared that every character they created would be hijacked by someone in real life, convinced they had been plagiarised on the page. Anyway, this collection is offered as a way to showcase the up-and-coming talent in the region. And, it seems, to place some literary distance between contemporary writing and that commercially successful but twee and safe world of Lucy Maud. The island has been 'transformed by the juggernaut of change' the editor writes:
Where one might detect echoes of Avonlea, that resonance is often troubled by our era's insistent ironies, scepticism, malaise, wryly or sardonically complicated longings and antipathies, comic bite, and plaintive vulnerability. Too, the transmutations of gender roles, marital and sexual relations, and class awareness transgress by a country mile the boundaries of Montgomery's fiction and the idyllic and genteel heritage parameters of tourism promotions.'
All of which rather made me wish my book was still on its romantic-sounding journey to me, not laying bare its garbled agenda. Because I don't know about you but I'm no fan of agendas. They usually mean violent emotions have been transformed by overthinking into something potentially self-righteous. In the urge to run for the hills away from anything charming or 'quaint' or comforting or cheerful, I feared I would be on the receiving end of a great deal of dirty realism.
The good news is that the introduction was by far the worst thing in the book. The stories themselves were generally very good and there were several real highlights. In 'The Nothing', Melissa Carroll's wonderfully sarcastic narrator nearly loses her winning lottery ticket to the machinations of a scheming work colleague after an unfortunate accident with a printing machine. In Malcolm Murray's 'The Enlightenment Tour', an elderly gentleman alone on an equally elderly bus tours lost outposts and turns a rip-off into a meditation of sorts. In 'Watermelon' by Beth Janzen, a young girl watches her family's spotlight of attention shift away from her to an ill, overweight relative in a story of exquisite subtlety. And in what was perhaps my favourite, 'At The Red Light' by Bonnie Stewart, a chance encounter at traffic lights leads a woman to reflect back on a turbulent period in her life.
There was, in all honesty, a bit too much dirty realism for me. I get weary fast of stories about drug-takers, cancer sufferers and would-be suicides. Those topics seem too… easy, somehow, a swift, callous route to the reader's nerve center. But there were also plenty of stories that tried something intriguingly original, and these were ones I deeply appreciated, too. In 'A Torch Did Touch His Heart, Briefly', Jeff Bursey creates a properly intriguing voice, with a narrator who has always clung tightly to the emotional coldness that keeps him superior, but who now finds himself helplessly adrift in an unaccountable crush on the actress Juliet Stevenson. And in 'The Widows' Dinner' by Philip Macdonald, a group of elderly women sit down to eat a delicious lunch together, harboring unexpectedly sinister secrets.
With twenty-three stories ranging across all sorts of subject matter and voice, there probably is something for everyone in this collection, from the psychologically astute and chilling 'Dust' by Shirley Limbert, in which a young woman disassociates from her abusive relationship, to 'Where The Wind Blows' by Samantha Desjardins, a final carefree fling with quaint and charming, in which the narrator's grandmother and her sewing circle finally finish the hot air balloon that will transport the diminutive grandma on a long-awaited journey of discovery.
In fact, by the end, I wondered why I shy away so often from short stories. At their best they are a remarkably satisfying genre. But then, the fashion for so long has been the short story as a slice of life, a glimpse into a startling situation, that can be powerful in its style, but also leave you wondering where the rest of the novel has gone. I'm going to come right out and say it – I much prefer short stories that are obviously complete within themselves. Where something happens, and a proper ending is reached, not some sort of trailing off or hanging loose. I want a short story to be, above all else, a story, just a compact one. But that's just me, and given the range of short stories in this collection, there must be all sorts of different tastes. What makes a short story good for you?