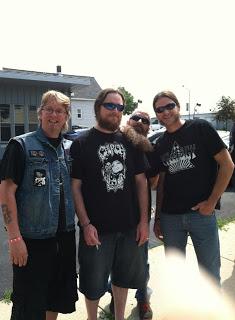 We had to get out of bed much earlier today since the Saturday roster was longer and hence the earlier starting time. After a decent breakfast at the hotel Kesha and I headed over to The Blue Pig Bar. Met up with even more old friends who had showed up, heck George Trevino from the band Las Cruces and his awesome girl Esmeralda drove up all the way from San Antonio to attend and Benjam Yaker from Sanctus Bellum flew in from Houston. Needless to say it felt like being a teenager again standing out in the parking lot and on the sidewalks talking and passing bottles of beer and vodka around...aah the little things! Having lived in Maryland for several years before moving to Tennessee, we have made friends with many bands from that area and several of those bands played at this year's version of DOTD so to see Ron"Fezzy"McGinnis and Greg Diener from Pale Divine, Josh Hart from Chowder and Pug Kirby and Dana Ortt from Beelzefuzz along with the Iron Man dudes and Darin from Pale Divine/Beelzefuzz who were already there was very fun. Had a lot of catching up to do which made the whole outside area buzzing, good times indeed!
Whaler: First band out on Saturday who went down real well with the crowd. Unfortunately I just caught the very end of their set due never making it inside on time. Shame on me since they are a really good band.
Gorgantherron: I had high hopes for this trio from Evansville, IN, since I really like their EP and they lived up to my expectations and then some. They play heavy doomy stoner rock with a lot of progressive touches and are definitely pushing the envelope. Keep an eye on them...great stuff!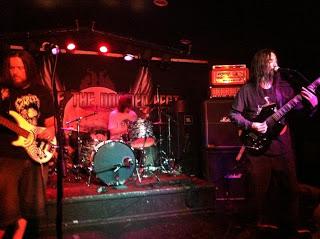 Beelzefuzz: I'm going to put this short and simple...AMAZING!!! These guys are fantastic musicians and the sounds they play are beyond words. They are one of those rare bands that absorb all their influences with their own ideas and they actually create something completely new.  It's progressive, psychedelic, heavy excellent doomy metal in lack of better words and needless to say they went down a storm. Eric Wagner joined them on stage for their rendition of Ride The Sky by Lucifer's Friend...in conclusion I am lost for words of praise for these guys. Absolutely fantastic!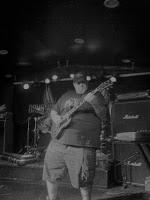 Chowder: Having been on a hiatus of sorts for quite some time Chowder released the excellent Passion Rift earlier this year, so with the announcement of them playing at DOTD III had me very excited. And they were on fire from the word go and played some amazing stuff. Unfortunatley they had some equipment problems but that didn't deter them. Instead it spurred them on and they were even more on fire once everything was up and running. Great stuff!
Spillage: The brainchild of Earthen Grave's Tony Spillman, he has Trouble's Bruce Franklin as his six-string partner in this project. I did miss a big chunk of their set but what I did see promise a lot for the future. The crowd response was real good for them so shame on me for missing out on most of it.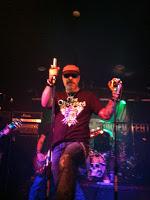 King Giant: I had the great honor of introducing these guys and that meant a lot to me. King Giant are the reason why my wife and I started to talk in the first place years ago and my subsequent journey across the Atlantic to move to the States. After my 10 seconds of fame the band kicked into gear and laid The Blue Pig Bar to waste with their doomy delta sludge. They never fail to deliver and were in top form today. Unfortunatley my wife managed to shatter her right big toe and break another one while they played. She soldiered on through their set though with blood gushing from her foot. That's rock'n'roll for you!
Leather Nun: I was so looking forward to finally get to see these guys but my wife's busted toes needed attention so while attending to that we heard them from the outside and they sounded very good. Talked to some folks who saw them and they confirmed that Leather Nun were good.
Earthen Grave: Was going to be the third time I saw Earthen Grave but my wife's foot injury was still requiring attention but we heard them from the outside as well and they sounded so good! Apparently the crowd was going bonkers inside with Victor Griffin joining them onstage. They must have given their all because when the set was over singer Mark Weiner came running out from the backstage door and literally collapsed on the the ground next to Kesha.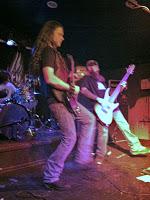 Pale Divine: Since Pale Divine is one of both my wife's and my favorite bands I helped her inside to see them, she wouldn't have it any other way. It was loud as hell but man they totally crushed it. Latest addition Ron"Fezzy"McGinnis on bass guitar has definitely rejuvenated the band as they let loose and jammed like crazy with great aplomb. The interplay between him and Greg Diener on vocals and guitar was truly mesmerizing while Darin McCloskey laid down the law on the drums. They ended with Amplified where Benjamin Yaker, Brian Balich and Mercyful Mike Smith joined in on vocals. Awesome stuff!
Dream Death: Got a few glimpses of these guys and they were very good. Listened to most of their set outside though which is a shame since they basically got back together for DOTD III. But Kesha needed help still as she was hurting more and more but refused to go back to the hotel.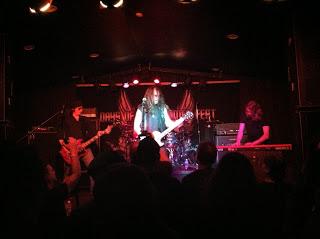 Victor Griffin's In-Graved: Left my ailing wife's side and caught the first half of their set and man they were so good! The Blue Pig was shaking in it's foundation as they tore it up. Had to leave after their killer version of Jethro Tull's Teacher. Amazing stuff indeed!
The Gates Of Slumber: Felt so bad to ditch out on my good friends The Gates Of Slumber but Kesha's busted toes were killing her and she couldn't take it anymore so it was time to return to the hotel. Do make sure you catch these guys when you can because they are fantastic!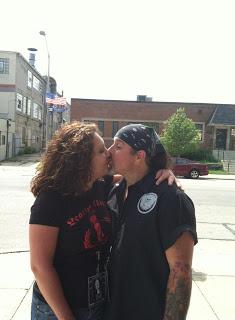 All in all Days Of The Doomed III was great as always. Don't know how they do it but Mercyful Mike Smith and his awesome wife Christine has created a fantastic event for us doomheads that runs super smooth and is always a joy to attend. Add to the fact that it is in Wisconsin makes it even better. The people there are superfriendly and accomodating, the vibe is easy going which basically turns it all into a great big party more than anything. So a huge shout-out to Mike and Christine and of course to the crew that kept it all rolling. The staff at The Blue Pig Bar were great as well especially Tina Walker who hooked us up to say the least. A special mention goes out to owner Heather Lemcke, a trained nurse, who helped Kesha out a lot with her busted toes. Got us all the medical supplies needed for that. Words are not enough!
A great festival Mercyful Mike!!!
--Swedebeast