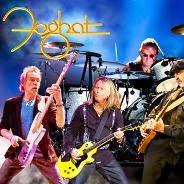 I couldn't get one person - NOT ONE - to take a slow ride with me 60 minutes south of Brooklyn to Sayreville, New Jersey to see Foghat on a Friday night. No biggie. I had the road fever and got in my boogie mobile and went space truckin to the Starland Ballroom solo. New York weather was crappy all week. Snow, followed by frigid temperatures and then rain made everything slushy and icy but by Friday night the roads were good to go. Even if New Jersey governor Chris Christie decided to do any hanky panky with the bridges I wasn't gonna let that stop me from a round trip boogie adventure.
The Starland Ballroom is a 2500 capacity room off a service road in the middle of nowhere New Jersey and is pretty easy to get to from Brooklyn. It's always fun taking a trip there because it's a nice change of pace from NYC venues. The mood is much more relaxed and the people of New Jersey love to party without pretense. As soon as I parked the car someone offered me a free ticket. I told him I was on the guest list but he handed me a spare ticket and said "just in case it don't work out, you're in." Pretty cool. Once you're inside there are about half a dozen places to buy beer with fast, friendly service. They even sell pretty decent pizza. Beer and pizza's nice but I came to rock. I had the great pleasure of interviewing Foghat drummer Roger Earl last month and had been playing the hell out of their classic albums ever since. Foghat also just released a concert DVD called Live In St. Pete that convinced me it was finally time to see one of my favorite bands.
During our interview Roger told me how much he loves to play and how much fun the band has on stage. That was completely obvious from the moment the curtain went up and they broke into "Road Fever." It was all smiles on stage and they sounded incredible. Foghat no longer tours for months on end with their own custom built gear. These days it's fly in dates with rental equipment. When you've been playing for 40+ years the gear doesn't matter anymore, it's all in the hands. Roger and bassist Craig MacGregor are one of the tightest rock rhythm sections I've ever seen. Craig's bass playing really makes the music swing and Roger's time is rock solid. Charlie Huhn does a great job on guitar and vocals filling in for Lonesome Dave and slide guitarist Bryan Bassett is flat out incredible.

Together they make a great guitar duo. Foghat played fan favorites like "Home In My Hand," "My Babe," and "Stone Blue" but the crowd really went crazy when they broke out the big guns like "Drivin' Wheel" and "Fool For The City." They did a great slow blues version of Muddy Waters' "I Just Want To Make Love To You" before it morphed into the high powered version we all know and love from 1977's Live album. Of course the grand finale of "Slow Ride" did not disappoint. "Slow Ride" has such a killer groove and is a blast to sing along to. On the way out I had to pick up FOG hat to wear on the trip home while blasting John Lee Hooker, Albert King and Little Walter. Such a great night with a great band.
Foghat plays all the time and if they come anywhere near you and you like to have a good time, don't miss out. They really kick ass.
--Woody
www.Foghat.net
"Slow Ride"