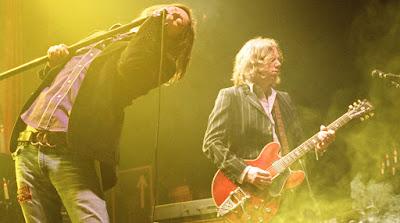 So after three year delay the Robinson brothers and hired hands bring their Black Crowes present Shake Your Money-maker to Dublin. With Reef in tow as special guests.
T.B.H. it was reef as support that swung it for me on decision to go. I'm not greatest fan of primary members of band doing one last lap without the original or near original band....it's an epidemic with veteran bands. Jack White's Great White, Blackie Lawless' W.A.S.P, Dave Mustaine's Megadeth (tree-hee)....but I digress!!!
Arriving at the 3 Arena (or as its still called by locals the point) it is less than a sold out crowd with large sections of the downstairs seating cordoned off with curtains.
Reef arrive on stage without fanfare and go straight in to "Shoot me your Ace"they don't let up peppering set with new tracks and old. A mid set "Place your hands" stirs a almost unresponsive audience in to some form of life. Reef work hard and eventually win over the crowd but a cover of Fleetwood Mac's the chain no matter how well executed seems an odd move with such a deep catalogue to draw from. They wind up their set with an almost frantic your old and a decent response from audience.
The venue has filled up quite a bit by now but still plenty of elbow room. This may be because it's a Wednesday night or everyone else has gone to the ploughing championships in County Laois....either way its shameful turn out for one of great Rock 'n' Roll bands.
The Crowes reveal their on stage set as a southern juke joint complete with full bar and a juke box....one of the backing singers pops coin in it and Fleetwood Macs "Shake Your Money-maker" pumps out...Great touch and excellent intro music.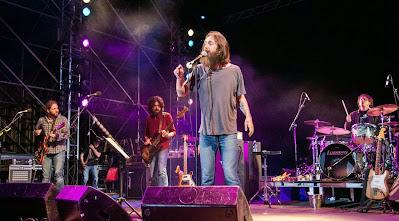 Then they are on and Rich Robinson cruises into "twice as hard" and Chris Robinsonbounds on to the stage in gold lame jacket and feather adorned fedora. He is a mike-stand twirling, strutting red rooster from the start. Gesturing to adoring crowdwith elaborate hand gestures and knowing winks.
His voice hasn't lost an once of his trademark rasp as he belts out every lyric as if his life depends on it. "Jealous Again "normally a set closer lands second and the place explodes as the crowd sings every word. The Crowes can do no wrong from this point on. Playing their debut in sequence.
"Seeing things for the first time" is nothing short of stunning and for me the nights very high watermark, as the Crowes take the crowd to church sounding like the best Gospel Choir ever. Following this with Otis Redding's hard to handle has the crowd joyfully becoming the Choir.
The band is tight as hell and I have to admit replacing Marc Ford with Earthless main man Isaiah Mitchell was a genius move. His solos practically combust. Chris Robinson nodding towards him in admiration after one especially searing fret run.
The business at hand completed by a wild run through "Stare it cold" the Crowes relax and Bang out the deep album tracks and hits. "Stare it Cold" "Sting Me" and of course " Remedy" bring the audience to boiling point.
Coming back on to do a fantastic cover of exile era stones track "Rocks Off" is a great finish. The only disappointment personally was no "Soul Singing"
Putting that aside the Robinson Brothers showed in style why they are one of Greatest Rock 'n' Roll bands ever and Chris Robinson in particular reminded us all why he's the living embodiment of aRockstar front man.
It's going to be interesting to see where they lead the Crowes next.