Newness can be both a blessing and a curse.  When Local Natives keyboardist and vocalist Kelcey Ayer announced to an enthusiastic crowd at the stylishly retro Fonda Theater early into their set last Monday that for all intents and purposes that engagement was a "listening party" for sophomore effort Hummingbird, merely an hour into its much-anticipated release on the East Coast, most reacted with joyous anticipation.  As the evening unfolded, however, it became clearer that the scheduling gods responsible for juxtaposing LN's Los Angeles homecoming so close temporally with the release of 14 new songs (if you count the three somewhat forgettable bonus tracks tacked on at the end of the deluxe edition) did not do the hometown posse any favors.  Rather than triumphing with the new, LN's set was ultimately somewhat sabotaged by unfamiliarity.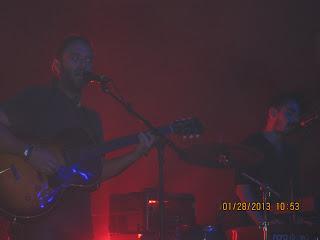 LN's 2009 immensely enjoyable debut Gorilla Manor is sumptuous and beautiful, richly saturated with sinewy Africanesque skittering guitars, melt-in-your-mouth harmonies, playfully careening percussion, and irresistibly catchy hooks.  Only about a third of the band's recent sets have been comprised of tracks from their opener, as the band has been choosing instead to immerse audiences in liberal doses of the more opaque, less immediate songs populating Hummingbird.  Three factors conspired to deprive the Fonda Theater faithful of an experience as satisfying as one might have hoped for.   The  overwhelming majority of the eight songs from Hummingbird were not only less compelling as a general proposition than their older material, but the band's energy level felt noticeably toned down as they worked their way through the newer compositions, almost as if they hadn't yet truly germinated as performances.  Consequently, the crowd's energy level sagged every time the band launched into one of the newer numbers.  Guitarist and vocalist Taylor Rice's energetic presence drove well-established crowd-pleasers like the sunshiny "World News", the quirkily rhythmic Talking Heads cover "Warning Sign", and even the encore performance of the introspective ballad "Who Knows Who Cares", but when the band launched into unfamiliar, more contemplative newer songs like "Ceilings" and "Colombia", it was almost as if you could reach out and grab the collective question mark that bubbled over the audience's head.
Local Natives are an eminently talented, exciting, and promising LA product that the SoCal faithful should be truly proud of, and they have a future brighter than the garish marquees lighting up the environs of the Fonda around Hollywood Boulevard.  This undeniable fact was abundantly evident as they closed out the evening with the anthemic "Sun Hands" with robust and scintillating authority, a stark contrast to the unfinished, anticlimactic vibe after the regular set terminated abruptly with Hummingbird's "Bowery".  All told, one was left wishing to be able to time-travel ahead a few months to experience not just a merely pretty damn good concert but one elevated to the truly legendary.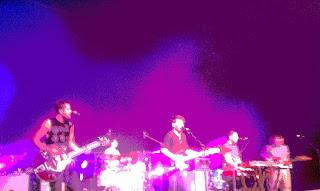 Local DJ Neil Schield entertained the crowd before LNs hit the stage with a thoroughly engaging set chock full of fairly obscure and compelling psychedelia-oriented indie pop, featuring Gap Dream, Beach House, Fool's Gold, and the upcoming Fonda headliner that the teenage hipsters love to call out by name, Starfucker.  Proprietor of Echo Park's Origami Vinyl, Neil spun tunes in a recessed wall alcove a good 15 feet above the dance floor featuring vertical golden stripes which had the optical effect of adorning him with the patina of a cooler-than-thou caged bird aloft above the bustling crowd below.   Those listening with even half an ear were treated to a particularly high-flying set of unfamiliar gems.  Hmmm... now that is more than just a bit ironic. 
--Rhythm Slayer