An anthropologist proposed a game to the kids in an African tribe. He put a basket full of fruit near a tree and told the kids that who ever got there first won the sweet fruits. When he told them to run they all took each other's hands and ran together, then sat together enjoying their treats. When he asked them why they had run like that as one could have had all the fruits for himself they said: "UBUNTU, how can one of us be happy if all the other ones are sad?"
'UBUNTU' in the Xhosa culture means: "I am because we are"
***
The Vicktory dogs family, Best Friends Animal Sanctuary, Badrap, Our Pack exemplify this kind of attitude towards the dogs and people… imagine the world we live in today especially in America being this way… a dream… a hope… a wish…this is how life is… when we ALL thrive…life is at it should be…
Sweet Lucas was one of the dogs who was court ordered to stay at Best Friends for life and so he did not experience having a family home of his own… but from all reports, he was MUCH LOVED by all the caregivers he had…visitors to Best Friends, all who met and knew him… all the people who's lives he touched…
From Best Friends:
We're deeply saddened to announce that our dear Lucas crossed over the Rainbow Bridge earlier this evening, ending his suffering from a host of health complications. We knew those of you who love him most would want to know. Please keep Lucas and those closest to him in your thoughts. We'll have more details to share later.
Lucas wore the Michael Vick dog fighting scars of his past on his face, but his heart and soul exuded nothing but happiness, excitement, love, and forgiveness up to the end. -jessie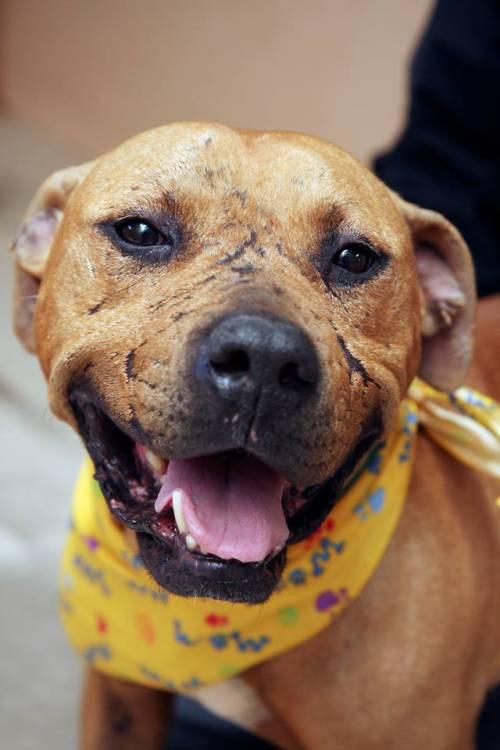 In Memory of Lucas 
"Garcia doesn't seem to mind the interruption, and we're ushered through the door. The first dog we see is a large, dirty blond Pit Bull with a huge head and knowing, resigned eyes. His face, torso, and legs bear the unmistakable scars of fierce battle. Clearly, this dog hasn't been in just a scrape or two, he's had to fight for his life. Yet, as we step closer, his whole body wiggles and wags.
"This is Lucas," says Garcia. "He's a grand champion. He's probably been fought more than 25 times."
Lucas nuzzles his head into the crook of my elbow. He darts over to greet my husband, all kisses and play bows. It's hard to imagine a dog being any friendlier, and we fall all over him in return. He's irresistible."
 http://dogtime.com/best-friends.html
"To Judah Battista, Lucas is Exhibit A in the argument that all dogs are good dogs if they're treated well."
"Of all the pit bulls in Michael Vick's Bad Newz Kennels, Lucas was the baddest of them all — Mike Tyson, Hulk Hogan and a little Ray Lewis rolled into one, the grand champion, the most vicious of the vicious Vick dogs.
"When his dog-fighting operation was busted, Vick was sent to prison and so, in a sense, was Lucas. The court shipped him and 21 of his fighting mates from Virginia to this sprawling, 3,800-acre animal sanctuary outside Kanab, with the stipulation that Lucas spend the rest of his days here. It was your basic life sentence.
"That was in January 2008.
"Nearly four years later, or 28 by his reckoning, Lucas is running the place.
"Open the door to the executive offices, and there he is, a smile on his face, a lick on his lips, and eager anticipation of either a pet or a treat written all over his eyes.
"Only the fading scars on his neck and face suggest that he was once the toughest, scariest and most-abused dog in Virginia.
"…we knew that meanness wasn't the summary of their nature," he continues. "Using stereotypes doesn't help anyone. They can all be rehabilitated. It just takes time and affection and attention.
"What we needed to prove was that man could be dog's best friend as much as dogs could be man's best friend."
"After that speech, Judah gave Lucas a treat.
"And Lucas? He jumped in Judah's lap and gobbled it down."

http://www.deseretnews.com/article/700201165/Michael-Vicks-meanest-dog-doing-great-in-Kanab.html?pg=all

"When some visitors come
into the office and sit down,
he welcomes them by
jumping onto their laps and
lavishing kisses on them,"
Brenda says. "That tells
me that he's not the menacing,
dangerous dog that far too
many people feel his breed
might be. He only wants to
be loved. We all are better
people for having had the
experience of having him in our lives."
"For Dr. Patti, his easy nature is also what has
touched her: "The thing that stands out most
to me about Lucas is his overflowing love of
people. He is so kind and gentle despite what
humans in the past have put him through. It
really teaches a lesson in forgiveness and
understanding that we humans should strive to equal."
"Michelle agrees: "We can learn a lot from him.
He has been a very happy dog despite his
background and despite all of the ups and
downs he has had medically."
"…The gentle side of Lucas, despite his past, continues
to inspire those who know and love him. "His joy
for life and a can-do attitude are something we
can all strive for," says John. "Lucas really
does symbolize the American dog Despite a
very difficult past, he is affectionate and forgiving.
We are all pulling for him to get better."

http://lifewithsatchmo.blogspot.com/2011/04/vicktory-dog-lucas-update.html

May ALL dogs experience the love, understanding, a home of their own, lots of food and treats and belly rubs that Lucas did… may he run free over the Rainbow Bridge… RIP …