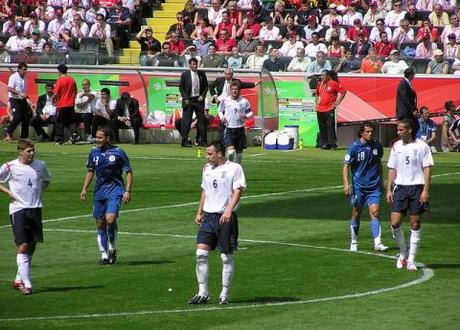 John Terry (6) and Rio Ferdinand (5) appear together for England vs Paraguay in 2006. Photo credit: Alex McGibbon http://flic.kr/p/fzT6D
The background
England manager Roy Hodgson's preparations for the 2012 European Championships have again been disrupted by injury and scandal. In England's workmanlike 1-0 win over Belgium on 2 May, Chelsea centre-half Gary Cahill's was ruled out of the Euros when he sustained a double jaw fracture. It was the third injury to strike since the squad was announced (Frank Lampard and Gareth Barry have already been ruled out).
Hodgson's subsequent decision to bring in Liverpool's inexperienced youngster Martin Kelly ahead of Manchester United starter Rio Ferdinand to replace Cahill has caused much controversy. Hodgson insisted that the original decision to leave out Ferdinand was purely down to "footballing reasons" but few in the sports commentariat believe Kelly is a better option than Ferdinand and many continue to suggest that Hodgson has overlooked Ferdinand due to the player's reported rift with John Terry. Terry has been charged with the racist abuse of Ferdinand's brother, Anton. Terry pleads innocent to the charge.
Ferdinand, who has 81 caps compared to Kelly's one, tweeted "What reasons??!!!" when he was ignored again.
Football reasons? Pull the other one Roy.
Writing at The Telegraph, Paul Ince, England's first black captain, insisted "we know the reason he has not selected Rio so then to come out and say it is football reasons is trying to pull the wool over our eyes." Ince acknowledged that the England manager is forced to make "hard" decisions but said that Hodgson could have avoided the current "disruption" if he'd "just been up front from the start, and said 'the reason we have left Rio out is we are concerned about the spirit in the England camp with Rio going and John Terry going.' How can it be football reasons? Rio has played more or less every game since January and he has been absolutely outstanding. With respect, please don't tell me he is not the seventh best centre-half in this country. As far as I'm concerned he is probably the best centre-half in our country. So explain to me why the best centre-half in our country is not going to Euro 2012 for football reasons?"
The former Liverpool striker Robbie Fowler wrote in a column for the bookmaker Paddy Power: "There's not a chance Rio Ferdinand was left out of the England squad for 'footballing reasons'. Not a chance. The public knows that too."
Hodgson has made a defensible 'footballing' decision
Martin Samuel of The Daily Mail suggested that while it "may be true" that Ferdinand "has only been left out of the team because of powderkeg personal circumstances involving Terry" that doesn't mean a footballing decision hasn't been made. Samuel asked "is the preservation of team harmony not a football requirement, too?" and argued that Hodgson has made a football decision based on the need for team unity: "He thought the Terry-Ferdinand combination potentially disruptive to the group and likely to create a point of weakness in the team, and asked, with the  strongest football reasoning: 'Which player do I prefer?'" "Whatever Ferdinand brings as a player is counterbalanced by the uncertainty around his relationship with Terry," reminded Samuel, who said "players would not be human if they did not feel tense in the company of two colleagues in such public dispute. Matters of race carry the heaviest charge also."
"Jeopardise the coherence of the group for his fourth, maybe fifth-choice center half? What manager would make that call?" asked Martin Samuel of The Daily Mail.
Rio's undeserved 'slap in the face'
Writing at Goal.com, James Goldman argued that Gary Cahill's fractured jaw "has brutally exposed the folly of ignoring Rio Ferdinand's Euro 2012 credentials on supposed 'footballing reasons.'" "What on earth has the most accomplished England defender of his generation done to deserve being ostracised in such an undignified manner?" questioned Goldman, who said Kelly's call-up constitutes the "the ultimate slap in the face" for Ferdinand.
The Sun: Kick It Out are unimpressed
Hodgson "has messed up badly over the Rio Ferdinand affair, according to sources within Kick It Out," reported The Sun. "The anti-racism campaigners — partly funded by the FA — believe the England boss should have got Ferdinand and John Terry together before selecting his Euro 2012 squad," added the tabloid in an exclusive article.
More on football
Joey Barton: Beyond redemption?
Balotelli: The ultimate maverick
Gary Speed's death an accident?