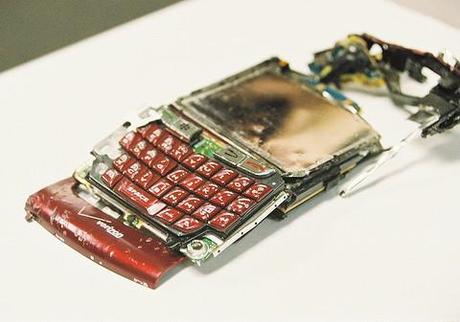 Falling to pieces? Photo credit: MattHurst http://www.flickr.com/photos/skewgee/3160670483/
Suited businessmen and tracksuited teenagers have joined forces to share in their distress and outrage at the continuing BlackBerry problems. BlackBerry, and its manufacturer Research In Motion (RIM), have found themselves on the receiving end of a torrent of abuse from furious users following over 3 days of service failure, in which email, internet, and BlackBerry Messenger (BBM) services have been crippled. RIM announced in a "pithy" conference yesterday that the problems, which have been felt across the globe, have been caused by malfunctions in their Slough data centre, the Independent reported.
With many businesses relying wholeheartedly on their BlackBerrys for communication, and millions of young users unable to "BBM" each other, faith in the company is wavering. Could this be the end for the smartphone giant?
"Come friendly bombs and fall on slough, it is not fit for humans or blackberrys now" tweeted Patrick Wintour of The Guardian.
A lost love. Robert Shaw of The Huffington Post highlighted just how close the bond between man and BlackBerry can be. But his "love affair" with BlackBerry has now hit troubled times. With the "robustness of the email setup" being the bedrock of his relationship, he is starting to look towards other smartphones, and claims to be "just one of an estimated 10 million subscribers … who might be thinking that way."
Communication errors. One of the most persistent complaints about the events of the last few days is that RIM has failed to communicate adequately with its customers. "If you are going to make billions from communication, you cannot afford to be above communicating yourself", warned Rob Waugh of The Daily Mail. He suggested that by failing to keep customers informed of the progress, RIM have turned a "forgivable glitch into a disaster."
A slight pain, not a catastrophe. At The Telegraph, Bryony Gordon calls for some perspective. Our reliance on technology such as the BlackBerry and iPhone has made us all "completely bonkers." She mocked the "BlackBerry owners … calling for compensations, as if this three-day blip were a catastrophe and not just a slight pain."
In character. Are the latest Blackberry issues just a continuation of RIM's downward spiral? Stephen Stromberg at the Washington Post Post Partisan blog suggested so: "The BlackBerry shutdown just seems in character for these clunky legacy devices." He suggested BlackBerry's glory days were behind them, even before this problem, and that "the erosion of BlackBerry's hegemony is something to celebrate."
More Tech

BlackoutBerry: Outages rock RIM
Google+ traffic dwindles
iPhone 4S: Selling like hot cakes
iPhone 4S: Siri – game-changer or gimmick?
Steve Jobs: Not a God?
Steve Jobs: tribute images
More mobile »