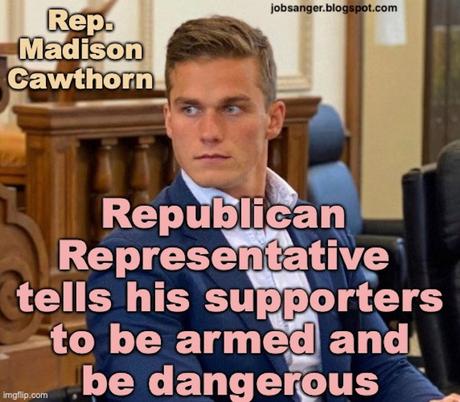 It's a fact that the Republicans in Congress no longer believe in democracy or have any real values, but some are even going further. They are actually encouraging their supporters toward violent actions.
The follow is part of a post by Steve Been at MSNBC.com: 
When many of us hear the words "armed" and "dangerous," we think of criminal activity: Police officers are often told to be on the lookout for suspects — accused of serious felonies — who are armed and dangerous, and are therefore threats to public safety.
What's far less common are instances in which elected officials suggest being armed and dangerous is a good thing. The Charlotte Observer reported:
Following a not-guilty verdict in the trial of Kyle Rittenhouse on Friday, Rep. Madison Cawthorn offered the 18-year-old an internship and told people on Instagram to "be armed, be dangerous and be moral." ... On Instagram, Cawthorn said in a video: "Kyle Rittenhouse is not guilty, my friends. You have a right to defend yourselves. Be armed, be dangerous and be moral."
To be sure, Cawthorn was not the only GOP official in a celebratory mood after a jury found Rittenhouse not guilty on Friday. He was, however, the only member of Congress who thought it'd be a good idea to encourage his allies to be both "armed" and "dangerous."
The fact that the congressman added "moral" to the mix did not negate the importance of the other adjectives.
What's more, this wasn't the first example of Cawthorn raising eyebrows with the language of violence.
 The North Carolinian appeared at a local Republican Party meeting, and held a shotgun during part of his appearance at the local event. During his public comments, the GOP congressman referred to jailed Jan. 6 rioters as "political hostages," before musing about freeing the suspected criminals and possible efforts to "bust them out."
When someone in the audience asked, "When are you going to call us to Washington again?" Cawthorn replied, "We are actively working on that one."
But then he kept going, falsely telling locals that the country's election systems are "rigged," and arguing that if American elections "continue to be stolen, then it's going to lead to one place, and it's bloodshed."
Cawthorn, of course, was obviously peddling nonsense: Elections systems in the United States are not "rigged"; there is no evidence that any election was "stolen" in 2020; there is no need for "bloodshed." But the 26-year-old raised the prospect of political violence anyway in service of his party's lies.
In a healthy political system, such public rhetoric would likely lead to a conversation about whether the lawmaker should be expelled. Indeed, one congressional Republican — Illinois' Adam Kinzinger — published a tweet denouncing Cawthorn's rhetoric as "insane."
But House GOP leaders nevertheless preferred silence. They also said nothing in response to his "be armed, be dangerous" comments.