Fortress America
via
Southern Beale
who promised a post of her own about this.
One thing's for sure: On the evening of March 31, 2014, Chris Heben—former Navy SEAL, American patriot, and purveyor of motivational workout videos and t-shirts—drove himself to a fire station with a gunshot to his abdomen. Everything else, though, is bullshit.
Heben, a 44-year-old vet with a passing resemblance to Hugh Jackman, had told police that he was shot by three racist black men after an altercation in the parking lot of a grocery store near his home in Bath, Ohio. The men's car had almost hit him, and he shouted at them about it before heading into the store, he'd said.
That's when his account turned into a cipher for racial politics, and a mythical tale about his willpower. Via Raw Story:
Heben claimed that he went into the Mustard Seed grocery store, but returned to his car because he forgot his wallet. That's when one of the men in the same car yelled, "You got a big mouth white boy. You need to learn some f*cking respect," and then shot him in the abdomen. According to Heben's story, he plugged the bullet hole, and tried to chase the men down in his car until he began to lose consciousness. So, he stopped at a fire station for help.
Heben quickly recovered, but there were immediate questions about why he hadn't called the police after his shooting. "I wanted to keep it on the down low," he told one local news station. "At that point in time, I did an immediate physical assessment and I was still functioning. Plus, I wanted to chase after these guys. I'm aggressive."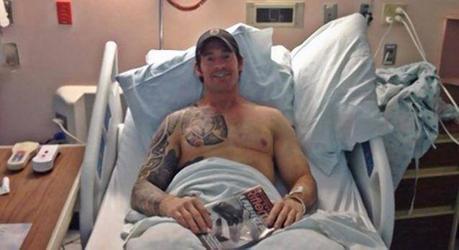 Heben became a
cause celebre
. He got extra exposure for the local auto dealer that had made him
a paid spokesman
. He went on radio and TV, including the interview above, to describe his ordeal. And he continued to market himself online.
But whatever promise any of his multiple careers held, they were halted last week when police said they had "overwhelming evidence" that Heben had made up his story of the shooting, and now faced criminal charges himself:
Heben, 44, has been charged with misdemeanor counts of falsification and obstruction of justice. "We have overwhelming evidence based upon video, cell phone records and interviews that the shooting did not occur in the West Market Plaza and that Mr. Heben made false allegations to us," said Bath Township Police Chief Mike McNeely.
Another local station also discovered that the all-American Heben—a medical professional, and a crusader for integrity and strength in government and all things martial—had three previous convictions for forging drug prescriptions.