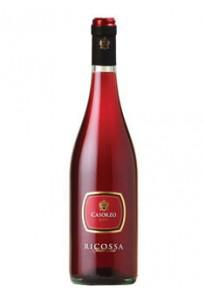 I recently received a bottle of Italian wine for review, and I'm very curious about it. This is a Malvasia di Casorzo DOC wine from the Piedmont region of Italy. This is made from the Malvasia Nera grape.
What I find interesting is the very low alcohol content of 5.5% ABV. I don't think I've ever had a wine with such a low alcohol content. I don't have any information on the sugar content, but I am assuming that this is a sweet wine.
Also, the production method seems unusual. According to the information that was sent with the wine, the grapes are hand-harvested and pressed, and then the must is stored just above the freezing temperature. It then says that the fermentation only occurs "as needed" throughout the year. This low-temperature fermentation produces a wine with natural carbonation, resulting in a "frizzante" style wine. This obviously does not have as much carbonation as Champagne or Asti Spumante since this is closed with a straight cork. (The higher pressure from wines with high levels of carbonation would force a straight cork out.)
Although this is a red wine, the producer recommends serving it well chilled.
Since this is a sparkling wine, my first thought is to serve it in a flute, like Champagne. However, being a red wine, it also occurs to me that a red wine glass may be more suitable. I'm going to try it both ways.
First, in the flute. There's a fair amount of carbonation that produces a "head" for a short time. The nose is fruity, with red apples and some berries. Once I taste it, I can definitely confirm that this is a sweet wine, but the sugar is balanced out well. I'm getting flavors of apples and maybe some floral notes. There's good acidity and a short finish. There's really almost no tannins here.
Now for the red wine glass. The nose is a bit more complex here, and the sweetness is fairly obvious with some honey-like aromas. I'm still getting the apple flavor, but there's some cherry in there as well. It seems sweeter this way, and the carbonation has lessened.
My preference is definitely the flute for this wine, but I think this would do well in an all-purpose wine glass that isn't too wide. You want to minimize the surface area of the wine to preserve the carbonation, and this doesn't have the tannin structure that red wines typically do, so exposure to air doesn't do much here. I think it's also more festive in a flute.
This is quite good, and I think it would be a great choice for a party. The low alcohol content may make it a good alternative to Champagne for New Year's Eve for some people.
I give this a "Very Good" rating.
I received this bottle as a review sample from Gregory White PR.
Wine Details
Producer: Ricossa (MGM Mondo del Vino)
Vintage: 2010
Variety: Malvasia Nera
Appellation: Malvasia di Casorzo d'Asti DOC, Asti, Piedmont, Italy
Acidity: 6.0 g/L
pH: 3.3
Alcohol: 5.5% ABV
Suggested Retail Price: $15.99
My Rating: Very Good