Back in the olden days (late 1980s/early 1990s), before the joys of the internet, and when terrorists would thoughtfully give you a few minutes warning before blowing shit up, I used to work as a technical illustrator for Ricoh - a Japanese manufacturing company. For four years I hand drew (no-one even knew what a digital camera was back then) the illustrations for the assembly manuals that were used to build their photocopiers – something that definitely helped hone my technical drawing skills, and which still influences much of my drawing style today.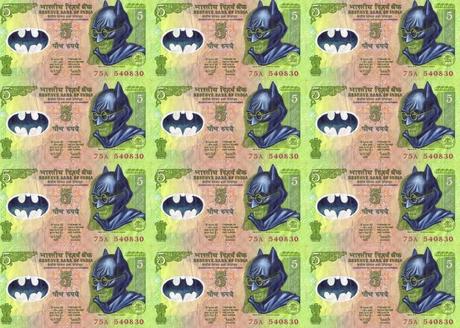 By chance, one of my old Ricoh colleagues came across a mention of my currency project and suggested that I pop up to the Ricoh facility in Shropshire, and check out the latest technological advances at their printing research and development department. This seemed like too good an opportunity to turn down so I procured some 100% cotton paper (the closest to actual banknote paper, that I've so far been able to find – real banknote paper being a 75%cotton, 25% linen mix, with a few extra fibres thrown in) samples from G F Smith and caught the next train from London up to Shropshire.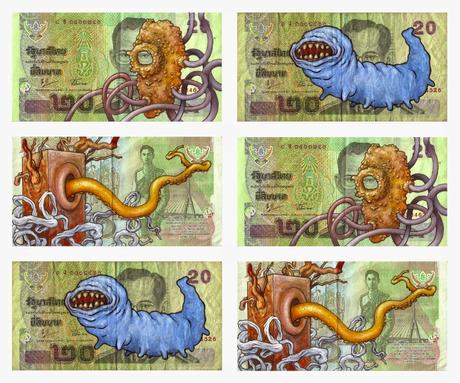 At this point I've not yet started working on the designs for my first banknote (a 10 Chig note), as I'm still finishing off my Tattooed Tumour Box sculpture, which has itself been put on a temporary back-burner whilst I create some new work for next month's Rob Pruitt's Flea Market project, as part of this year's Venice Biennale – but more on that in a later post. So, in the absence of any new currency designs, what I took with me to Shropshire, to test print on the cotton paper samples, were images of some of the customised currency paintings that I'd been playing with - which I originally made just to give me an insight into the flow and form of existing banknote designs.
Once at Ricoh, I was introduced by the engineer, Jason Dale, to some of the amazing things that their latest printers can do. I'm particularly interested in the fact that each note can be printed with an individual serial number, and in a clear ink that has inspired me to consider creating secondary designs that can be over printed on each side of the eventual banknote. So it's probably good that I didn't get round to designing my currency before I saw what the Ricoh printers were capable of.