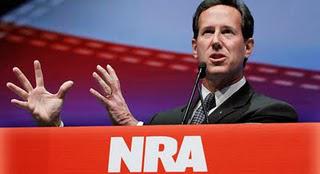 "The beauty is that you folks here in the NRA have been talking about this for years, somewhat out in the wilderness," he said. "But now the values that you've been focused for so many years are coming right squarely in the center."
"In many respects, you folks were the canary in the mineshaft (with) the assault on basic foundational freedoms in our Constitution," Santorum said. "Now we're seeing those assaults growing and growing and growing. But you were out there first, leading the charge, fighting those battles. And now the battlefield has broadened, and we have to fight for our freedom from an oppressive government on a variety of fronts."
Everyone knows it's all about FIGHTING and resisting OPPRESSION. It's about FIGHTING THOSE BATTLES and COMBATTING THOSE ASSAULTS.
This is the way one talks to the NRA crowd. Is it any wonder that every once in a while one of them decides to shoot up the joint?
What's your opinion? Please leave a comment.