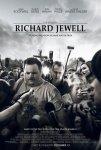 Richard Jewell is working as a security guard when he saves thousands of lives after spotting a suspicious package which has a bomb inside. This happens during the 1996 Olympics, but he is then accused of actually planting the bomb by the press and FBI investigation.
⭐️⭐️⭐️⭐️
The first thirty minutes of Richard Jewell are spent getting to know Richard Jewell, seeing the work he has been doing and how he wanted nothing more than to be a police officer, being able to keep people safe. He starts out working at a law firm meeting Watson Bryant and they get on well with each other. He ends up working as campus security at a college which does not end well. With the Olympics coming to town he gets the chance to work security. Taking it all very seriously and ensuring everyone is safe on his patch, giving a pregnant woman water and in general looking after everyone. We briefly see that he has a great relationship with his mother and adores her.
That character background and build up was essential in order for the audience to like Richard. That is exactly how I felt towards him, I liked him and he seemed like such a nice guy. With the work he was trying to do he was always going to end up with people being horrible to him as well, which he would never fully react to (no matter how the college kids tried to play it).
It didn't take long though for Tom Shaw and Dan Bennet the FBI agents to decide he was the top suspect, mainly because they had no leads or any idea who set the bomb off. They linked it to other cases where the person to be the hero was actually the villain to make themselves into the hero. Which shows a pattern of human nature to judge in that manner, if you think of all different terrorist attacks they make people doubt everything and then blame similar people.
The emotional nature of the film is captured in a very unique way, something I was more than expecting with Clint Eastwood directing. I know I always enjoy the style of his films and this was no different. Very impressive cast who put in some top performances, lead by Paul Walter Hauser who really was very special as Richard Jewell. Capturing the very kind and caring nature and making you basically want to be his friend and help him. Sam Rockwell can do no wrong in my eyes, always pushing boundaries with different roles. Kathy Bates offering the emotional mothers touch as she struggles to be able to protect her son anymore. Jon Hamm is another actor I really do just enjoy watching no matter on the role. Olivia Wilde was a bonus as well as the reporter who were meant to love to hate.
Everything mixed together really helped to create an enjoyable yet very frustrating film. I mean that in the best possible way, it was frustrating knowing that someone who was actually a hero was made out to be a terrorist and was trial by media before any attempted case had been put together against him. That actually happened to a man who did a duty and saved lives. I feel it is one of those moments that everyone had to learn from and really make sure before accusing someone of a horrible crime.