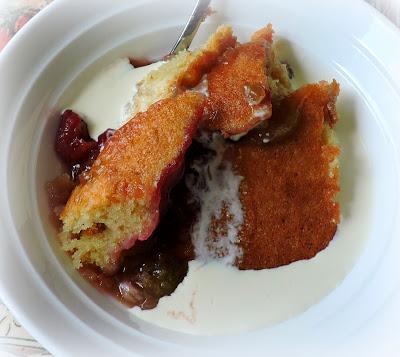 Pudding cakes.  I love pudding cakes.  We used to have one occasionally when I was a child.  They usually came from a box mix.  I think there was a date one, a banana one, and an apple one. I am not a snob. To me, they tasted pretty good!  Having one of those was a real treat! Mom used to serve them warm with ice cream.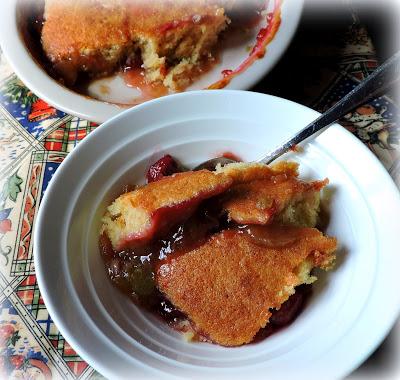 Rhubarb, its one of my favorite fruits.  I have loved it since I was a girl. My mother used to give us sticks of it to eat raw with small bowls of sugar.  Like a preservative free pixie stick.  Oh boy but it was good.  Made your jaws ache it did, with the tartness of it all.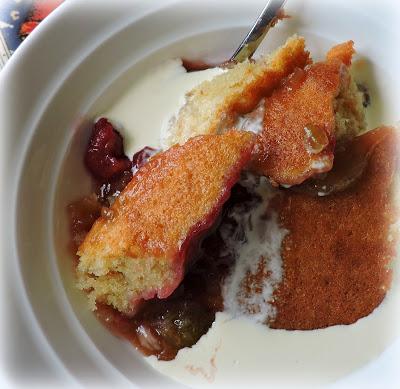 Our rhubarb is no good again this year.  No matter how much manure Todd ladles onto it, it doesn't do anything.  We just have poor soil.  I picked up some at the shops today so that I could make this favorite spring pudding of ours.  It was £1.50 for 3 sticks. Highway robbery.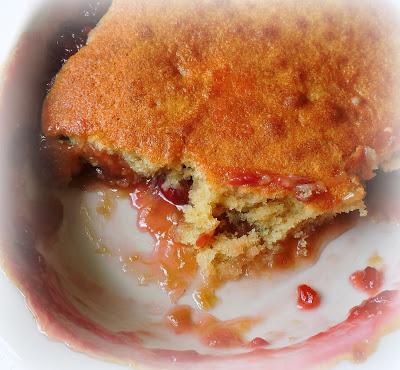 The cashier at the tils said that her father always said that rhubarb was the only thing in the garden that a pig won't eat.  I am not sure what she was getting at . . . but in my opinion, pigs are missing out big time!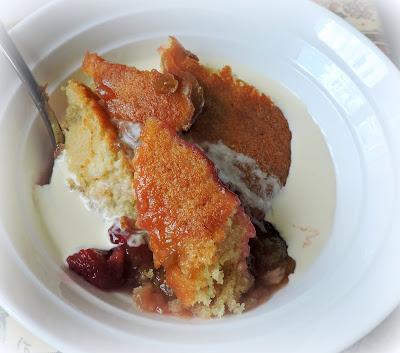 Because I did not have quite enough rubarb for this I added some raspberries to make it up.  If you want you can leave the raspberries out and just use all rhubarb.  It was delicious with the raspberries however, and they gave the fruit sauce a really nice ruby colour!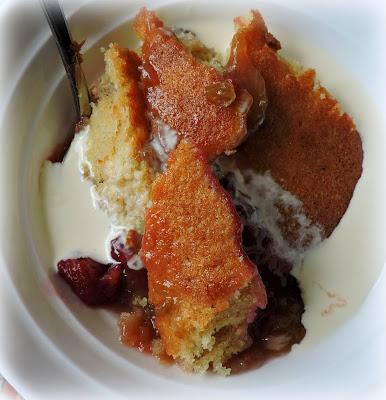 Todd enjoyed his warm with some pouring cream, but this delicious pudding cake would be equally at home with vanilla ice cream or . . .  dare I say it  . . .  clotted cream!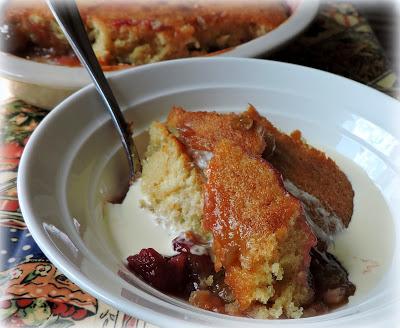 What you have here is a lovely fruity sweet/tart sauce base covered with a delicious sponge, flavoured lightly with vanilla and cardamom.  In short . . . a tiny bit of spring time bliss!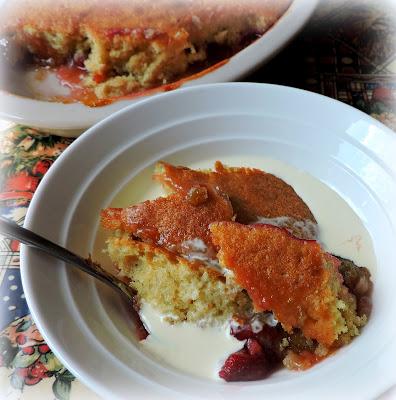 *Raspberry and Rhubarb Pudding Cake*Serves 6Printable Recipe  
A delicious dessert cake with lovely flavours.  Serve warm with ice cream, pouring cream or custard for a real springtime treat! 
For the fruit compote:300g rhubarb, cut into 1/4 inch slices (3 cups)100g raspberries, fresh or frozen (1 cup)150g granulated sugar (3/4 cup)1 TBS orange juice1/2 TBS corn flour (cornstarch) 
For the cake:79g plain flour (1/2 cup plus 2 TBS)1/2 tsp baking powder1/4 tsp ground cardamompinch salt75g butter, at room temperature (1/3 cup)75g sugar (6 1/2 TBS)1/2 tsp vanilla extract1 large free range egg40ml milk (3 TBS)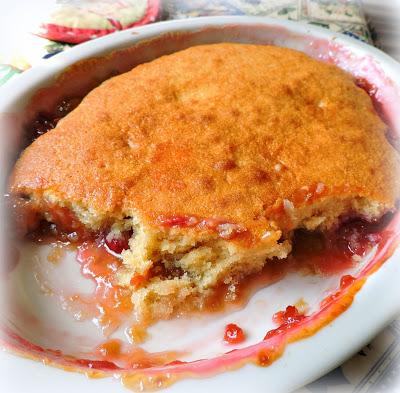 Place the sugar and cornflour into a large saucepan  Stir together.  Add the rhubarb and the orange juice.  Toss to combine.  Cook over medium heat, stirring constantly until the fruit releases its juices and the mixture begins to thicken considerably.  Stir in the raspberries.  Pour into the bottom of a 1 liter glass pie dish or casserole dish.
Preheat the oven to 180*C/350*F/ gas mark 4.
Beat the butter and sugar together for the cake until light and fluffy.  Whisk together the flour, baking powder, salt and cardamom.  Beat the vanilla and egg into the creamed mixture.  Add the flour mixture alternating with the milk until you have a smooth batter.  Dollop the batter over the fruit filling and smooth out as best as you can.
Bake in the preheated oven for 25 to 30 minutes, or until golden brown and a cake tester inserted in the center of the cake comes out clean.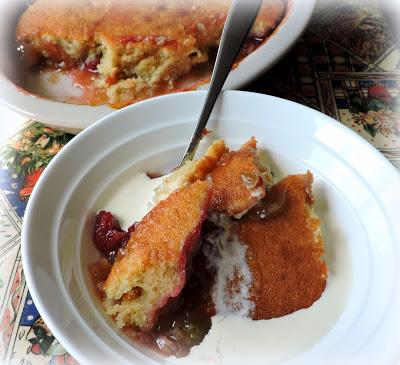 Whether you choose to add raspberries to this fabulous dessert or go it alone with just rhubarb, your family is sure to fall in love with it!  Bon Appetit!