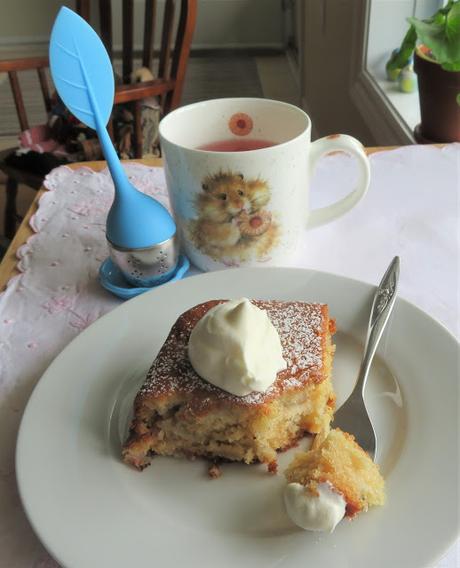 I am so happy to be sharing this beautiful old fashioned rhubarb cake recipe with you today.  It is not often you see a rhubarb cake with buttermilk!  This is
the
BEST rhubarb cake going.
So simple and yet, so delicious. This is the type of cake that you can dress up or dress down, depending on when you are going to serve it.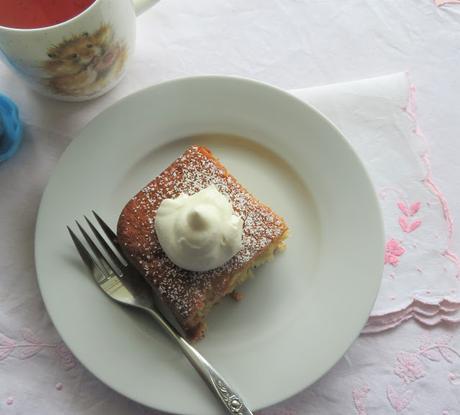 Left plain, it makes the perfect snacking cake. Beautiful served with an ice cold glass of milk, or with a cup of your favorite hot drink.  
Add a scoop of vanilla ice cream or a dollop of whipped cream, however, it then becomes one of the tastiest dessert cakes going! 
You can even frost it with a simple vanilla buttercream frosting if you like.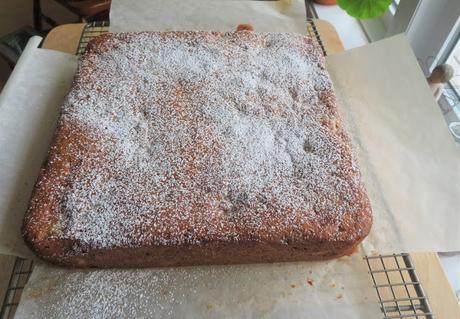 I always like to dust it with a bit of icing sugar, or confectioner's sugar as it is also known.  I have also seen it called powdered sugar. Whatever the name, it is the sugar you use to make icings with.
Its like popping a frilly crinoline underneath your fullest skirt. It just becomes prettier!  And we all know we eat with our eyes first.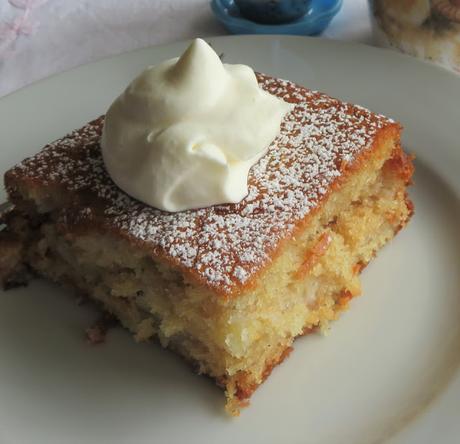 Rhubarb, or Pie Plant as it is also called, is one of my favorite spring time/early summer fruits!  On its own it is very tart, but sweetened up it becomes quite delicious!  
The roots and underground stem of the rhubarb plant are used to make medicine.  The stalk of the plant is used as food. The leaves of the plant are highly inedible and actually poisonous, so do not make the mistake of thinking you can eat them like a green.
You DEFINITELY CAN NOT! Its dangerous.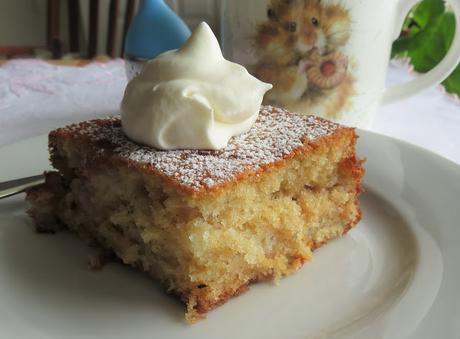 When we were children, during rhubarb season, my mother would often give us a stick of rhubarb to eat raw.  She would also give us each a small bowl of sugar to dip the ends of the rhubarb in.  
Rhubarb is so sour it would be darned near impossible to eat it without the sugar. Even with the bowl of sugar, it made our cheeks ache, but we loved it.  It was kind of like eating an all natural, no preservative or coloring added, pixie stick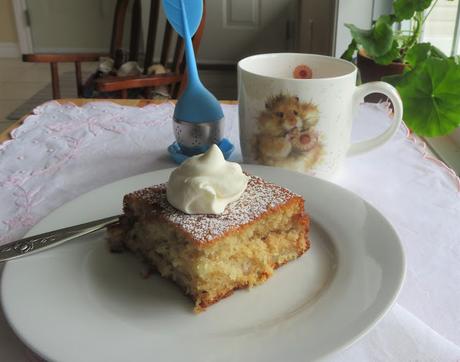 For us, aching cheeks or not, it was a real treat.  Added to the pleasure was knowing that mom would probably soon be baking us a rhubarb pie, or this lovely cake.
Or maybe even a rhubarb crisp/crumble.  Oh boy, that was another real favorite!  I love LOVED the buttery oat-filled topping.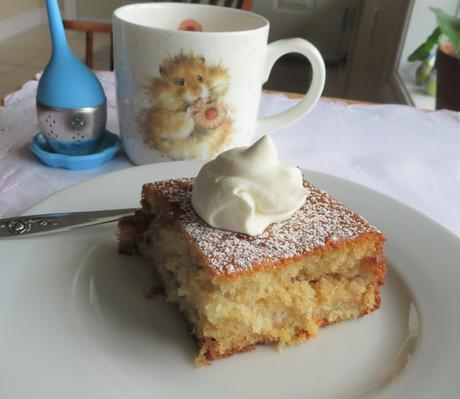 Don't you just love my mug and tea infuser?  My friend Noelle (who is like a daughter to me) sent me the mug as a gift recently. It is a Wrendale design, entitled "The Diet Starts Tomorrow."  I thought it very appropriate! 
It was so kind of Noelle to send it to me.  Thank YOU Noelle!  I love it!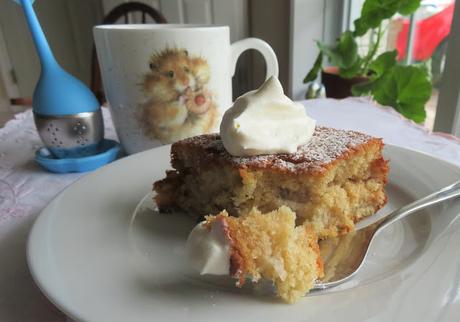 The Tea Infuser is one I got on Amazon. It comes in several different colors and is not very expensive.  
I stumbled onto it when I was looking for an infuser. I thought they were really cute and I loved that they came in sets of two (perfect for when you are sharing), with each having their very own infuser rest for when you take it out of your cup.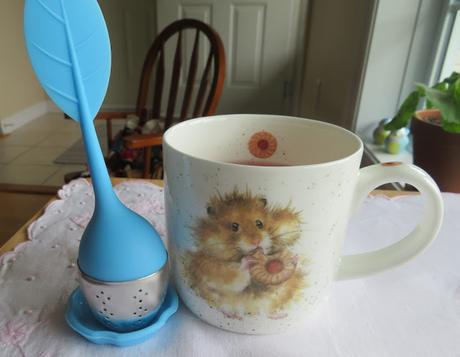 I don't drink regular teas because I belong to the Church of Jesus Christ of Latter Day Saints. We have a health law called the word of wisdom, which prohibits drinking black tea and coffee.  
I do love a good herbal tea however and today I was drinking Canadian Cranberry.  I got this herbal tea from a Canadian Company called
The Tea Haus
, which is situated in London, Ontario. 
I am a person who likes to support National Businesses no matter the country I live in.  I have to say that they have a great selection of teas, herbal and otherwise.  
I was really happy with their service as well, and no, I have not been paid or given free product to tell you that.  I simply like to share good things with you if I can.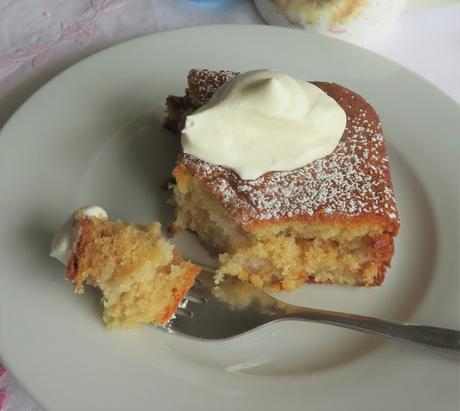 Now back to the cake.  This is a beautifully moist and delicious cake.  Unless your rhubarb is really red in color, you probably won't be able to see it once your cake is baked, but trust me, it is there.
Studding the cake all over with sticky tart, yet sweet bits of delicious rhubarb.  Buttermilk cakes are always incredibly moist I find. I love them!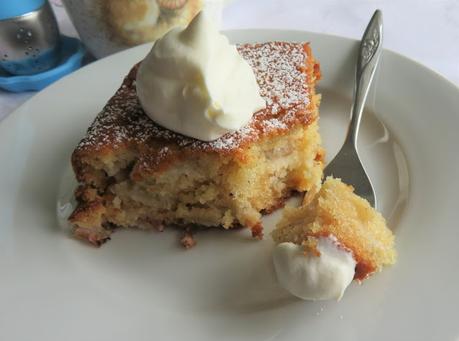 I had buttermilk left that I needed to use after having made Dan's
Buttermilk Chocolate Cake
for his Birthday.  This was the perfect use for it (aside from biscuits or pancakes.)
I love that here in Canada I can buy whole liters of buttermilk! In the UK, I was only ever able to get it in 1 cup sized containers, although in Ireland, just a hop, skip and a jump away, you could also buy it in liter sized containers.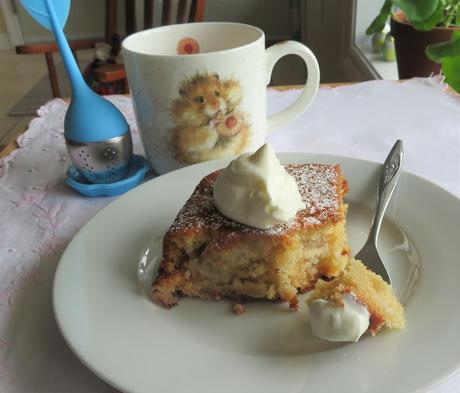 I suppose that is probably because the British didn't really use buttermilk a lot in their cooking, but the Irish do.  Supply and demand I suppose.
In any case, I am happy to be back in the land of buttermilk and am using it any chance I get!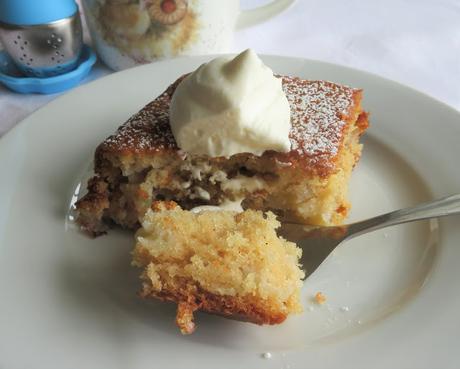 This is, simply put, a beautifully moist and flavored cake. Perfect for enjoying with a hot cuppa, or for dessert, or for taking on picnics.  I think you best prepare yourself to fall in love, because it's going to happen.
I can almost guarantee it!   
Yield:
Makes 1 9-inch square cake
Author:
Marie Rayner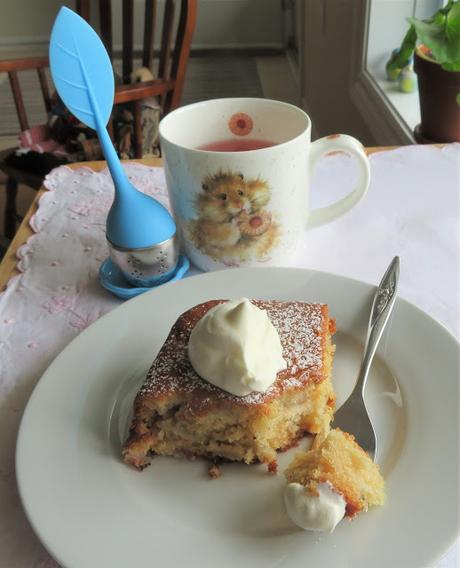 Rhubarb Buttermilk Picnic Cake
Prep time: 10 Min
Cook time: 43 Min
Total time: 53 Min
Fresh rhubarb studs this lovely buttermilk cake, adding little pockets of sweet/tart deliciousness. You can eat as is with a hot drink, or add some softly whipped cream or ice cream to serve it as a special dessert.
Ingredients
For the rhubarb:
2 cups (200g) washed and cleaned rhubarb, thinly sliced
1/3 cup (70g) granulated sugar (In UK use castor sugar)
For the cake:
1/2 cup (120g) butter, softened
1 cup (195g) granulated sugar (In the UK use castor sugar)
1 large free range egg
1 tsp baking soda (Bicarbonate of soda)
1/2 tsp  salt
1/2 tsp ground nutmeg
1 tsp vanilla
1 cup (240ml) buttermilk (*See note)
2 cups (280g) plain all-purpose flour
Instructions
Preheat the oven to 350*F/180*C/gas mark 4.  Butter a 9-inch square baking tin and line it with some baking paper.  Set aside.
Put the rhubarb into a bowl along with the 1/3 cup of sugar.  Set aside while you make the batter for the cake.
Cream together the butter and remaining sugar until light and fluffy. Beat in the egg and the vanilla.  Stir in the baking soda, nutmeg and salt.
Add the flour alternately with the buttermilk, making three dry and two wet additions until well combined.  
Quickly fold in the rhubarb along with any juices.  Pour the batter into the prepared pan.
Bake in the preheated oven for 40 to 45 minutes until risen, golden brown and the edges have shrunk away from the sides of the pan a bit. A toothpick inserted in the center should come out clean. 
Cool in the pan for five minutes, then lift out onto a wire rack to finish cooling completely.
Serve cut into squares. You can dust it with a bit of icing sugar to pretty it up a bit. 
Notes:
If you don't have any buttermilk, you can make a great substitute by doing the following. Measure 1 TBS of lemon juice or white vinegar into a measuring cup. Fill it up with milk to make the 1 cup/240ml measure. Leave to stand for 5 minutes until it clabbers. Use as per recipe.
Did you make this recipe?
Tag @marierayner5530 on instagram and hashtag it #marierayner5530Created using
The Recipes Generator
This content (written and photograph) is the sole property of The English Kitchen. Any reposting or misuse is not permitted. If you are reading this elsewhere, please know that it is stolen content and you may report it to me at mariealicejoan at aol dot com. 
Follow my blog with Bloglovin