The Malvern show held at the Three Counties Show ground in Malvern, Worcestershire is a couple of hours drive from home, after the long motorway drive I spilled out onto glorious countryside, the sun shone, although the forecast was ghastly and my hopes were up for a my first ever visit.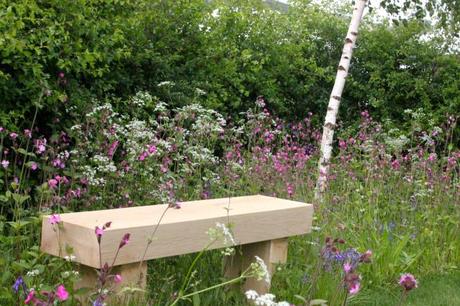 'Bringing Nature Home' Gold and Best in Show
Parking was easy, entry good and then where to first. I am not sure if it was a me, but the layout was chaotic and the complete lack of any recognisable or understandable signage meant the first two hours were spent getting my bearings. I heard a man on a loud speaker telling us where to find the show gardens, I still did not find them all and there were only 9. The garden which had won best in show was a lovely concept, one half formal with elegant planting divided by simple wooden screens and the other half wild, the photo above shows the wilder half and the photo below the formal half. I liked it, especially the use of Luzula nivea grass in the formal part, I love this little grass and if pushed to choose this one is my favorite ever grass.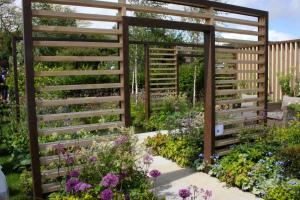 'Bringing Nature Home'
Gold – Best in show
There wasn't a route as such more a higgedly layout, so no sense of what to look at next, but a look at me garden was the 'En su Casa en la Playa' (At home on the Beach).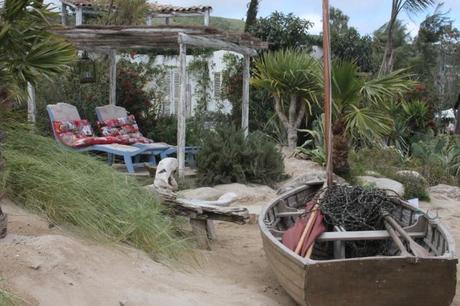 'En su Casa en la Playa' (At Home on the Beach) Gold
Depicting a setting on a beach in the Balearic islands of a family home, complete with a little Paella shop. I am guessing this would be even more lovely had it been a warm late spring day, instead of the 22 mile an hour winds and the decreasing temperature drop, even so, this is a place I would like to visit. I could imagine a moment sitting on the loungers and a good book for company.
Nearby was a lady on her own, with another garden, which at first I was not sure if it was a show garden, such was the higgledy layout. Not my choice but I appreciated the work that went into its concept and creation. Apparently it symbolised the path led after death entitled "Oooh…it makes me wonder".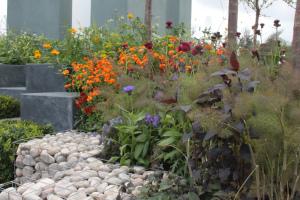 'Oooh…it makes me wonder' – Silver
Shears and Chardonnay another garden, with bits I would like such as the wonderful back habitat wall built of logs and complete with a living roof along the top of the wall.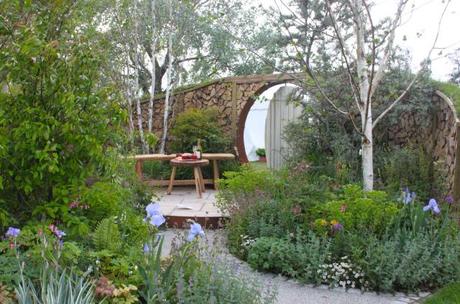 Shears and Chardonnay – Silver Gilt
And the last two I found, one not for me, was 'Blush' the blurb describes the color scheme as soothing and the garden somewhere to relax, this garden also came with a long strip of Fuchsia pink gravel.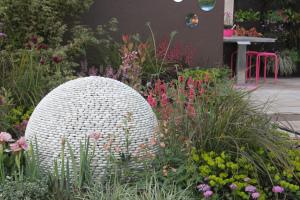 Blush – Silver Gilt
And lastly although I did not spot any fruit in this garden, despite its title, I would quite like a little sunken seating area and outside oven at home, I may then once in a while sit down.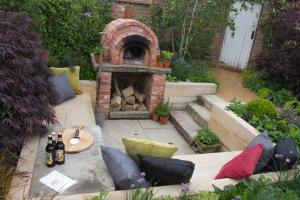 'A Fruity Story' Silver Gilt
The show has lots of stalls outside selling plants and sundries, I failed to find anything on my list, mostly Penstemons and Irises, and headed off to the marquees, with no clue as to what was inside any of them.
In one I found the very best stall Avon bulbs, lots of people crowded around, I think business was good!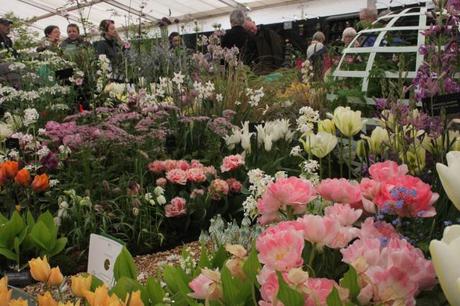 Avon Bulbs Gold winning stand
In another I found the The East of Eden Geum Nursery and very nearly made an impulse purchase and thought long and hard, deliberated and dithered about where this Geum could go. And then asked could I buy one, nope the early bird gets the worm and it was sold out.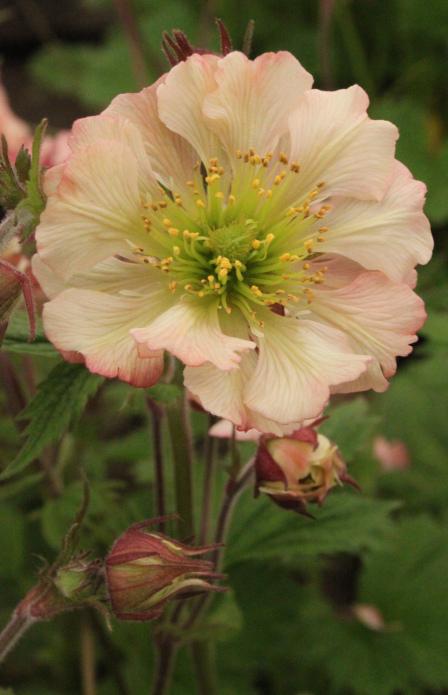 Geum 'East of Eden' introduced in 2013
From East of Eden Nursery
The Alpine Society were at Malvern and after a couple of hours wandering I finally found them in a massive farm building. Hurrah! Actually not that far from where I had started. Its was so chilly and windy at Malvern that wooly hats were being worn.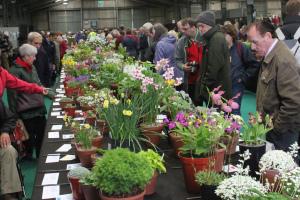 One of the Alpine society show benches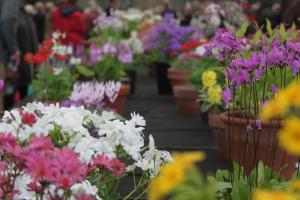 Alpine society show benches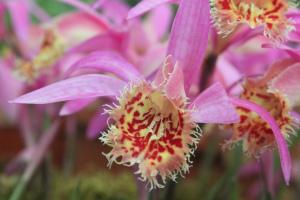 Pleione vesuvius 'tawny owl'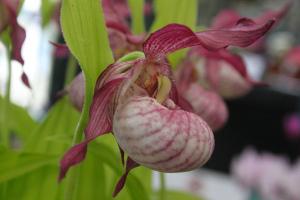 Cypripedium gisela
Isn't this a wonderful world, and isn't mother nature brilliant to bring us such amazing plants, I can't look at the Cypripedium gisela without thinking of the Queen of Hearts from Disney's Alice in Wonderland.
With the decreasing temperatures and blackening skies, I decided to head home after one last purchase a 5 meter long natural slug and snail barrier seed tape from Simple Sowing and a lovely chat with a very nice man from the Rare Breeds group.
I would go again, but with a compass and a long piece of string.