Did I mention it was really really hot when I went to RHS Hampton Court Flower Show? Well it was and it is a credit to all the growers and constructors of the show gardens and various plant displays that the plants were standing up to the intense heat.
I am not going to write about all the Show Gardens but I am going to mention the ones that really caught my eye and maybe have not had as much coverage as other show gardens.
The Best Show Garden this year was the Gold Medal Winning 'B&Q Bursting Busy Lizzie Garden' designed by Matthew Childs.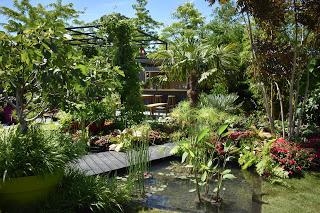 It was a cool lush oasis in the heat of the day. This garden aims to change some perceptions on the use of Busy Lizzies in the garden. They have a reputation for being dull bedding plants and in recent years there have been some issues with disease. The garden uses a new breed of this plant and they have been grown to be quite tall. They are used to great effect in this garden. What I think I like most about this garden is that it is trying to influence how we gardeners use plants, that is rather refreshing in a show garden if I may say.....
The Viking Cruises Nordic Lifestyle Garden, designed by Stephen Hall, won a Silver Medal.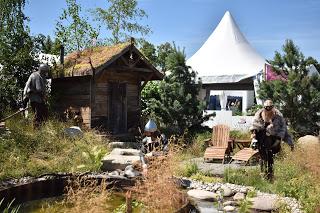 I really liked the garden, the circular dipping pond was rather wonderful. I did feel very (very) sorry for the models who had to wear metal helmets and furs on one of the hottest days of the year.
The Southend Young Offenders' A Place to Think garden, designed by James Callicott and Tony Wagstaff and built by Southend Young Offenders, also won silver.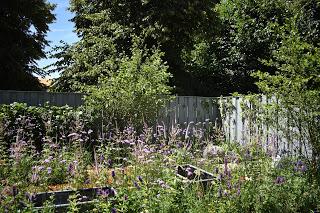 I liked this garden, it was wonderfully purple and extremely well put together. I also think it is 'a good thing' to have this type of activity available in offender institutions.
Many of the gardens support good causes and they are an excellent way of raising awareness. The Children with Cancer UK Mr Happy, Mr Worry designed by Emma Reed is perfect example of this.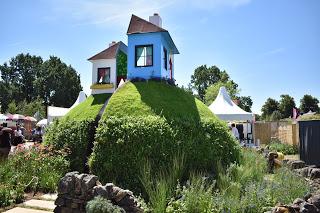 It only won a silver medal, yes I am going to use the word only as it seemed gold to me (in my not an expert, not a judge, what really would I know capacity). The day I was there there was a constant stream of young children being taken through the garden and also some poor soul in a Miss Happy suit (I thought she could go and compare heat stories with the vikings).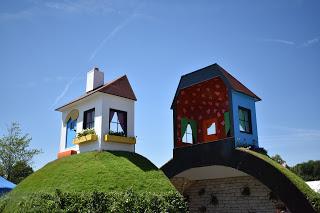 The premise of the garden is simple to understand and works well. The use of planting works well and it was very well constructed.
The Brilliance in Bloom Garden designed by Charlie Bloom also won a silver medal. I really liked this garden. The use of colour and the use of sculpture worked perfectly.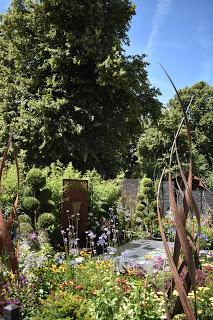 The point of the garden is to emphasise the skills of craftspeople and small organisations. It is all about tight budgets, barter and borrowing. Something many of us gardeners can identify with.
The Rias de Galicia: A Garden at the End of the Earth designed by Rose McMonigall was probably my favourite garden and yet again it only received a silver medal.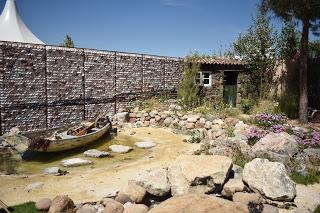 Simple and effective and the wall of 5,000 scallop shells stole the show. The name refers to Rias De Galicia which is in northwest Spain. This was apparently once thought to be the end of the Earth.
I was also very struck by The Health and Wellbeing Garden designed by Alexandra Noble.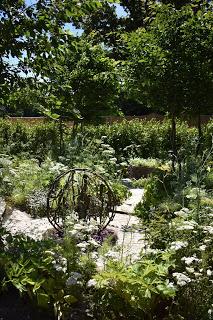 The garden won a silver medal. It is planted with medicinal plants and was superbly planted and constructed.
The Breckland Beauty garden was designed by Jody Lidgard, Nick Fryer and Tom Lidgard.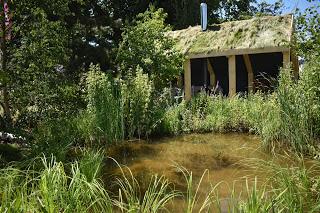 I really liked this garden. It had a calmness and coolness that worked even in the heat of the day. It was a worthy gold medal winner.
The Very Modern Problem Garden designed by Pollyanna Wilkinson won a silver gilt medal.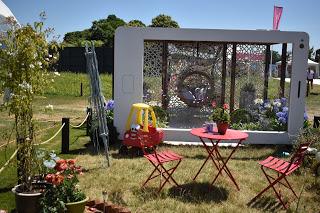 The garden is meant to represent how reality is represented (or not) through our lives on social media. There are plastic plants interwoven with real planting. As someone who is known to tweet a little (ahem) this is very apt for me to feature.
There were many other gardens and features to see.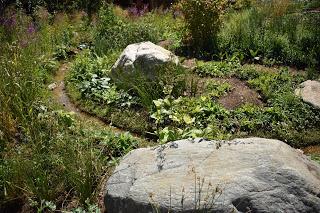 There was the Countryfile 30th Anniversary Garden designed by Ann-Marie Powell, built with over 12,000 plants and over 300 different varieties. It was a piece of the country right in the middle of the show.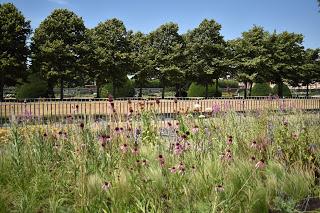 A major feature of the show was the Piet Oudolph plantings. Again it was another large space and it was wonderful to be able to walk through it. Whilst I was standing admiring it there was a group of school children being led through the paths. They could be heard excitedly pointing out all the bees and butterflies enjoying the flowers.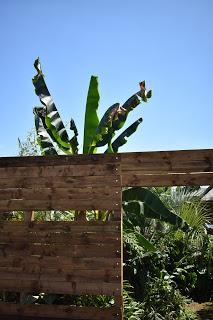 There are also the conceptual gardens. This lush jungle planting led into a rather grim abattoir. It was called Conscious Consumerism and designed by Joseph Gibson. It won a gold medal and it certainly put its message across well.
There was so much else to see: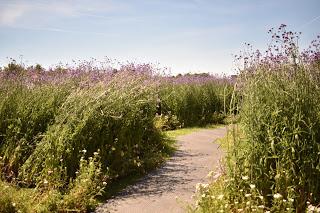 there was a river of Verbena bonariensis,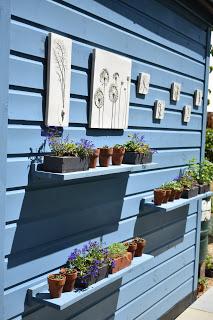 lots of edible planting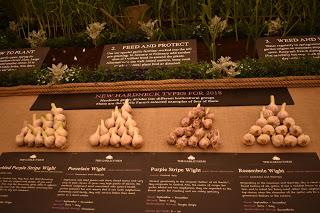 lots of edibles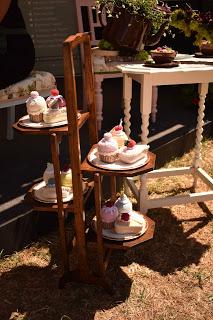 knitted cakes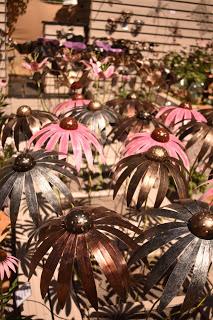 and fields of metal flowers.
I had such a great day, it is such a big show it is impossible to cover it all so there is much I have not covered. We travelled home, grateful for the air conditioning in the car, tired and a little footsore from all the walking - but happy.