The day we went to Chelsea Flower Show it was cold. I have never been to a cold Chelsea before, I have been to warm ones, hot ones and rainy ones, but this was a new experience.  The word of the day was 'chilly'.  I am not going to feature all the gardens, this is a very selective view, but they are the ones that really my eye and that I managed to photograph through the crowds.
The chill did not put us off though, at least we did not get too hot on our wanderings.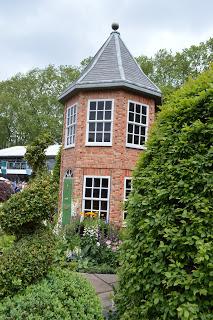 We arrived at lunch time and this year, in a break with tradition, we did not do 'posh lunch' but had a sausage bap instead.  This meant that our first garden to look at was Diarmuid Gavin's Harrod's British Eccentrics garden.  As it was not twirling at the time we saw it, the crowds were less and made it easier to actually see.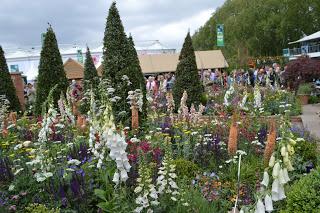 I really liked the planting, there were mutterings of 'garish' around me, but I don't do pale.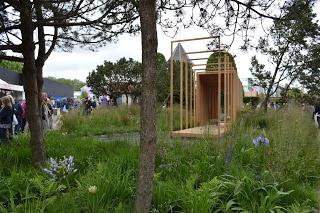 In contrast the Cloudy Bay garden next door, designed by Sam Evans, was calmer and made a good foil to its louder neighbor.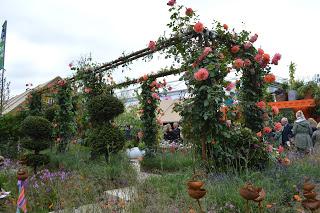 There was more brightness to be found in Anne-Marie Powell's 'Greening Grey Britain for Health' RHS garden.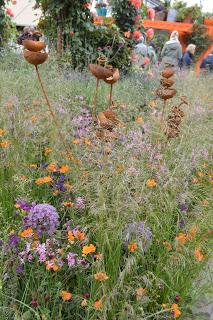 The planting of this garden was second to none and the bird feeders are just a thing of envy.  There was a discussion about buying rusty metal; about how we are now drawn to it like moths to a (rusty) flame, who knew some old metal would make us love it so?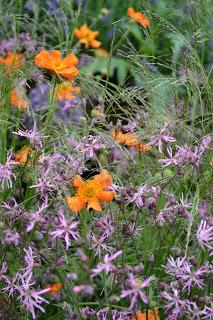 I loved the colours in this garden, it was bold and very successful.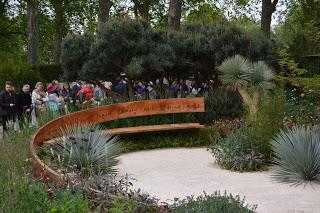 The Winton Beauty of Mathematics garden designed by Nick Bailey used color extremely well.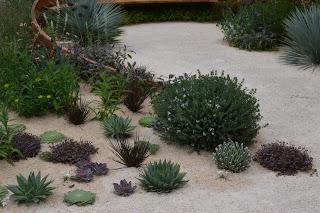 There is a fine line between too much bare earth and well planted, this is very well planted.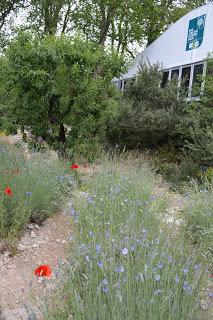 There were quite a few, what I would call dry/arid looking gardens.  The L'Occitane Garden designed by James Basson was a very good example.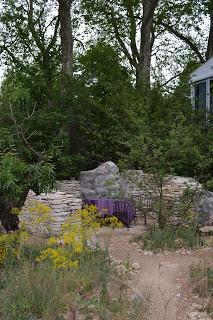 Even on this chilly day the garden gave a feeling of heat.  I also liked the inclusion of woad, a plant I am very fond of.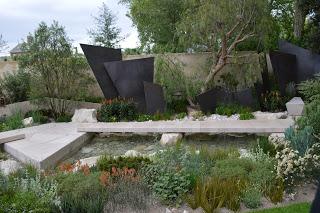 Andy Sturgeon's Telegraph Garden won best in show.  It probably was the best, we thought so as we walked around.  We also thought it looked much better in reality than it did on the photographs.  Looking back at my photographs does not make me change this opinion.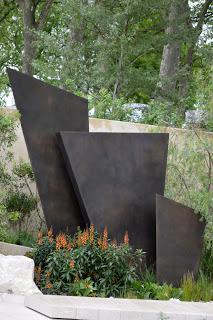 This was my favorite bit of this garden, it sums up really why it works so well. The orange against the dark shapes is stunning, and, I shall boldly claim: when people say that Chelsea is not about 'real' gardens, I think that this is easily replicable in a garden.  If you have three large chunks of dark stone, or a fence and some dark paint.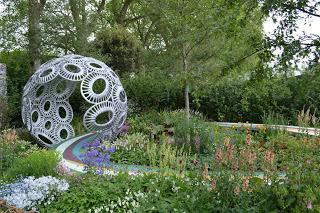 Time to move away from the dark now and into color.  This is Rosie Hardy's first show garden and is the Brewin Dolphin Forever Freefolk garden.  I would expect a serious plantswoman like Rosie to plant a garden well and this is superbly planted.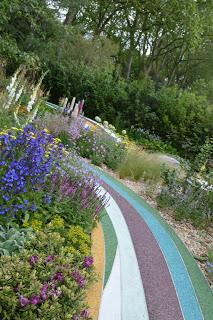 You only have to look at the detail of how the colours of the pathway match exactly the color of the planting.  The garden is a great achievement and I hope that Rosie goes on to design more gardens in the future.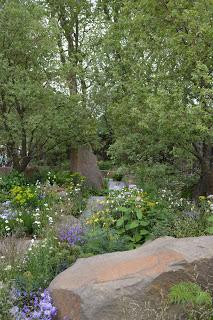 Cleve West's M & G Garden was a masterclass in naturalistic planting.  It gave a complete sense of the Exmoor landscape.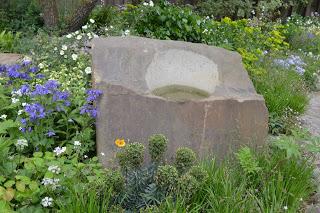 With my eye for a good poppy I did enjoy spotting this lone orange poppy, popping up as they do.  It might have been this one singular poppy alone that made me feel that this garden did feel like natural landscape.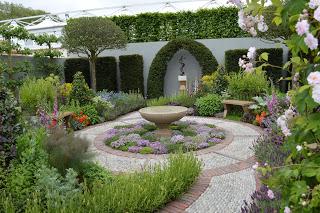 Jekka McVicar's  The St John's Hospice Modern Apothecary Garden was neat and beautiful.  It was a great lesson in the beauty of herbs.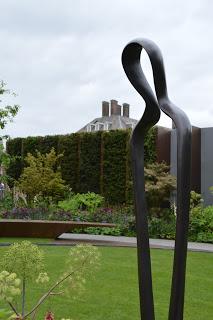 Jo Thompson's The Chelsea Barracks Garden featured a lot of lawn.  This garden above any of the others you felt could be lifted up and plonked in your own garden (plonked being a technical term ofc course).  Back to my comment about 'real' gardens (and I should probably spend some time unpicking that thought in a future post, makes note to do so) this is clearly a 'real' garden in terms of what many of us would recognize from looking out of our own back doors.  A lot of people have a lawn and plants and it was very welcome to see this demonstrated at Chelsea- thank you Jo.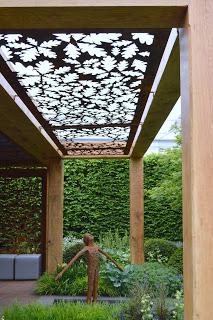 Chris Beardshaw is a man who knows how to use sculpture in a garden to great effect.  This part of the Morgan Stanley Garden for Great Ormand Street is a 'stop for a moment and think' moment.  Of course planting matters in a garden, I love plants, but this showed how not all moments in gardens are plants.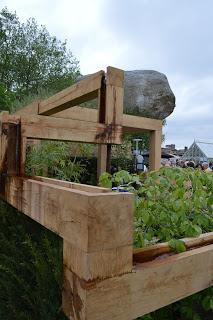 I think that this garden should be called 'The Garden of Impending Doom', apparently it is the Garden of Potential designed by Propagating Dan.  I liked it but I was worried by it, maybe I have read the story of Chicken-licken too often.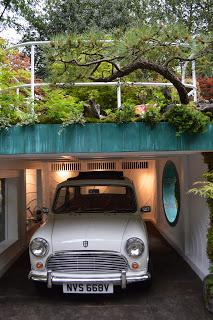 I had to say hello to the mini in the Artisan Gardens, I used to drive a mini (several minis) and I still have a huge fondness for them.  Yes I confess I did mainly look at the car and not the planting, sorry.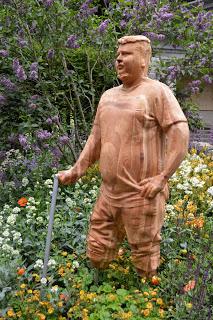 This chap is from the Meningitis Future Cares Garden by John Everiss.  A beautifully planted garden and the sculptures had an eerie reality about them.  Apparently they were the result of 3D scanning of real people and I think that is evident.  When I say eerie I do not mean unpleasant, it did just feel like they might move at any moment.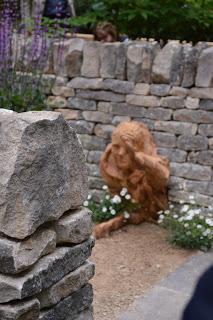 I think this figure reaching out was one of my favorite bits of the whole show.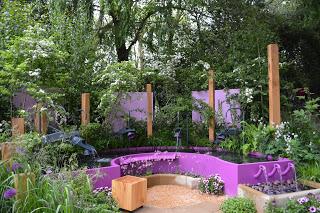 Finally a vision in purple, the Papworth Trust Together We Can Garden by Peter Eustance.  I loved the color but most of all I loved the sound of this garden.  For such bold color this garden felt like it was about peace.  The gentle noise of the nodding water-feature which had a rhythmical knocking noise was just perfect.
Hang on a minute, I hear you say,  you can't finish there, you've forgotten the poppies.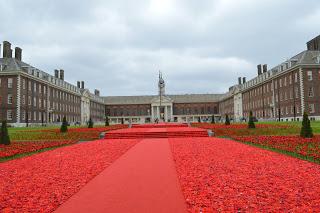 As if I would neglect to mention poppies!  This installation designed by Philip Johnson and born from an idea from Margaret Knight and Lynn Berry is just awesome.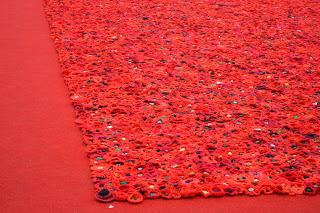 Margaret and Lynn set out originally to crochet 120 poppies to honor their fathers who fought in the Second World War, many contributors later and this had developed into over 250,000 poppies.  This display is based on an Anzac Day memorial in 2015 and it is fitting to remember the sacrifice of so many people from all over the world here at the Chelsea hospital.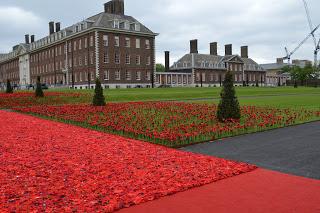 It was beautiful and moving and and a good place to finish writing for today.  I shall write about the floral pavilion and other bits later.
Part 2 - The Other Bits