As promised (or warned), there is still more to talk about from RHS Chelsea Flower Show. In my last post I looked at some of the showgardens, this time I shall meander further.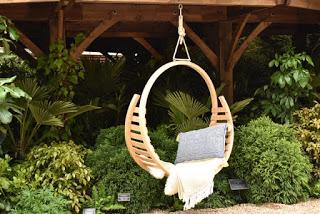 Where to start, I know, things that made me go ooooh. I love this swing seat from Tom Raffield, I can only aspire to own such a thing, or indeed have somewhere to put it, but I can dream can't I?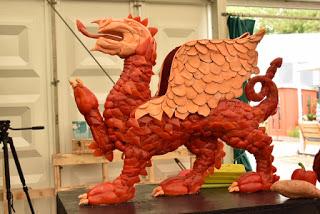 In the Great Pavilion I was quickly distracted by this amazing welsh dragon made from red peppers and sweet potato.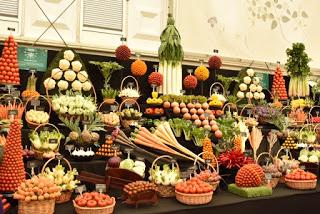 The dragon was to celebrate Medwyn Williams frankly quite incredible vegetable stand. It is no surprise that he won his twelfth gold medal with this display.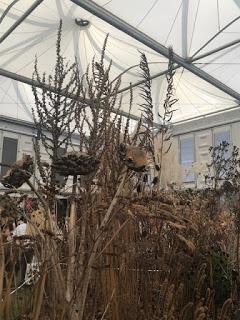 What very much caught my eye was the display from The Salutation Garden. It leaps out at you as it is a collection of autumn/winter stems. There are seed heads and dried grasses and in admist of all the colour and scent in the Great Pavilion it was a striking display and very important too. A lot of people do not consider what their gardens might look like in winter. They think that the garden disappears at some point in October when the lawns no longer need regular cutting and reappears in March. I applaud Steve Edney, the Head Gardener and his team for using Chelsea Flower Show to demonstrate where beauty can be found even when plants are no longer living.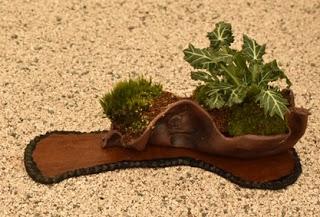 Like a butterfly (a large butterfly) I flit from stand to stand. I spent rather a long time at the Derbyshire Bonsai stand. Isn't this rather dinky?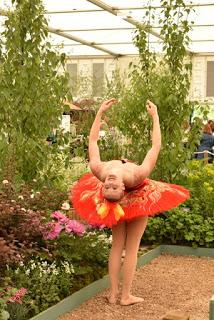 Then I am distracted by a ballerina trying to fold herself in two on the Hardys Cottage Garden Plants stand.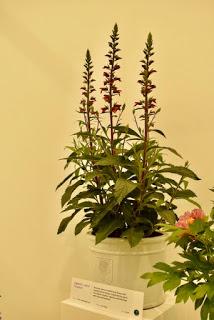 I always love perusing the Hardys' stand; this year they are featuring the Digitalis x valinii 'Firebird', which came second in the RHS Plant of the Year competition. It is a very fine perennial plant, hardy down to around -5.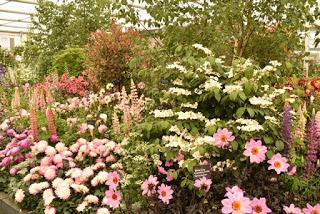 I move on and the National Dahlia Collection stand stops me in my tracks. I always love a good dahlia and I am growing several this year.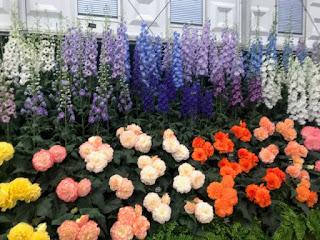 and a favourite 'stop and admire' moment is in front of the delphiniums and begonias of Blackmore and Langdon Ltd.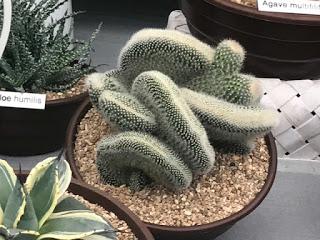 I've written previously that I am getting more and more enamoured of cactii, and this sinuous snakey confusion is a perfect example of what I am finding hard to resist.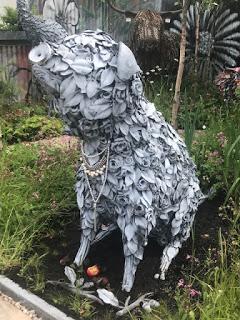 I enjoy just wandering around the show grounds, looking at what there is to offer. I loved this swine, complete with pearls.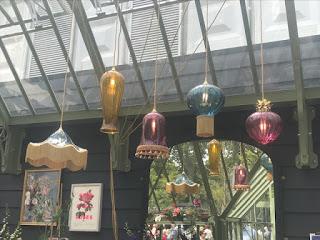 I always think Chelsea is about ideas and these lamps hanging in the large Alitex greenhouse were a really nice touch.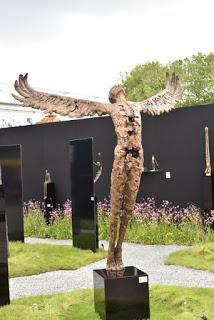 There is so much to inspire. This winged sculpture makes me think of freedom and space and just taking off into the blue blue skies.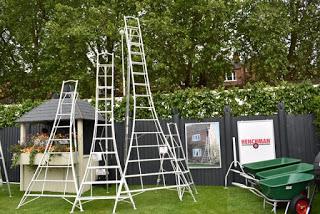 On a more practical level, these Henchman ladders might be the quicker way for me to reach for the skies. I'm sure it is only a matter of time before I make the plunge and buy one (if you can plunge into a ladder.....)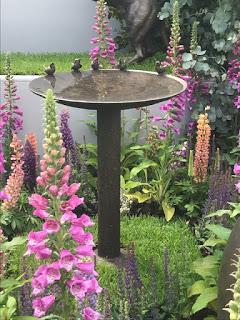 and as a final thought for today I leave you with the 'birdbath of wonder', well that is what I call it. I stand in front of this birdbath every year at Chelsea and sigh 'she will be mine, oh yes, she will be mine'.* Sadly this probably will only be after I have won the lottery, but the dream is there nonetheless.
* with due respect to Wayne's World (1992)