I know it has been said before and it will be said again, every RHS show has its own character. RHS Chatsworth is the newest show being only in its third year, but I think I have decided what it is in its character that appeals to me.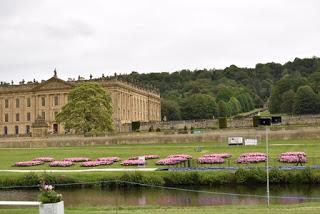 Chatsworth already has an emotional tug on my heartstrings as it is a place I know when. I have been visiting since I was a child and I have taken my children there as well. It is about one hour's drive from home which makes it delightfully local compared to other RHS shows. The teams of wavers and pointers (I am sure there is a better technical term) managed the flow of traffic and access to car parks expertly. A happy easy arrival means a happy easy start to any flower show visit.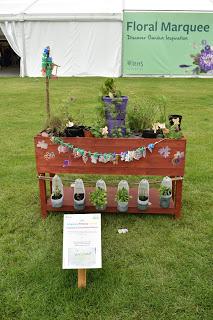 I went to the show with a short list of 'must dos' and one was find this display created by Kingsway Primary School as the school is close to where I live. It felt right to go and say hello to it. I have walked past the school often and admired their small garden area, which is so important for connecting children to nature and helping them understand how food is grown.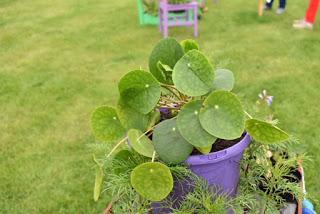 I noted the rather lovely peperomia on top of the display. I decided this was someone's pride and joy. Probably not the most garden hardy plant on the display but I liked it and it made me smile.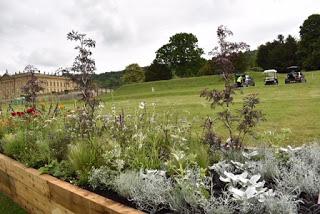 There are 'Long Borders' at the show; which are excellent small spaces to give inspiration and ideas. My favourite was 'Fade to Grey' designed by Mark Malaczynski. Not only was it superbly planted, it was a good idea and it comes with its own ear worm (if you are as old as I am.....)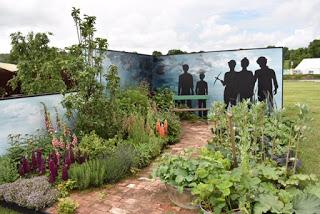 The BBC Regional Gardens were a fantastic concept. It was based on a BBC Local Radio and BBC Regional Competition for creative designs in a small 6m x 4m space. My favourite was 'An Imagined Miner's Garden' designed by Colin and Mary Bielby. This garden commemorates the Minnie Pit mining disaster in North Staffordshire in January 1918 where 156 men and boys lost their lives. The garden aims to imagine what a miner's garden may have looked like.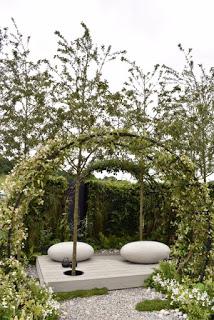 There was also a series of Mindfulness Gardens. It was really interesting to see these gardens all on the same theme, but all interpreting it differently. What a fantastic idea. My favourite was hard to choose, but I have decided to go with Rae Wilkinson's 'Space Within', for a start it is a garden brief that uses the word 'biophillic' which I did have to look up as it was a new word for me. It is a good word. The garden was well proportioned, beautifully constructed and planted and the water curtain, which admittedly does not show up on the picture, was a great addition.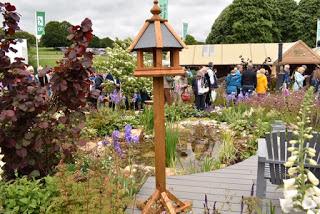 The last garden I will mention is the RHS Garden for Wildlife Wild Woven designed by Sharon Hockenhull. Now I have admired Sharon's work previously and I think she is immensely talented. This garden stood out as an inspirational piece of work. The design was elegant, the planting inspired and it had a very good pond as well. The pond was not fashionably dyed black, it looked like things good live in it.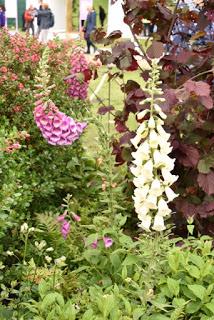 The planting was exceptional and there was great attention to detail so that as you walked around the garden you noticed more and more.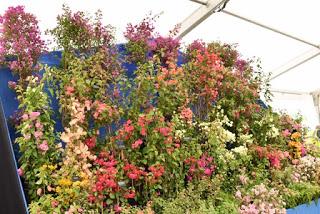 There are nurseries to peruse and all manner of other things to buy at nursery stands outside and inside the floral marquee.
Did I buy any plants I hear you ask?
To which I answer why are you asking such silly questions?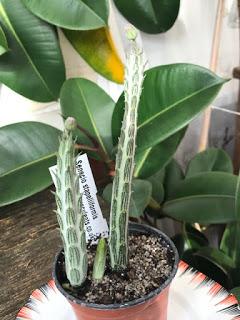 Senecio stapeliiformis - looking remarkably like the love-child of an asparagus and a snake.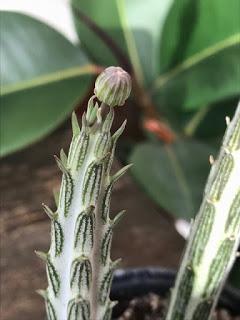 I had to buy it. It is a house plant so it is now in the conservatory and look, it has an exciting bud so I am watching it daily waiting for it to flower.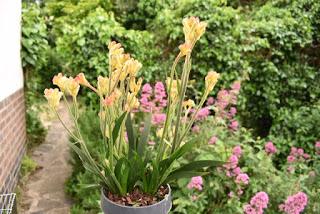 Anigozanthos Beauty Yellow - the Kangaroo Paw. I have lusted after one of these plants for yonks and yonks and yonks. It is not hardy so I will overwinter it indoors (if I keep it alive obvs).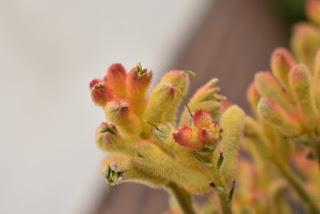 I love the colour and detail of its little pawsy-wawsies.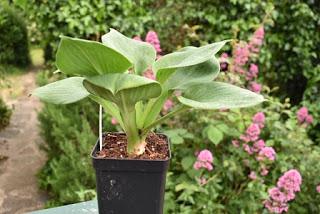 Hosta Monster Ears - yes, I know I know, I do not like hostas, but look at it? It's wonderful.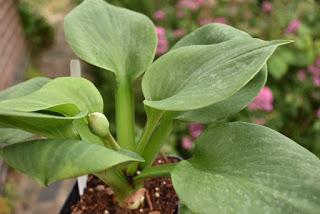 It too has a big fat bud just waiting to flower. The excitement is almost too much.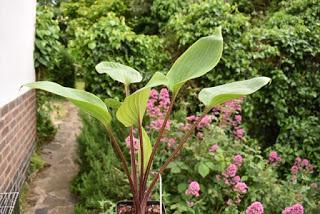 Hosta Purple Heart - just look at the red stems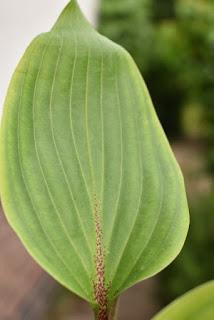 Look at how the red bleeds into the leaf. Now tell me you could resist that? (I am hoping that slugs will).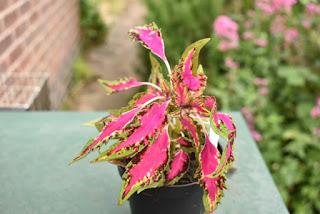 Coleus Pink Chaos, or more properly Solenostemon scutellarioides 'Pink Chaos' (try saying that with after a glass of wine.....) One of my first plant obsessions when I was a teenager was coleus. This is a real fire of a plant. I am having a complete return of coleus obsession this year. This will become obvious in future posts.....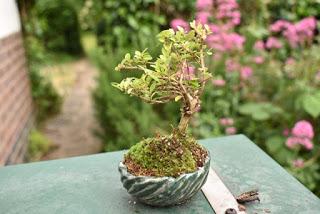 The other thing on my 'must do' list was to buy some bonsai. I was not going to leave without a purchase. I knew that Derbyshire Bonsai were going to be at the show and I have admired their stall often. My other early plant obsession was bonsai and the urge to get back into the game has just become too strong. Now I have to say I am not even good enough to call myself an amateur, I am a pre-amateur. If this little love curls up and dies I may just go back to being a wistful observer, I shall see how I go.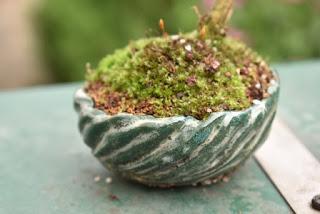 It has the most wonderful little pot too.
As said at the start of this post, all RHS Shows have their own character, and for me it has become clear that I come to RHS Chatsworth and I buy some choice plants. As I am writing this I look back and see what I have bought previously and I realise they have been plants that have made me incredibly happy. I also realise that I see some nurseries there that I do not see at other shows. RHS Chatsworth opens a vital door to let in different nurseries and also new and different garden designers. It gives the show its own identity and I like this a lot.
We had the most wonderful day, we walked a few miles, we bumped into other friends as we wandered. We had a (very nice) lamb pasty for lunch and some nice Prosecco. The only thing we needed to make the day even more than perfect would have been a bit of a warmer sunnier day. That, however, is just quibbling, we had the best of times. Roll on 2020.