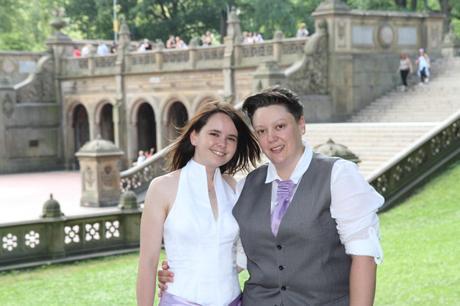 Rhiannon and Danielle came from Fife in Scotland to New York with their friends to get married in Central Park. They met seven years ago when Rhiannon was working in a restaurant as a waitress. Danielle came in with her friend to book a table and they just clicked.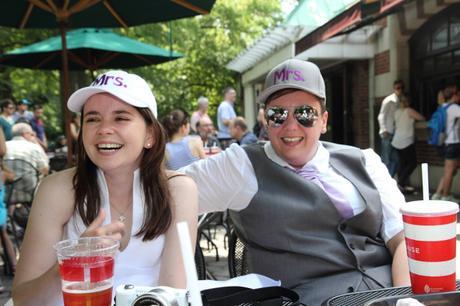 After being together for only six months, Rhiannon proposed in their home, surrounded by rose petals and candles. Then Dani decided to buy Rhiannon a ring in return, so she took her to a local beach where they had had their first two dates, and they got officially engaged there, and they think of it as their special place now.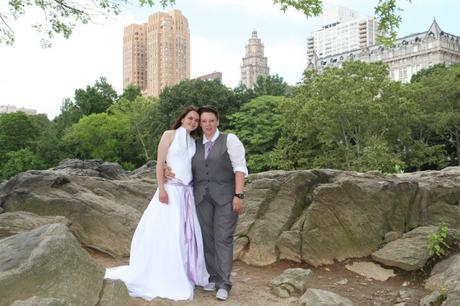 The couple know that they did not want a big wedding, "we didn't want the hassle," said Rhiannon. They already had the New York vacation planned, so they thought maybe a small chapel while they were away might be an option for them. They had something like Gretna Green in mind, a traditional location for quick weddings on the border of England and Scotland.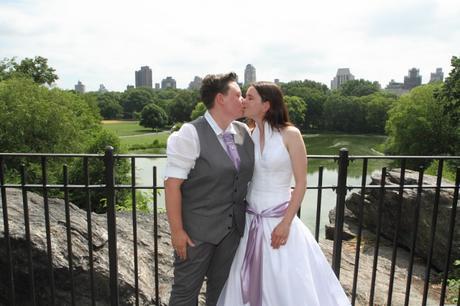 Rhiannon Googled "get married in New York" and my website for Wed in Central Park came up. They liked what I said on the website, it convinced them that Central Park would be a nice place to have a wedding. They emailed me asking for prices, and we went from there. They said that they were pleasantly surprised with what they could get from me in Central Park for the prices I charge. "Claire was fantastic – she helped with everything, and even gave us some nudges in the right direction when we weren't sure," said Rhiannon. "For example, we had narrowed down our ceremony location choice to a few places that looked nice, but Claire picked the perfect one out for us – it was a lovely and quiet little location surrounded by flowers and quaint little wooden fences, it was beautiful." They got married in the Shakespeare Garden. There is a small wooden platform at the bottom of the garden that is great for small groups like this.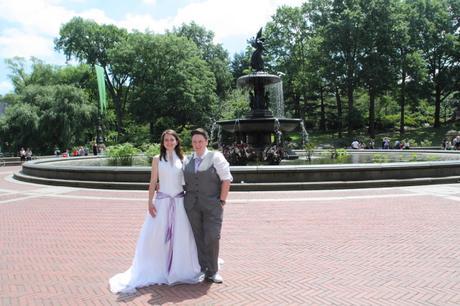 I asked them if they had had any concerns about getting married away from home and they told me that their main worry was that all would go smoothly in picking up the marriage license from City Hall. This is the part that I cannot do for the couples, they are legally required to do this themselves, this is where the City Clerk checks that they are who they say they are. "It sounds simple enough – go to City Hall with your passport and your partner, fill out an online form, then wait for your name to be called up to the desk," explained Rhiannon. "I think it was a bit scary because it was so important," she added. She is right, it is straightforward but it is an important part of the legal process of getting married. "Also, when they say it needs picked up at least 24 hours in advance, they mean it! It does have a time on it! We picked ours up on Monday, and it got approved at 11:27am and we got married at 10:00am on the Wednesday. If we'd left it until the day before, it wouldn't have been valid until 11:27," Rhiannon warned.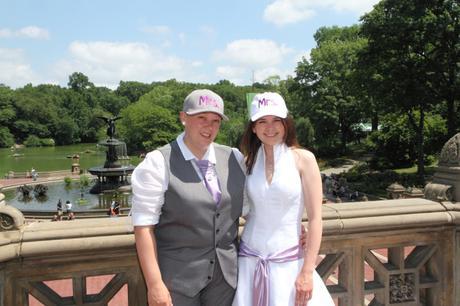 Rhiannon and Dani were on holiday with their friends, Rhiannon's best friend from school, Alan and his husband Calum. They were their only guests, their official witnesses, their best men, maids of honor, ring bearers, and the ceremony cameramen! "They looked very handsome in their kilts, and they made it very special indeed," Rhiannon told me. Alan even wrote a poem especially for them and read it out for them during the ceremony. The only other people there were the officiant and photographer.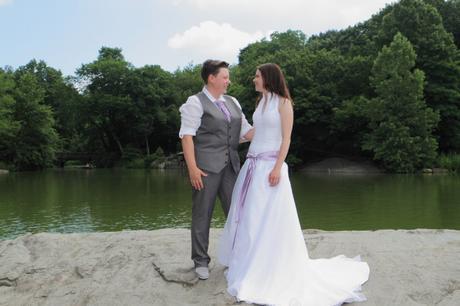 They certainly got lots of lovely photos all over Central Park. A benefit to having a small group, it is quicker to get around to all the great locations. "We had the ceremony in the Shakespeare Garden, it was very quaint," said Rhiannon. "It is very peaceful, had beautiful flowers, lovely little rustic wooden fences. Magical," she added. I asked if they had any favorite photos in particular and she said "it's so hard to choose only a couple as they are all lovely. I especially like the ones with the skyscrapers in the background. The contrast between such an open, green space and the hustle and bustle of one of the biggest cities in the world is spectacular."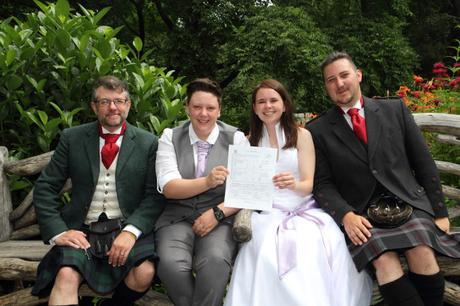 Rhiannon wore a strapless white dress, fitted around the torso, with a high collar and a long train, and a lilac sash. She purchased it from JJSHouse. She is lucky to live next door to a professional wedding dress maker, Pattern Cutter UK Ltd, and she altered it for her. Danielle wore gray trousers and a gray waistcoat, a white shirt and a lilac tie, from Primark, which I think is brilliant. Both guests wore kilts, which regular readers of this blog will know that I am very fond of. And they chose to keep it simple and not carry flowers. The couple estimate that overall their full wedding attire cost around $400 for everything!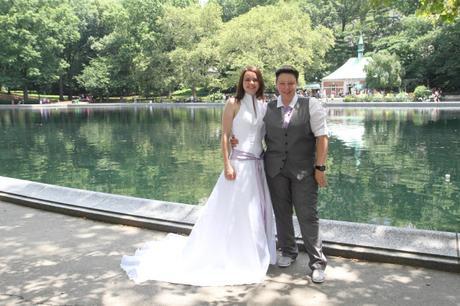 After the wedding and the photos the group went for a beer with the officiant and photographer. "It was a wonderful way to finish up such a lovely experience," said Rhiannon. "They were absolutely delightful, and really put us at ease throughout the day." Then after they had Skyped family and friends to tell them that they were officially married and got changed out of their wedding gear, they went to the Top of the Rock for some breath taking views of the city and their wedding location of Central Park.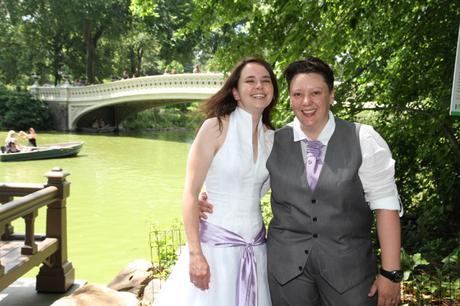 I asked if they had any advice for anyone considering marrying on Central and Rhiannon said "Do it!! And go through Claire at Wed in Central Park." I fully agree with both of those statements. "It was so easy to organize everything, Claire organised the permits, the wording, where we would meet the photographer and so on, and it was honestly really cheap!! It cost $35 to get our marriage licence, and, along with the officiant and photographer, that's really all you need," she said. I find people are often very pleasantly surprised at how cheap it is to get married in such an incredible place, as long as you are happy to pay for the flights and hotels.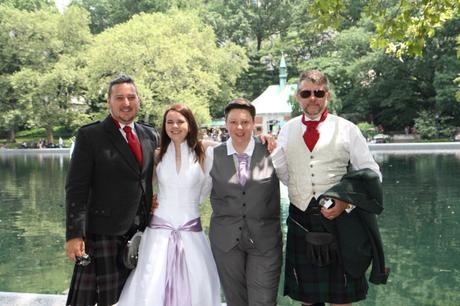 Thank you for sharing your story with us, Rhiannon and Dani, I wish you the best of luck for your futures together, I'm honored that we were able to be a part of your wedding. For more information on planning your own Central Park wedding, visit our website, or "like" us on Facebook for photos and more inspiring stories.