Ziad Bahaa Eldin is the former chairman of the Egyptian Financial Supervisory Authority.  He is a prominent figure in areas of corporate governance, rule of law, and combating corruption.  He was assigned by the cabinet of Egypt, post-Mubarak regime, to draft rules to avoid conflict of interest for ministries, senior government officials, parliamentarians, etc.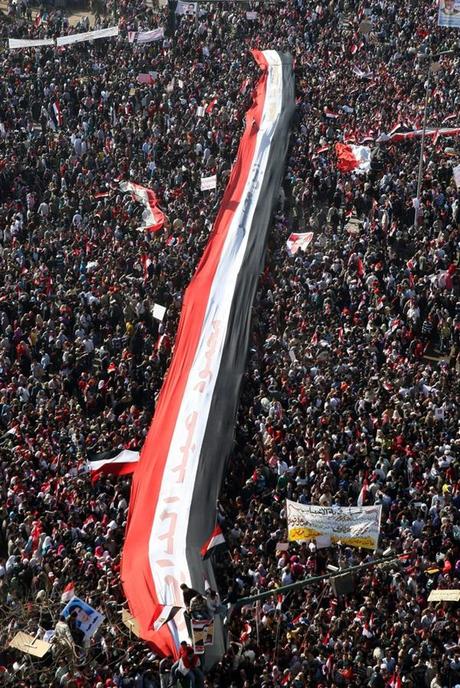 Egyptians carry a long national flag during a gathering in Tahrir square, Cairo on February 18, 2011. More than one million people attended traditional Friday prayers in central Cairo's Tahrir Square to call on Egypt's military rulers to speed up reforms and their crackdown on corruption. Egyptians also celebrated the day marking one week after Egypt's president Hosny Mubarak was forced to step down by nation-wide mass protests. (Photo: MSNBC/Khaled El Fiqi/ EPA)
In the early phases, revolutions are expected to be intensely focused on achieving political goals, the goals that led to their emergence and rallied citizens in their support. Over the long term, however, revolutions cannot be described as such, unless they are able to create deep societal changes that go beyond direct political gains.
Deeper changes must extend to prevailing societal values and principles, as well as citizen relations and respect for one another's rights. World history offers numerous examples of revolutions that marked a pivotal transformation in their society's values and ethics, as in the case of South Africa. The revolution in South Africa established an ethics of reconciliation for a society that had been leaning towards revenge and violence. Through reconciliation, South Africa achieved a human and cultural transformation that far exceeded immediate political gains of the transition.
I write these words because I believe it is now time for the January 25 Revolution, which has already realized a great part of its political goals, to leverage its grassroots popularity and its high morale to protect the values of justice and the rule of law in these times of uncertainty. I say this because the people are immensely concerned with the issue of corruption, how to deal with it, and how to prosecute corruption in all areas.
There is no argument that the issue of corruption is a top priority for those who supported the January 25 Revolution, the priority of which comes right next to political demands. Certainly, corruption is a detrimental ill to our society, one no less than tyranny. Certainly, it is important to avail the current state of public mobilization created by the revolution to achieve a breakthrough in the fight against corruption.
The time has now come for this revolution, which has thus far successfully led the public and directed them, to play a role in galvanizing public interest in advancing social ethics. In other words, the fight against corruption should not be limited to prosecuting isolated corruption cases, and should not be considered as an end in itself.
Supervisory and judicial authorities have already begun to prosecute corruption, hence cases of corruption that have already taken place are either being investigated by the Attorney General or being transferred to courts and will go through a normal judicial process.
What is more important than dealing with previous cases of corruption is to establish a national agenda to avoid corruption in the future. This process entails a thorough understanding of the nature and dynamics of corruption, why it spreads, and how it becomes a legalized reality protected and regulated through official mechanisms that are not legally criminalized.
What is most important is the realization that combating corruption comes first through establishing the rules, systems, and controls that effectively determine the difference between wrong and right, draw lines not to be crossed, and allow discretionary powers so long as they fall under a clear legal framework. Ambiguity is the ally of corruption, and the absence of rules and systems is its excuse.
The revolution and its leaders can make a cultural transformation not only by prosecuting corruption, but also by their commitment to prosecute corruption according to principles of justice, which includes respect for the independence and impartiality of the judiciary and the investigating authorities, ensuring that the accused is innocent until proven guilty, protecting the accused from rumors and negative exposure with the media playing the role of courts, and finally insisting on a fair approach, even for those who themselves ignored human rights and the principles of justice with their opponents.
Successful revolutions have the power to lead to positive change in human nature when they do not deal with their opponents and oppressors in the same manner as their opponents and oppressors dealt with them.
Is it really too much to expect from the revolution to be involved in such wishful demands at a time when the conflict is still raging on and the more urgent political, economic, and security demands have yet to be met? Can the revolution and its leaders be committed to the issue of justice when the people are demanding a hasty punishment of the corrupt? It is never too early for the revolution to take a stand on the issue of justice, because following principles of justice can never be time bound.
This revolution, which emerged to change Egypt, has a responsibility to present its people with an alternate conception of political practices. It is the responsibility now to assure every citizen that this revolution has also brought about substantial change in cultural values. History will remember the revolution for the change it will bring to the people themselves, not for its success in meeting its political demands.
Originally published in El Shorouk newspaper, Egypt (Arabic):
http://www.shorouknews.com/Columns/Column.aspx?id=403974