I tried the other products in the gift basket from Revlon and here's my feedback...
Firstly remember, I have small, square, straight nails like a 4 year old BOY :-/ I seldom grow them long and when I do, I usually just cut them short soon after. I like not worrying about breaking a nail while running, cooking or cleaning the house. period!
Oh! and I hate fake nails....
Now that we are clear...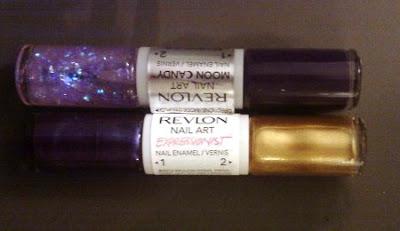 Revlon Nail Art- Expressionist


The color combo I got was a dark purple and metallic gold, where purple is the base color and gold is the highlight/ nail art color with a thin applicator brush.
I like the combo even though it is not something I would have picked on my own at first glance. Purple is my all time favorite color. This one requires at least 2 coats to even out the shade. The gold is rich and gives a nice definition and modern twist to the classic french manicure. I used it at the tips and that's how I liked it the best.
I am not very big on nail art so even after trying a few other designs, I might just go with the golden tip mani.
 I also tried the gold in a few different ways, in the pic below you'll see, first option is a gold overdose ( I applied 2 coats of a metallic bronze nail color and then abundantly dabbed the gold color using a cotton swab ) the result was a very 3D looking gold nail that actually resembled uncut pieces of gold metal. It looked really nice when I did it with my small nails and wore it over a black dress for the evening out. It was like a piece of jewelry and the rough messed up look like raw bricks/ rocks of gold was looking nice.
Second is from the other bottle, named, Moon Art, will talk about it in depth later.
Last is one of my hot pink shades with a gold tip and I found that the gold goes well with a lot of my pink/ red shades so will be using it quite often.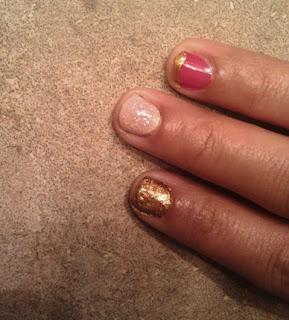 Revlon Nail Art- Moon Candy


I have to admit I am not that fond of this combo too much, after trying it out I figured that I either need to have a good amount of an hour in my hands to achieve the perfect moon art look as depicted in Revlon's weblogs or it will come out a bit towards the tacky side.
The rich purple shade accompanying this pack is by far my favorite. The best part is that it is so rich and creamy that only one coat is enough to get full coverage and a smooth finish! Best part indeed!
It dries quick and so will be a staple in my daily life for a while ( before I totally overdo it and get bored :P ). The sparkle/ glitter on the other hand did hardy wow me. It takes at least 3 coats to get the desired look with glitter all over the nails but mostly the fact that it is not as chic looking in the end as in all the photos is a big turn off.
I did although try it over a nude colored nail enamel from my dresser and I loved the end result. The nude makes it less shiny and more silvery, the sparkles only glitter in light as the contrast is not too much between the base color and the glitter coat and thus makes it look less tacky and more festive. I am definitely going to do this on my feet tomorrow.
For now, here are a few pictures from my trial and error...


My verdict-

I am not overtly happy with the overall result, Revlon does have some great stuff already out there, but the purple from the Moon Candy combo and the gold from the Expressionist combo are a great addition to my dresser. I now want to try the other shades from the range and will soon be heading to a Revlon counter in the near future!x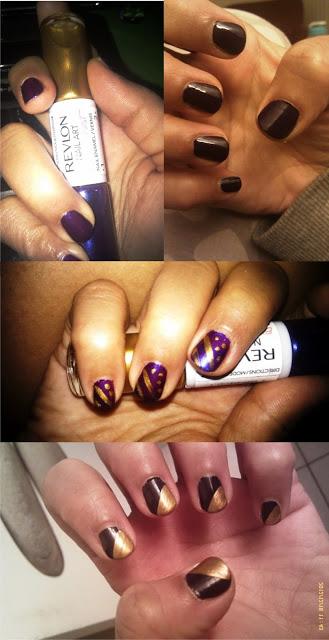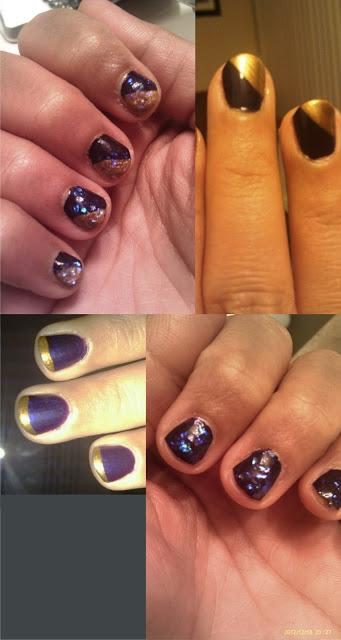 please forgive the light imbalance and the fuzzy photography
courtesy my smart phone I own since ancient times. LOL