There are a lot of different reusable nappies out there and, if you look on a "big" retailers site, you will find a great selection of the large brand names. However, there is also a huge market for what are known as 'eBay cheapies'. There are lots of different brands of cheapies - Alvas, Sunbaby, Yellow Bloom - and you can buy them on eBay, or from various websites. At some point during pregnancy I stumbled upon the Tiny Nippers website. They are a UK retailer of Alva pocket nappies, and all the 'cheapies' I have bought have been from them. (They also have a selection of other baby products which I like to dabble in!) 
Alva Baby Pockets from Tiny Nippers
Details:A birth to potty, pocket nappy in snaps. They come with 1 microfibre insert, and the inner is a stay dry layer. The outer is either PUL or minkee
Fit:

These are advertised as fitting from 10lbs, as with many BTP nappies. I started using them on Isabelle when she was roughly 10/11lbs, using them snapped down on the smallest setting. They fit her perfectly around the legs on this setting, and there is a leg snap on each side to adjust them even more, so they fit her perfectly round her chunky thighs. The waist snaps cross over, so I can see it fitting a skinny baby, and at almost 15lbs, we use it on one of the smallest settings, again fitting perfectly. I can see these fitting her for a long time to come.


Containment:


I haven't had any issues with containment of solids or wee. No leaks at all, and they have withstood some good testing on the solids front! Unlike some of my other pocket nappies, they have very good elastic around the waist, which I think helps a lot with containment.

Washing:


As with all pockets, the insert has to be removed before washing, even partially, which I don't enjoy. Once out, they are simple to throw into the bucket, and wash really easily at any temperature. There haven't been any issues with staining yet. These dry really quickly - the outers dry over night in the garage and the inserts maybe take 24hrs in the garage, or just a few hours out on the line.

Ease of use:


I find these nappies really easy to use, and Simon said this week they are some of his favourites. They have a pretty 'traditional' snap system so, once you are happy with the setting you are using at that moment in time, they are a breeze to put on and take off. They are also really easy to stuff as the pocket is a great size.

Appearance and quality:


Appearance wise, these are my favorite nappies! They come in such an amazing range of colours and prints that it's almost impossible to choose your favourite! The elephant one Izzy is wearing below is my current love.

 I really don't think anyone could find fault with the appearance of these. Quality wise, I see no difference between them and many of my other pocket nappies which were more expensive. The inners are soft, the inserts are soft and a good size, and the outers are wonderfully soft PUL or minkee. As mentioned above, the elastic is nice and strong.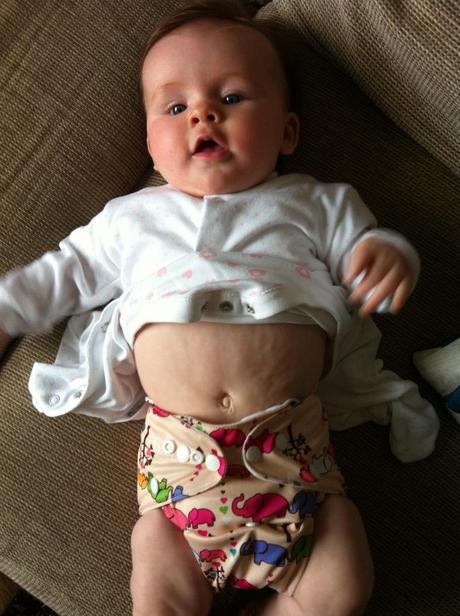 Cost:
Apart from their adorable look, this is the best bit about these nappies. Tiny Nippers sell them for £4.39 or £4.59 depending on the nappy. That means you could buy a whole set of 24 for less than £150! You can also choose not to buy the insert - if you have plenty - and this lowers the price by 80p.
Bug bears:
My only question about these nappies is how long they will last in comparison to more expensive nappies. For example, the elastic is great now, but it may slacken more quickly than other brands with repeated use. I also know that, in the future, I will need to boost them as the 1 insert will not be enough as Isabelle grows. 
Overall:
I have to give these nappies 5/5! I know a lot of people don't rate them, but I am totally in love with them. They are so lovely to look at, and seem to be great quality - so much so that I am slowly selling off more expensive nappies and replacing them with these! Even if they only last for Isabelle and no future babies, they are so cheap that it wouldn't take much to replace them. As I mentioned, I know I will need to boost them in the future, but I own plenty of boosters already, and even if I didn't, because the nappies are so cheap even buying a full set of boosters, or more inserts, would STILL make them cheaper than many big brand cloth nappies. If you are unsure about cloth, buying one or two of these would be a great way to start out without breaking the bank!
** Unsure where to start with cloth nappies? Check out my Cloth Bum for Beginners page. In Northern Ireland? Check out the Cloth Nappy Library Northern Ireland **