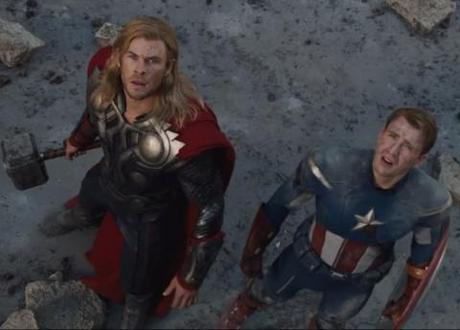 The Avengers: Thor and Captain America, together at last
Is The Avengers the ultimate popcorn movie? The film boasts an all-star line-up of superheroes including Iron Man, Captain America, Thor and The Incredible Hulk – with Thor and Black Widow thrown in for good measure. Directed by Joss Buffy the Vampire Slayer Whedon, The Avengers also features a pretty stellar cast, with Robert Downey Jr, Scarlett Johansson and Samuel L. Jackson.
In all honesty, it seems unlikely that a superhero ensemble action flick is going to be up for an Oscar any time soon. But does The Avengers have the fun factor?
Watch The Avengers trailer below.
Not original, but great. "Avengers is a noughties-era blockbuster to the core," wrote Robbie Collin in The Telegraph – and there's nothing wrong with that: "Whedon's lavishly enjoyable, chewily-titled film… is an assemblage of everything that's good about contemporary popcorn cinema." According to Collin, The Avengers may not be the most original film, but that's not the point: "A lot of this stuff has been done before, and recently – but never quite as well as this."
How does The Avengers stack up to the other Joss Whedon film hitting the headlines, The Cabin in the Woods? Find out what the critics thought at The Periscope Post.
Hilarious. "This 142-minute romp between gods, monsters, men and supermen packs so much crowd-pleasing color and humor that it's impossible not to walk out grinning," said Jonathan Crocker at Total Film. The Avengers "isn't the best superhero movie ever – but might well be the funniest". Crocker warned viewers to stick around until after the credits have rolled for the introduction of a special guest star for the sequel.
Too much 'biff-bang-pow'. "Unfortunately, this being a comic-book movie, the need for biff-bang-pow tends to prevail," wrote Henry Barnes in The Guardian. "The hero-against-hero slugfest that the comics have been trading on for decades is entertaining at first, but the various combinations of Hulk v Thor v Iron Man quickly blow themselves out." Barnes argued that the film suffers from the lack of a convincing villain, as nemesis Loki never really seems to pose much of a threat to the superhero team.
See below for hilarious spoof trailer The Avengers (on a budget).