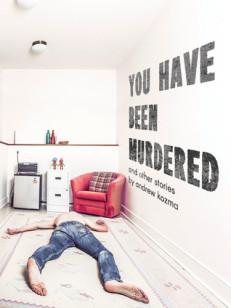 You Have Been Murdered and Other Stories by Andrew KozmaAuthor's GoodReads Profile
Amazon (UK)
Amazon.com
I was given an ARC by the author in exchange for an honest review.
Smashwords (ebook), expected publication date 8 February 2016188 Pages
You Have Been Murdered and Other Stories is a collection of weird, speculative fiction containing four stories dealing with the end of the world, both in terms of the death of the individual soul and the running down of the universe as a whole.
The title story presents a woman who's been murdered and still has a dinner party to prepare for. In "Teller of Tales," a young girl must take on the responsibility of being the necessary conscience of her city. "Breach of Contract" describes the plight of an oil man who just wants to insure production quotas, but is roped into saving the world. Lastly, "The Trouble-Men" details what happens when a man trying to survive the end of the world meets up with those who are ending it.
Andrew Kozma's fiction has been published in Drabblecast, Albedo One, Fantasy Scroll, and Daily Science Fiction. His book of poems, City of Regret (Zone 3 Press, 2007), won the Zone 3 First Book Award. His previous collection of short fiction is The Year of the Stolen Bicycle Tire and Other Stories.
You have been murdered. (YOU HAVE BEEN MURDERED)
You Have Been Murdered and Other Stories is a very enjoyable collection of four stories. I liked every story. The title story, You Have Been Murdered is strange and weird in a sort of wonderful way. I really liked the concept. Teller of Tales is a brilliant story. The shocking ending took me by surprise and still gives me chills days after I read it. Breach of Contract is a great, original story and I had a good time with it. The Trouble-Men is a brilliant story. Another original concept and hugely enjoyable. I had a good time with this small collection.