War Horse won the 2010 Olivier in London and the 2011 Tony in New York for Best Play. It's been selling out so far in advance that we booked our tickets in early September! You can't get a seat now until March.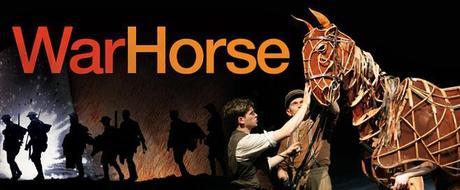 Most years the Tony goes to the play with the best acting. This year it was undoubtedly a win more for those off-stage than on - a decision I support 100%.
The thing that makes War Horse so special is Joey. A life-size, breathing, emotive, rideable puppet horse. It takes three puppeteers to give Joey life. His creators said that what they love about working with puppets is that an actor struggles to die onstage, whereas a puppet struggles to live. I love that.

The narrative of War Horse is based on a children's story. It's easy to boil it down to Boy Meets Horse, Horse is Drafted to First World War, Boy Follows Horse... but somehow it holds something special. Something unlike other simple-story shows. This show has a genuine heart.
The fact that Warhorse is able to make an audience invest so much into the relationship between a boy and what-should-be-an inanimate object is what makes it sublime.
I would recommend this show for the inventive stage design and puppetry alone.